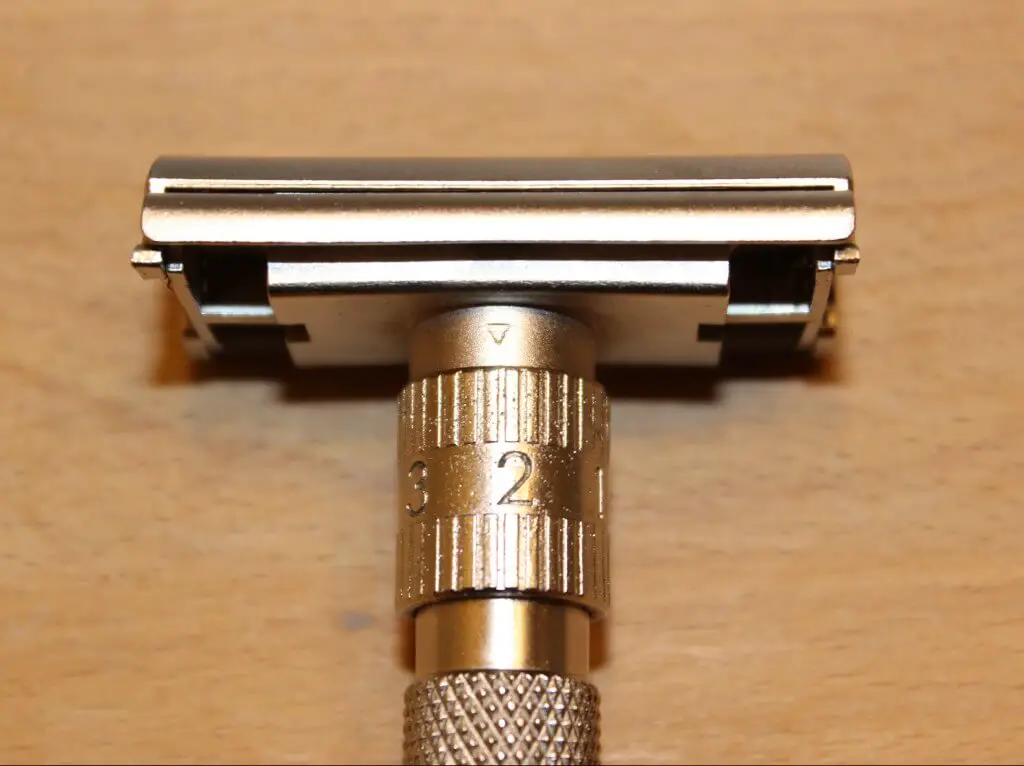 Hot on the heels of Rockwell Razor's shipping the production model of their stainless steel "6S" razor comes their announcement of another Kickstarter funding project, this time for an adjustable razor, the Rockwell model T!  As far as I know this is the first new continuously adjustable razor to come to the market in years.  And I was able to get a look at (and shave with) the prototype.

Model T Specs
The look of the razor bears a passing resemblance to vintage Gillette adjustable razors, with a gap adjustment dial under the head and a twist-to-open (TTO) dial at the base of the handle.  Both dials have a very smooth action.  The numbers on the gap adjustment dials range from 1 to 6 and use the same gap distances as the corresponding base plate on the 6S–but since the adjustment is continuous any gap size from either end of the scale is possible.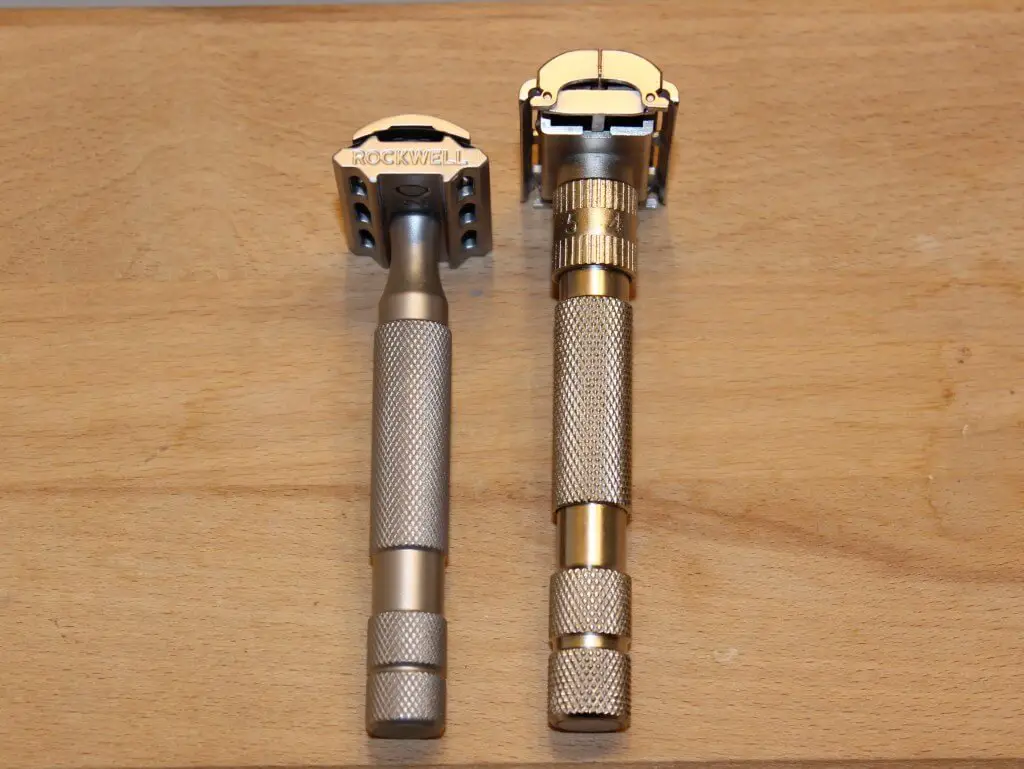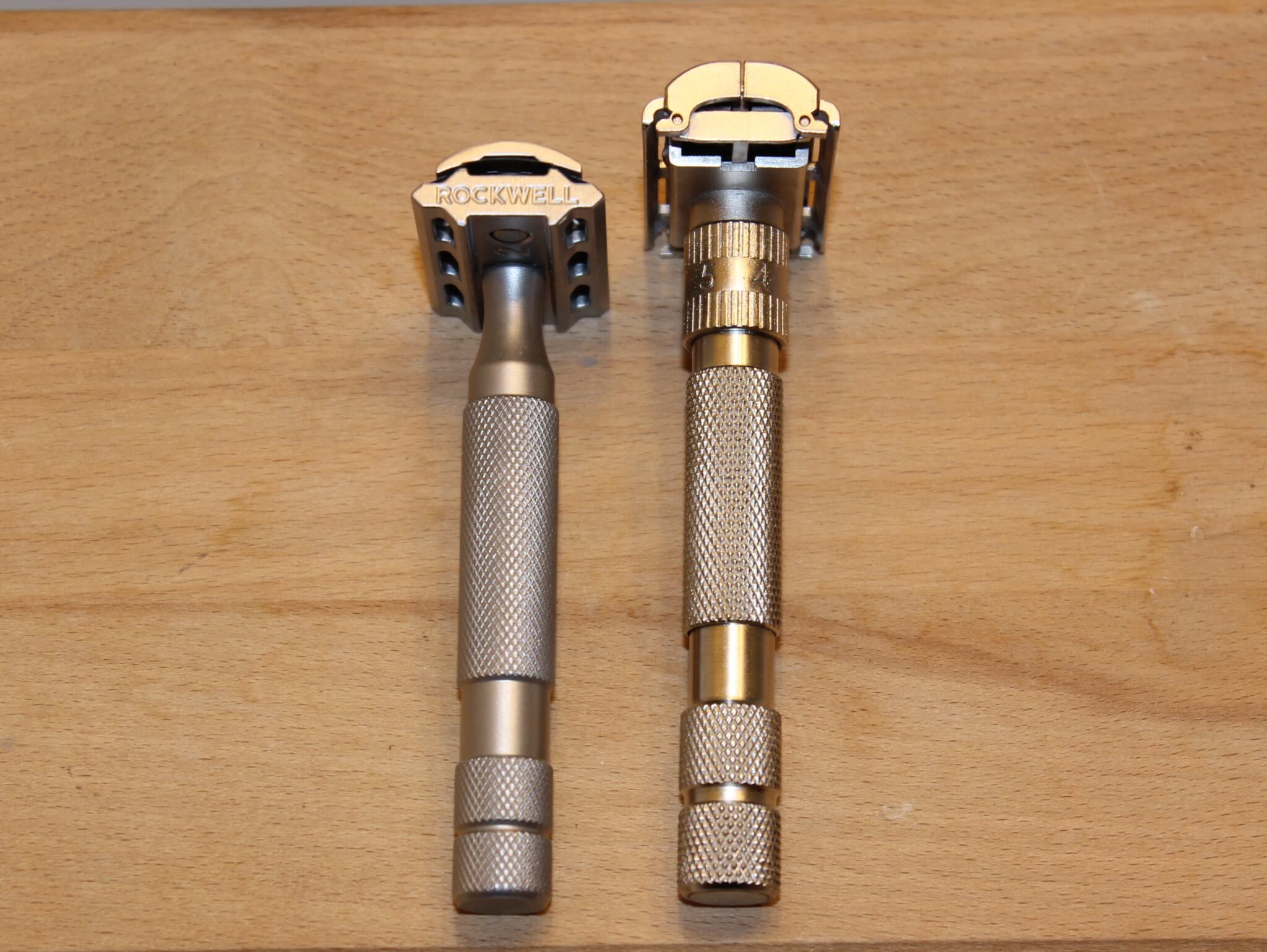 As you can see from the picture above, the Rockwell model T (prototype on the right) is longer and a bit larger than the model 6S (on the left).  The T's weight comes in at 109 grams (without blade) on my digital kitchen scale, which is actually slightly lighter than my 6S (which runs about 115 grams) but I still consider it a heavyweight.  The handle is about 3.5 inches (~9 cm).  The head is a bit wider than average: about 4.5 cm x 2.5 cm and 1 cm tall on my office supply store ruler.  For comparison purposes the Rockwell 6S head is about 4 cm x 2.5 cm x 1 cm tall and a bog-standard Edwin Jagger DE89 head is about 4.1 cm x 2.5 cm x 0.8 cm tall.  Perhaps a more "apples to apples" comparison might be the Merkur Futur though, which has a head of about 5 cm x 2.5 cm x 1 cm tall and weighs 125 grams.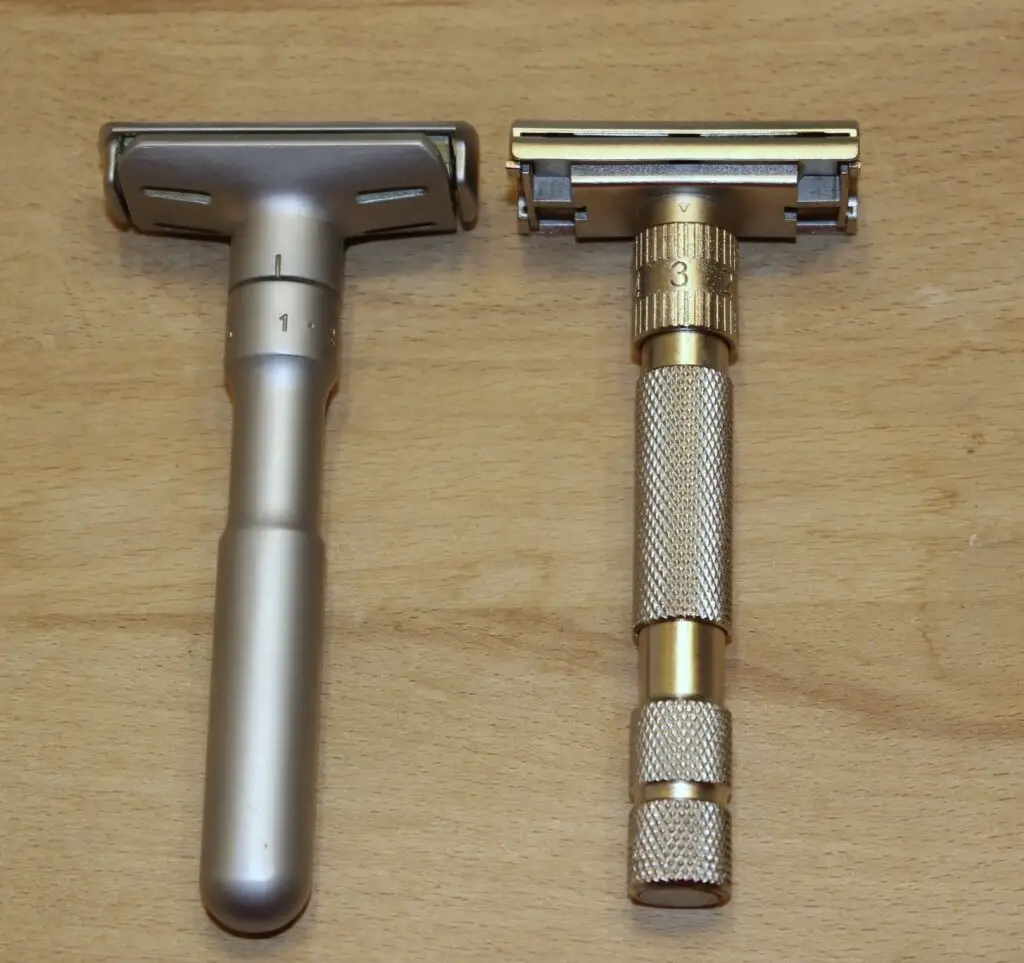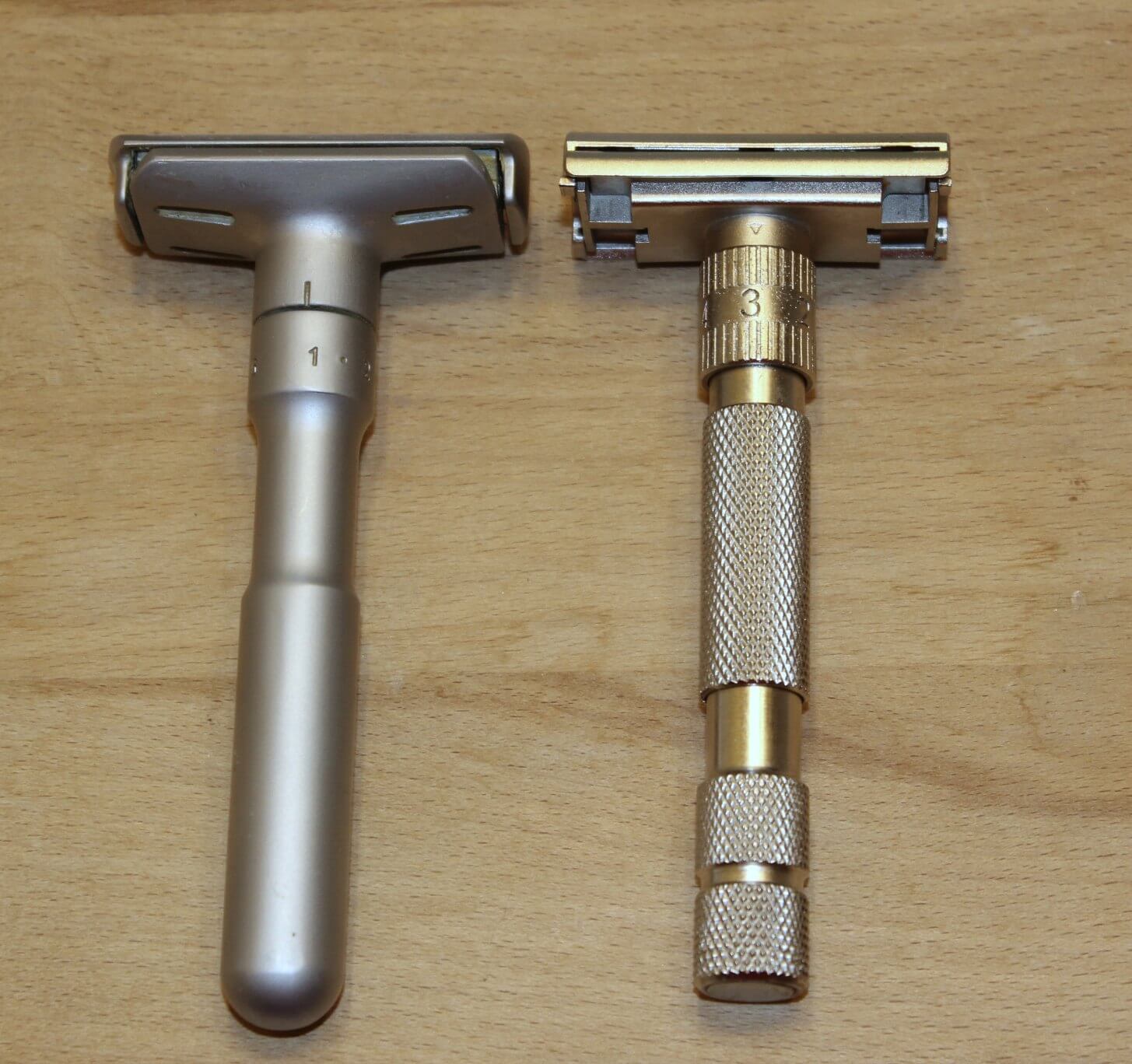 Unlike the stainless steel Rockwell 6S, the materials for the Rockwell T are the more commonplace chrome over brass.  That should hopefully help keep the costs down.  But a list price hasn't been determined yet.
Yeah, But How's The Shave?
Remember, I'm using a prototype, so my comments may or may not reflect on the final product.
For my first test shave with the Rockwell model T I used Rockwell blades.  In retrospect I probably shouldn't have done that since I don't have a lot of experience with them.  I was also rocking a three day growth of stubble.  My first pass was at the mildest setting (#1) which knocked down the bulk of my stubble easily enough but was perhaps a bit less comfortable than I was expecting.  I decided to repeat the first pass on a slightly higher setting (#2)–again, a bit harsh but not bad.  The balance of the shave was at setting #3 and realized that's about as high as I wanted to go.  I got a "BBS" shave out of it but I did have a few "weepers" by the end.  Although the settings are supposed to match the Rockwell model 6S I think the T is actually a bit more aggressive.  The larger head turned out to not be an issue, as I was able to maneuver around my nose without much of a problem.
I used a more familiar blade for my other shaves, a Polsilver Iridium.  Those shaves were much smoother-feeling, so I suspect Rockwell blades just aren't for me (YMMV).  But I still think this model T is a bit more aggressive "per setting" compared to its 6S counterpart.  This is probably just an engineering tweak.  On the whole though, once I was able to "dial in" my preferred settings, I got a really nice shave.
Be sure to take a listen to this Wet Shaving News podcast with Rockwell.
Be sure to check out the Rockwell model T Kickstarter page for up-to-date information.