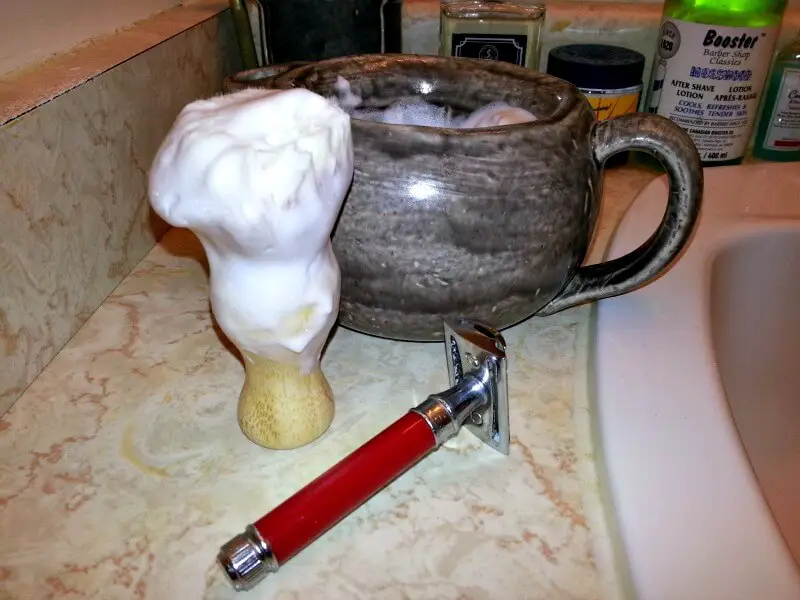 The overall impression that I had from Taylor of Old Bond Street's Traditional Luxury Shaving Soap is that it was kind of bland.
First off, the scent was extremely weak. I've seen it billed as having a "discreet citrus fragrance", and it's good that someone told me, because otherwise I would have never guessed that citrus was what they were going for. I personally would have described it as a "clean" scent, but at the end of the day, it mostly just smelled of soap. That was of course the soap itself, once lathered up, it was pretty much completely unscented.

The lather itself was also rather so-so. It was quite voluminous, but didn't provide much above what I'd consider to be a "good enough" shave. It wasn't particularly slick, nor thick enough for a decent cushion, and didn't all that good stability either. And I didn't notice all that much in the way of moisturization after the fact.
6/10 Scent Pleasantness
3/10 Scent Strength
6/10 Lather Quality
While I got the sample I used for this review in a trade, a full 99g refill is available, or a 57g version. It is also available in either a travel tub with a screw-on lid, or a pewter or nickel-finished bowl, although it seems like most retailers other than TOBS themselves don't often carry it.
All-in-all, there wasn't anything about this soap that I found made it stand out from its peers. A shame, as I'm generally quite a fan of TOBS creams, and their Jermyn Street cologne remains my favourite aroma in the world. But hey, they can't all be home runs I suppose. 4/10 overall. Oh, and a minor annoyance, but TOBS still isn't listing the ingredients of their soaps and creams on their website. I had to find it listed elsewhere.
Ingredient: Sodium Palmate, Potassium Palmate, Sodium Palm Kernelate, Acqua, Glycerin, Potassium Palm Kernelate, Stearic Acid, Parfum, Paraffinum Liquidum, Isopropyl, Myristate, Tetrasodium Edta, Sodium Chloride, Bht, Tetrasodium Etidronate, Pentasodium Penetate, C1 77891
Related Posts:
Taylor's Rose