Recently I was honored to be one of the first to try "The Prismatic" a new razor by Phoenix Artisan Accoutrements (PAA). This razor has been created in tribute to a particular model by the Kirby Beard & Company (KBC) a British firm that distributed French made safety razors from approximately the 1920s-1940s. To the few that own these vintage pieces of art, it's been said that these razors shave flawlessly and may be some of the best performing safety razors ever produced.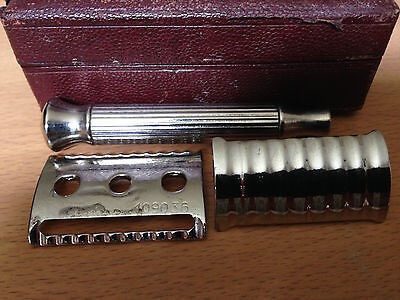 Figure 1 Original KBC Razor
So why haven't you heard about this wonderful vintage razor? If you're from the USA, there's a good chance your grandfathers and great-grandfathers never did either. These razors were never mass distributed outside of Europe and the factory was destroyed during WW II before they had a chance to make it to American soil.  There were many razor concepts out there that never made it to the USA and some of these are the best kept secrets in wet shaving. Here is a prime example of one of those "secrets."
The Kirby Beard & Company (KBC) roots go back to the 18th century as a British manufacturer primarily producing pins, needles and other luxury items. It wasn't until 1816 when the company adopted Robert Kirby, and George Beard that the name became KBC.  One of KBC's major achievements was the invention of the Bobby Pin which is still popular today.
Around the 1920's Kirby contracted Leresche (pronounced "Luh-resh") a French company to produce razors for them. These razors were made in France and marketed to those with heavy beards. In an advertisement from 1928, KBC introduced a new razor with this quote:
"The KBC razor was specially conceived for persons with tough beards. The comb that is normally present on all safety razors has, on the KBC razor, been replaced by a longitudinal slot which allows shaving with the entire length of the blade, thus ensuring a maximum of safety."
This advertisement came out approximately ten years before Gillette's first solid guard razor and the actual patent was finalized in 1935. For more information check out this wet shaving forum thread.
Razor: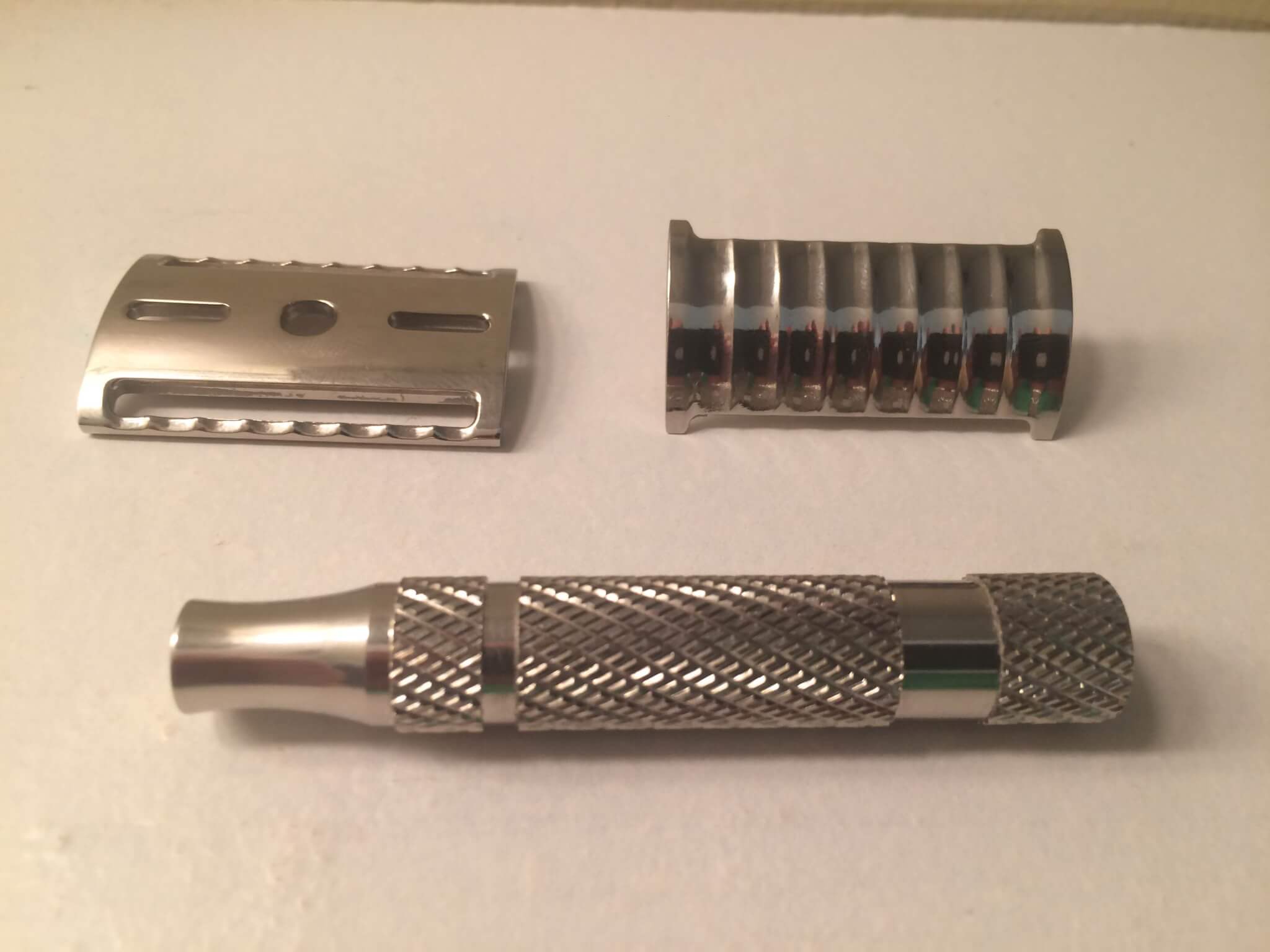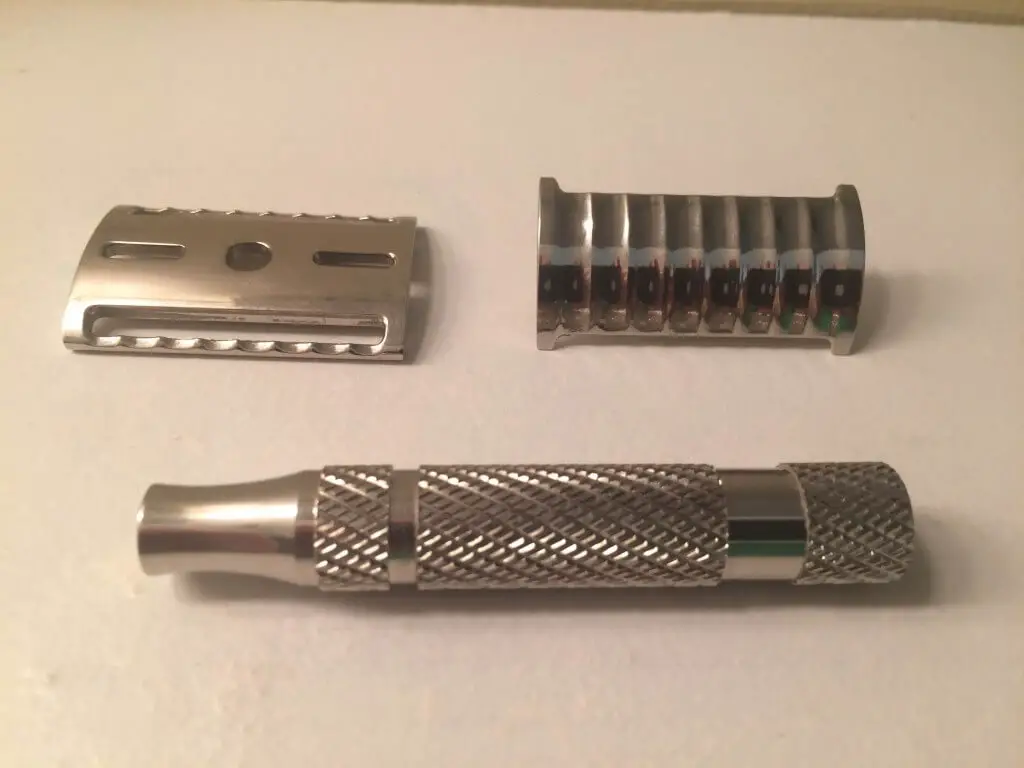 At first glance, the Prismatic may remind you of PAA's famous DOC (Double-Open Comb) safety razor which is also a tribute razor from a design of yesteryear. The handles are identical and both razors are roughly the same size and weight (55 vs. 56 grams for the DOC). The nickel plating provides a nice even shine, without being overbearing, makes the razor easy to clean and is resistant to rust and corrosion.  Simply wipe it off when you're done using it and this razor may very well out live you.
The Prismatic is a classic three piece razor design consisting of a cap, guard and handle. The razor is easily assembled by screwing the handle into the cap with the guard in place.  The nickel plating covers all corners of the razor again identifying that no stone was left un-turned when producing this piece.
Unscrewing the top requires care and minimal effort. Loading the blade is simplified with the help of tabs on the top cap, a feature that was added by PAA from the original design in order to eliminate error when tightening down the handle. As with any razor always use caution when loading/unloading blades.
If you read my previous review on the PAA Bakelite, you'll remember how intrigued I was by the extra blade exposure between the cap and the guard.  We have a similar concept here, with a slightly larger gap. Like the Bakelite, the reasoning is purely functional and is a big plus when shaving with this razor.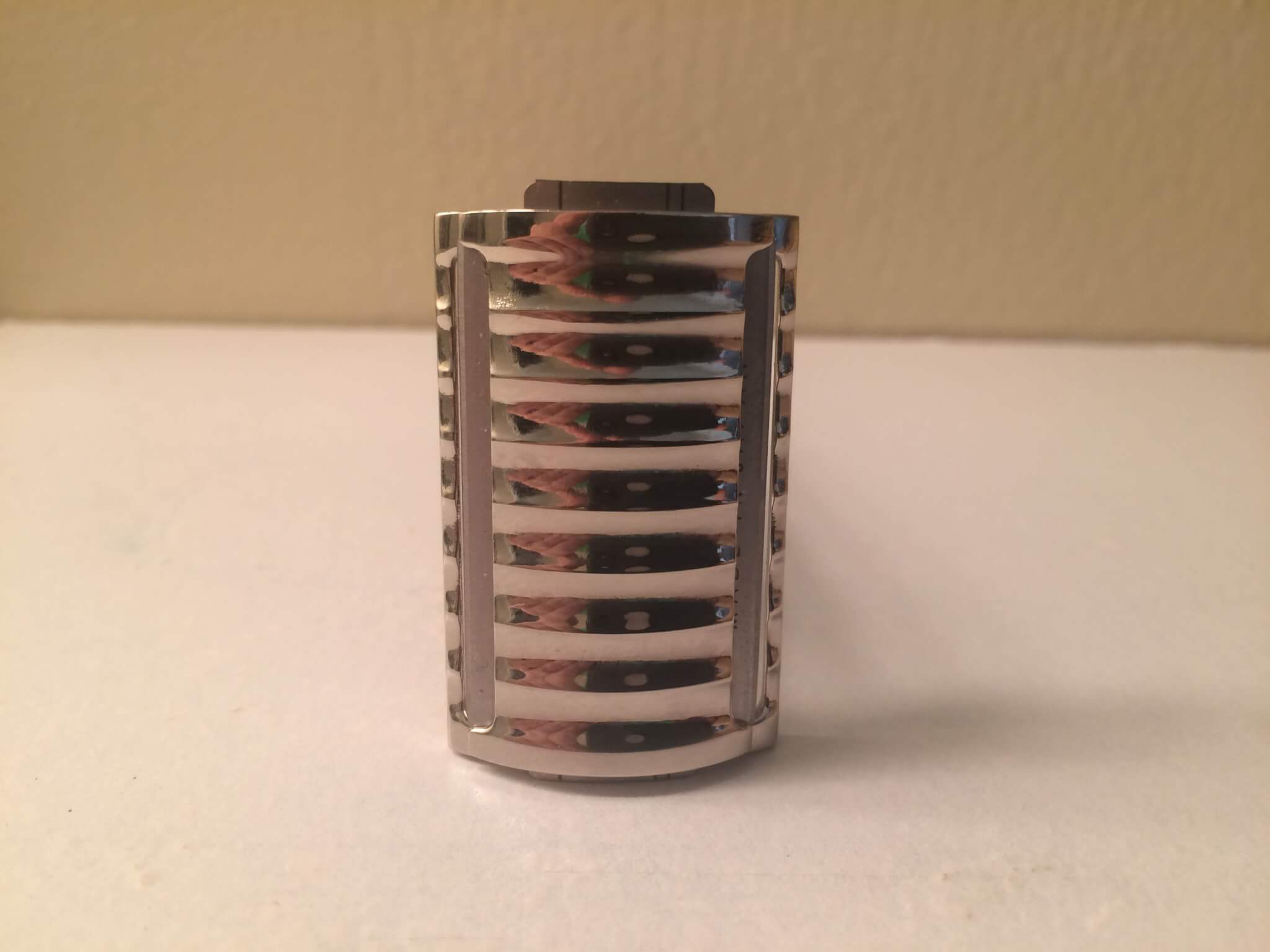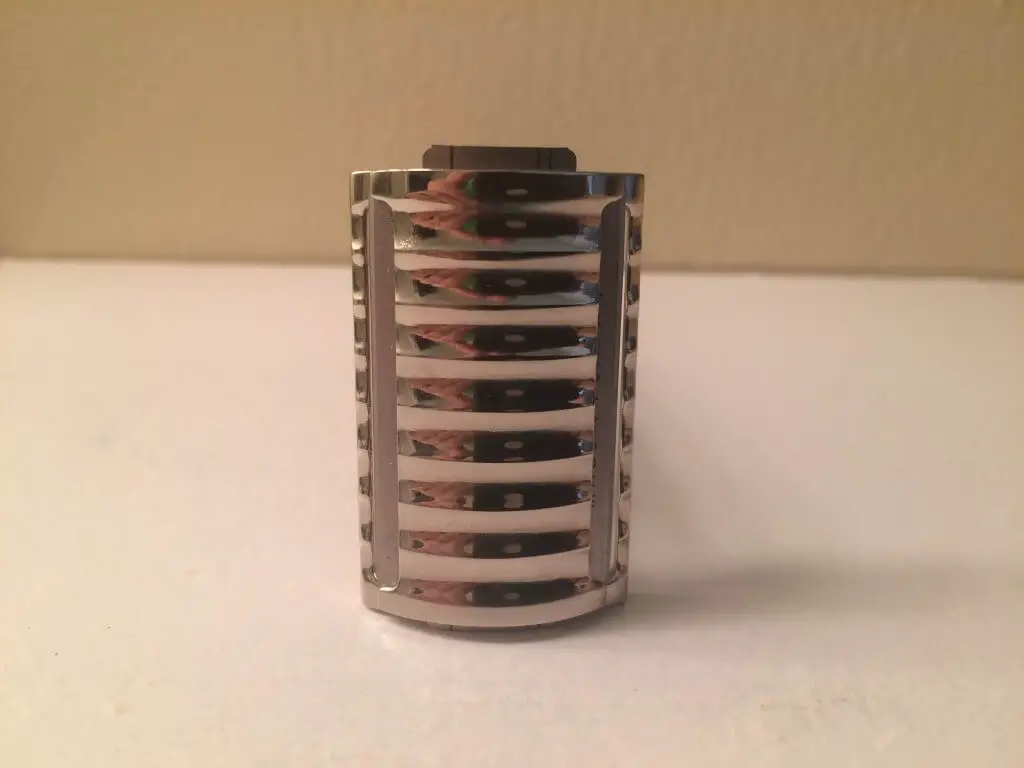 The most recognizable feature on the Prismatic is the very thin "scalloped" cap which assists in gliding the razor over your face. We'll discuss in the next section.
Performance:
During the past month, I used the Prismatic just about every day, trying several brands of blades, but kept the brush and soap the same to eliminate any other factors that may detour performance.
Using this razor like a traditional Gillette or modern day safety razor yields par shaves with a very mild touch.  It takes several shaves to realize the full potential of this piece. Once I became comfortable with the razor, I noticed that the slimmer "scalloped" head allowed easier access to those hard to reach areas (such as under the nose) and provided a better glide over the skin especially when using a light touch.
After several shaves I started using different angles to really find my personal "sweet spot" of this razor.  The extra blade exposure (much like the Bakelite) and the larger gap between the cap and guard allows greater angles that you can change during passes, much like a straight razor. It took some experimentation, but I soon found my sweet spot.
Shaving with the grain (WTG) was effortless once technique was mastered. I noticed that I was able to remove 90% of my beard with one stroke, rather than several small strokes common with other razors. This has a lot to do with mastering the angle as mentioned previously. The razor glided over the skin comfortably and required a very light touch.  Always remember to let the blade do the "cutting" and you do the "guiding".
Working the razor against the grain (ATG) was almost pointless as I found my face was socially acceptable after one pass. The razor performed as expected, and several light strokes later I found myself rinsing my face off and looking at a clean shaved, irritation free smile.
Overall:
Needless to say, the Prismatic is an impressive razor with a price anyone can afford.  It may lack fancy packaging, heavy handles and other options some popular razors may have, but what it lacks in looks it makes up for in performance. This razor is well built on a concept that many of us may never have the opportunity to try otherwise.  It's very important to learn how this razor works to fully take advantage of its ability. Once mastered this razor is a lot of fun.
The Prismatic was truly a pleasure to use and I will keep it in my collection for years to come.
About the Author:
Joe Borrelli is a long-time wet shaving enthusiast and collector.  He hosts the Wet Shaving News Podcast and runs his own self-funded website http://shavestraightandsafe.com/  to help inform the community of new information involving the wet shaving world. Joe holds a BBA from Florida Atlantic University, and currently works for the nation's largest wine/spirits/beer retailer. In his spare time, he enjoys traveling with his wife Linda, outdoor activities and collecting wet shaving apparel. Find out more about Joe here.