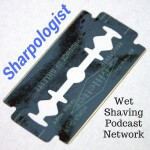 You're listening to Wet Shaving Talk powered by Sharpologist.com where we're dedicated to preserving the art and skill of classic shaving. I'm your host Joe Borrelli and today is February 13th, 2023
Today on the Show
New Wolfman Razor? 
Charcoal Goods Is Retiring
Why Choose Titanium?  
Titanium for my Straight Razor??  
Wet Shaving Gift Ideas for Valentines Day
---
New Wolfman Razor Prototype 
Looks like Wolfman is at it again with a new prototype.  Stay tuned for more information in the next few weeks.
---
Charcoal Goods is Retiring 
Brian from Charcoal Goods announced he is retiring, and liquidating all razors and parts.  The website is no longer in service. Brian turned a lot of heads with his razors, and started off making them with a vintage machine finished by hand for the first few before switching to a modern CNC machine. 
You can read my review of Charcoal Goods complete with an interview here: https://sharpologist.com/charcoal-goods-torpedo-razor/
---
Why Titanium?  
As we kick off Titanium Month let's first go over why?
Well, there is no real reason to purchase a titanium razor. I mean, they're expensive, hard to come by and don't shave better…right?
---
Titanium for my Straight Razor? 
Titanium may make a great safety razor but it's not suited for straight razors, unless you just want a titanium handle.  Titanium tends to be more brittle/softer than steel thus forcing it to lose it's edge faster and will not stand up to the abuse of carbon steel.   
---
Gifts For Valentines Day 
. Here are some ideas if you are strapped for time and need that last minute gift:Cologne, AOS products, Shave Cabinet or Box, Virtual Gift Card. If you're in NY hit up Pasteurs. .
---
Our show is powered by Sharpologist.com, "What Your Father Didn't Teach You about Shaving" 
Special Thanks to:
Mark aka Mantic 59
Most of All……….YOU!!!!
Don't forget to check out my blog site www.shavestraightandsafe.com  for the tips and interesting wet shaving stories!
Please feel free to contact me at joe.wetshavingnews@gmail.com  
Subscribe to my YouTube Channel for videos regarding some interesting wet shaving content.
Our next show will be 2-27-23
Until then….
Shave straight and Shave Safe!