When I think of British shaving companies, I've always gone to Geo F. Trumper, Truefitt and Hill and, of course, Taylor of Old Bond Street. I think it's safe to say those are the "Big 3." They signify the "old school" shaving world, centuries of tradition and reserved style. 
Pinnacle Grooming
Those are NOT words that come to mind when scrolling through Pinnacle Grooming's website. 
With names like "Voodoo", "Chillin" and "Wolverine", it seems like pipe-smoking guys in tweed jackets are not their target audience! Though they are located in the northwest of England, their style is not stodgy, but very modern. 
I discovered Pinnacle while on a buying frenzy at Pasteur's sale page. Because I am a deal-hound, I was drawn to the 50%-off prices on Pinnacle products. Since each was tallow-based, which is my norm, I had to do some serious research to narrow down from the 30 soaps to choose from.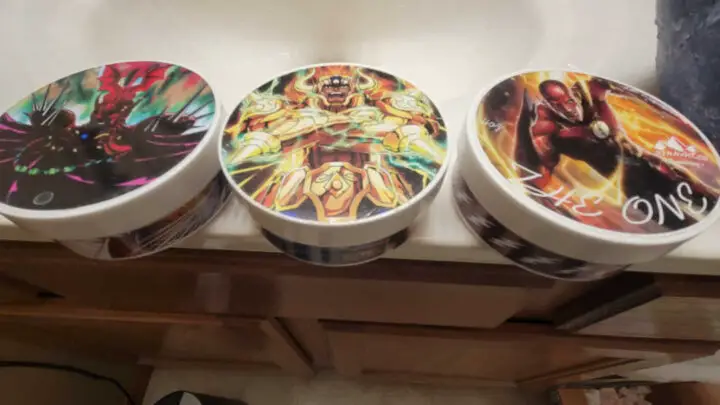 I selected three (left to right) Arles, Toro and The One. Each had the same ingredients: Beef Tallow. Potassium Stearate. Mango Butter. Distilled Water. Avocado Oil. Castor Oil. Goats Milk. Olive Oil. Aloe Vera Juice. Kokum Butter. Vegetable Glycerine. Almond Oil. Shea Butter. Silk Amino Acid. Coconut Oil. Lanolin. Grape Seed Extract. Bentonite Clay. Cocoa Butter. Camellia Oil. Sodium Lactate. Vitamin E Pure. Fragrance & Essential Oils.
I decided I would not judge the product by the cover art, which looks to have borrowed heavily from Japanese anime'.  
Here's my thoughts on the scent of the soaps. Arles, the one on the left, has notes of bergamot, pink pepper, some sandalwood and fir. It is, to me, more of a spring and summer scent. 
Toro, the one in the middle, is another warmer weather scent. It is described as "white and black incense" on the Pinnacle's website.  That is an accurate description and it is a lighter scent than Arles and The One.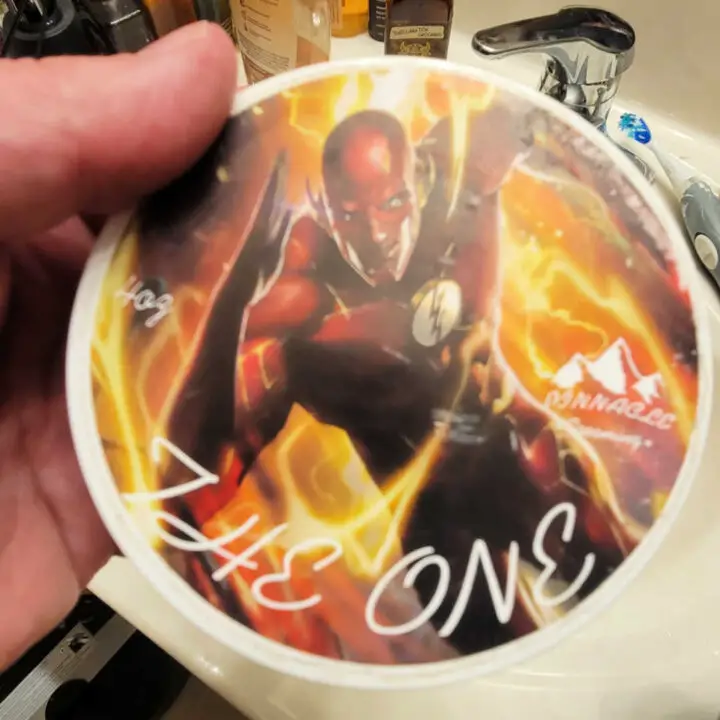 For this review, I'll focus on "The One." It has strong leather, birch,  musk with Oud and sandalwood notes. And you will not miss those scents, this is the strongest scent off the puck of the three.  In fact, you might as well buy the aftershave if you lather with your hand,  because it will have that scent on it for hours. But I like all the notes, so it doesn't bother me. 
The One
For this review, I used my trusty Semogue Owner's Club. 
I soaked it in my scuttle while I bloomed the soap with hot water.  About 30 seconds of loading filled the brush.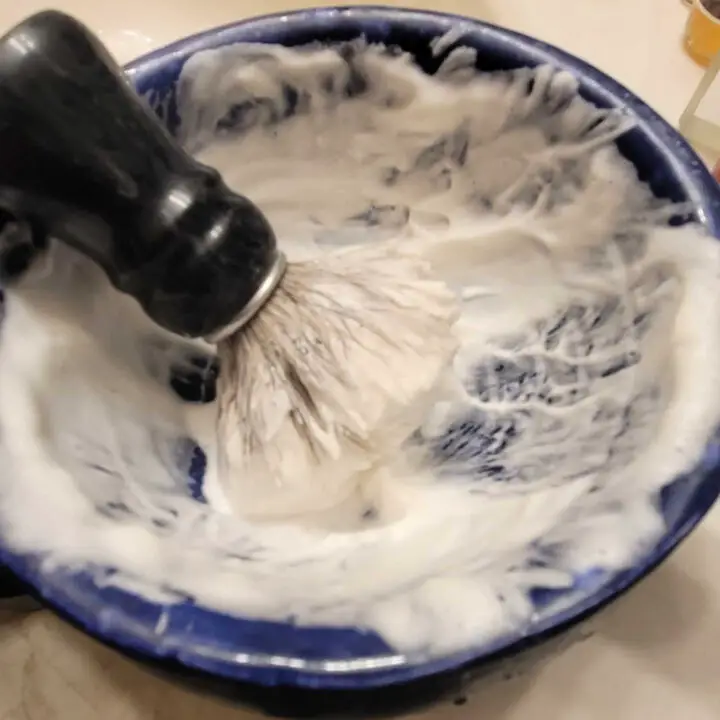 This is about 45 seconds of bowl action. Pinnacle says on its website that it is a thirsty soap and that is true!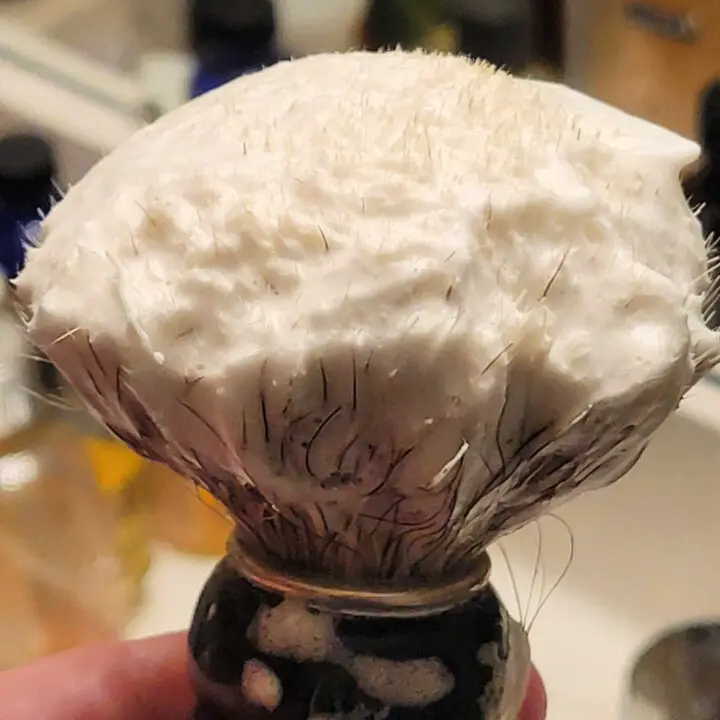 I kept adding several drops of water every 15 seconds or so and working the bowl…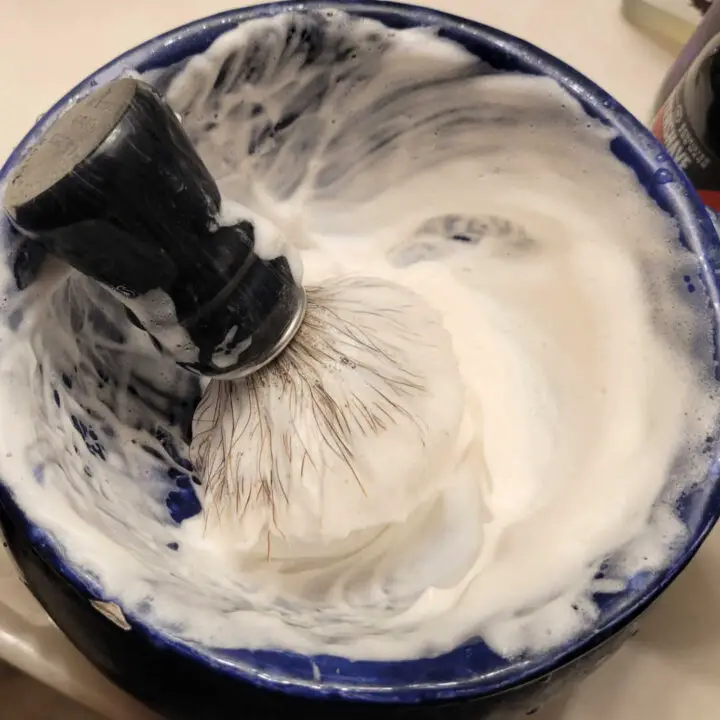 The scuttle had a good amount of lather in it..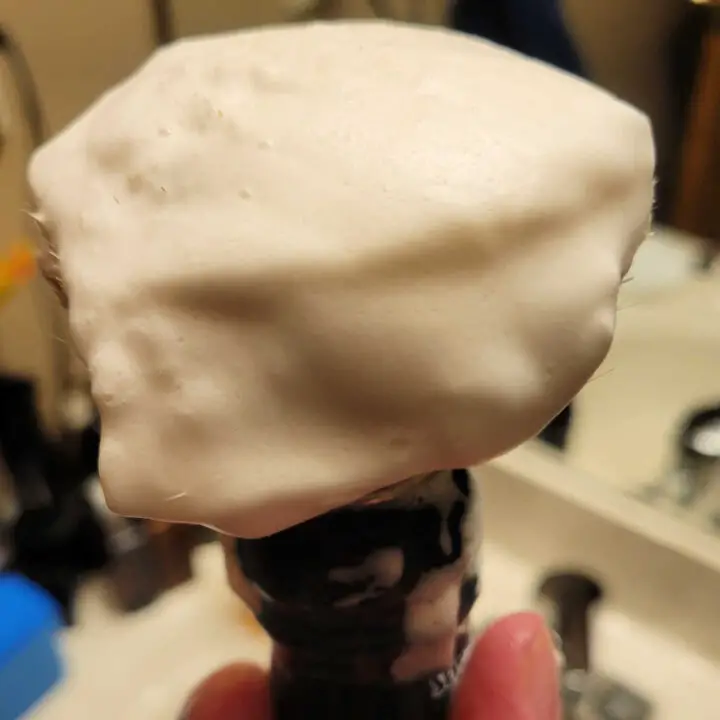 And it produces what I call "meringue"-like lather. It is pretty thick and the scent has not backed off a bit. This will make your bathroom smell like whatever Pinnacle you choose. 
This definitely made enough lather for a head shave and a four pass. 
I used a DSC Executive for my head and my Fatboy and a new Astra Platinum blade on my face. The Pinnacle lather provides what I consider excellent glide and protection. It left my scalp feeling pleasantly moisturized, which is what I have come to expect from the top-tier tallow soaps. 
Summing Up
That is what Pinnacle is competing with at the normal price point of around $20-$25. Ariana & Evans' soaps, their site, are $17.99 to $19.99,  Barrister & Mann is priced at $19.99 , Wholly Kaw has a higher price point, tallow-based soaps going for $29.99. Does Pinnacle compete? I have to say it does. Its performance, from lathering to shaving to post-shave, was on par with those brands. The only downside is the cost of getting it. Shipping from the UK is pretty expensive, but when found at the regular price at stores in the United States, their price point puts it in the "competitive range." When on sale, like at Pasteur's for $12.99, it's a bargain that you shouldn't pass up, it is definitely a deal.