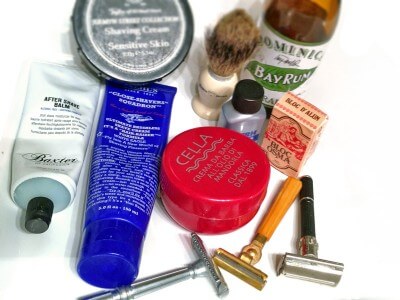 I'm far from an expert in the field of wet shaving, but after more than two years of trial and error – not to mention everything I've learned from my association with Mantic59 and Sharpologist – I've tried a lot of stuff.
An awful lot of stuff.
Now, I still haven't completely conquered the razor burn on my neck, which was the main reason I started this adventure, anyway. But by experimenting with dozens of razors, creams, soaps, blades, aftershaves and brushes, I at least know what I like, and what I don't.Even though a lot of guys think they have sensitive skin, I know I do. Technique helps my neck: stay with the grain and when possible, shave with cold water. But products do matter.
So, for what it's worth, here's my personal list of the best of the best.
Modern razor: Merkur Slant
. In my experience, it's cuts the closest.
Vintage razor: Schick Injector-E. I love this WWII vintage Bakelite razor, and I might use it every day if the blades weren't so (relatively) expensive. I also like the Super Speed Adjustable; mine is a 1972 black handled model.
Overall razor: GEM Open-Comb Micromatic. I'm a big fan of single-edge shaving. These razors are still quite cheap, and blades are even cheaper. And, there are only a few blades to choose from, so you can't get wrapped up in that drama.
DE razor blades: Feather
. Simply the sharpest. Runners-up include Derbys and Gillette 7 O'Clock yellow Russian blades.
Pre-shave oil: I don't know how much this matters, but I'm partial to the Zirh
product.
Shaving cream: Taylor of Old Bond Street Jermyn Street
. Great scent, great protection.
Shaving soap: L'Occitane Cade. See above.
Soft shaving soap: Cella
. Love the scent, and I always get smooth shaves with it. And it lasts forever.
Brushless cream: If you're in a hurry, the Kiehl's White Eagle
cream is really good stuff. It doesn't really lather, but I get excellent shaves from it every time.
Brush: Rooney Best Badger. Mind you, I've only tried three brushes, but this one suits me the best.
Aftershave splash: Dominica Bay Rum
. Perfect for summer.
Aftershave balm: Baxter of California After Shave Balm
. I'm always surprised there's no alcohol in it, but the tea tree oil calms and cools.
Secret weapon: Osma alum block
. While I don't care for the sting, if I've butchered my face, it helps. I use it very sparingly.
Secret weapon #2: Witch hazel. Use it and use it often. Both after rinsing your face and in the evening. It's good stuff.
Secret weapon #3: Cold water shaving. In the summer, it will deliver great results if you have sensitive skin.