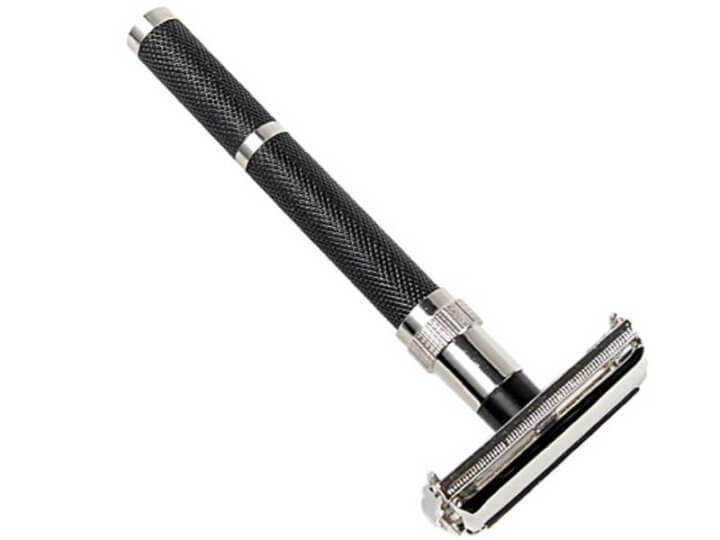 [Updated August, 2020] My recent article on the most popular double edge razors by sales included the Parker 96R.  Here is my take on that razor.
Parker 96R
From the Super Safety Razors website:
"The Parker 96R butterfly open is one of our most popular models based on its classic good looks, intermediate weight and textured black and chrome handle. It has a thinner diameter handle, so it is great for those with smaller hands. It has Parker's precision engineered twist-to-open head, a nice heft and a wonderful balance. This is an excellent razor for new and experienced wet shavers.
Razor type: Butterfly open safety razor
Weight: 3 3/4 oz.
Length: 4 in.
Handle material: Genuine brass frame, black and chrome plated"
My Experience With The Parker 96R Razor
I've actually owned several revisions of the '96.  My latest example is heavier-feeling and better balanced (IMHO), with noticeably thicker (TTO) doors and a smoother-operating twist-to-open mechanism, than earlier versions.  But even the earlier versions were good shavers and entirely acceptable to me.
All the Parker TTO razors use the same TTO head (with minor changes in the handle hardware, depending on the type of handle used), much like how Edwin Jagger uses the same three piece head for their DE89 series.  So the differences in shave-feel between models will come from subtle variations in weight, balance, and grip, depending on the handle.
I find the 'height' of the Parker TTO head small enough not to cause a problem when negotiating tight spots like under the nose (YMMV).  Some other TTO razor heads have given me problems with that.
(I should note that I think all TTO-style razors, including Parker's, have some inherent design characteristics that can make the opening and closing process something that you need to pay attention to.)
I like the full-length texturing of the 92R's longer-than-typical handle.  I've never had a problem with it slipping out from between my wet fingers during a shave.
For the shave itself, I find the Parker 92R to be just a bit more aggressive than average, with a fair amount of blade exposure, but not so much that I can't enjoy using it.  It might be too much for a beginner, though.  I think it has a fairly generous razor/blade angle range–in other words I can hold the razor at different angles and still get a 'safe' cut on my stubble.
Conclusion
(Amazon and West Coast Shaving links are affiliate.)
All-in-all I find the Parker 96R to be a predictable, reasonably forgiving, value-oriented double edge (DE) safety razor. If you're looking for a "middle of the road" (and that's not a bad thing) example of a DE to show someone, the 96R would certainly fit the description.
By the way, the razor comes with a pack of Parker double edge razor blades, which I quite like.
And the 96R is widely available (like many Parker razors) at online outlets like Super Safety Razors, Amazon (which gives it a 4+ rating with almost 1300 reviews), West Coast Shaving, and Maggard.  You might even find them in a "brick and mortar" store.
Do you have a Parker 96R razor?  What do you think of it?  Leave a comment below!