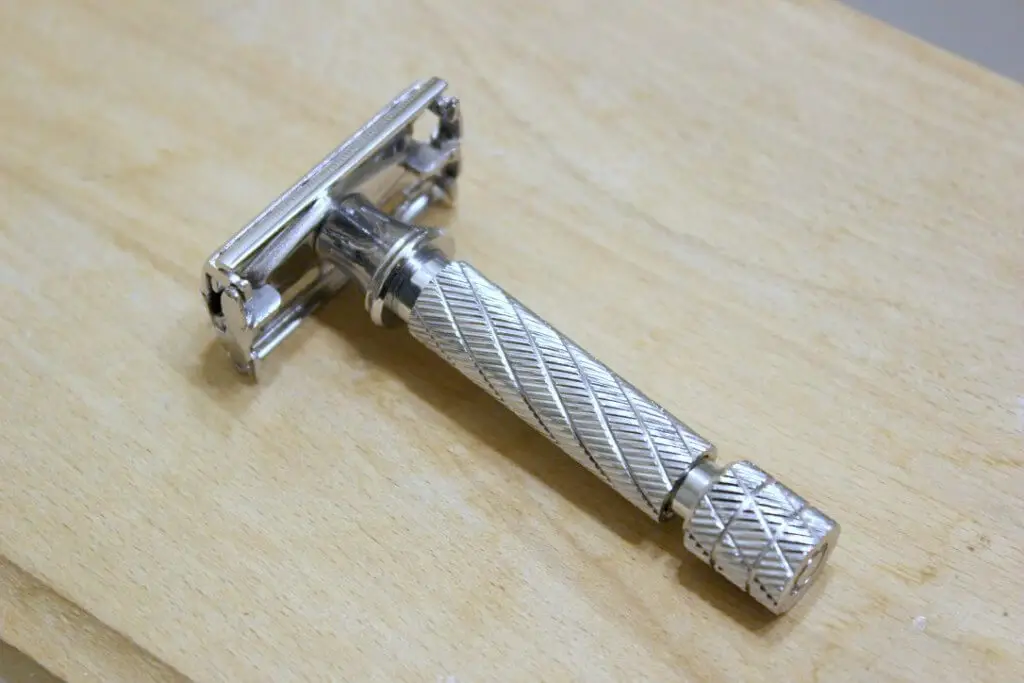 Parker razors have been making heavyweight, long-handled safety razors.  However 2016 saw the launch of a new, short-handle razor that is still a heavyweight, the 87R.

87R
The 87R uses the same head as Parker's other twist-to-open (TTO) razors, so the shave should be familiar to those who have used other Parker TTO models.  The difference here is the handle.  It's both very nicely balanced (IMO) and has an attractive yet "grippy" texture.  At three inches it's one of the shortest handles in the current Parker line (the 94R three piece razor is also three inches and the 65R three piece is four inches).  It may be a fraction lighter than the other short handled Parkers (3oz vs. 3.75 oz) but in actual use I think it is plenty heavy enough for maintaining good shave technique.
For those who are interested in the metallurgy, the razor is chrome plated over a brass frame.
(I received a razor for evaluation purposes but my opinions are my own and this post is not sponsored or endorsed by Parker razors.)
So How's The Shave?
My shaves with the 87R have been interesting.  I've used enough Parker razors to expect a certain shave experience (just as, say, many Merkur razors behave similarly) and adjust my technique accordingly.  But the 87R's short handle changes the razor's center of gravity as I hold it and it seems to give me a more effortless shave.  It's hard to explain but the bottom line is I get an excellent shave with a little less "mindfulness" than usual.  I also find that I can use higher performance blades (Polsilver Iridium's are my favorite) more effectively with this razor.  The price is right too.  🙂
An 87R Giveaway!
Parker's North American rep. offered me an additional razor to give away!  So, courtesy of Super Safety Razors, here's your chance to score an 87R for yourself.  Click HERE [EDIT: Link disabled, giveaway ended] and enter your valid email address to be entered into the giveaway (email for giveaway only and will not be used for other purposes).  Enter before 11:59pm (Eastern Time) on Monday, March 28, 2016.
EDIT: Congrats to "Brett" who was selected for the razor giveaway!