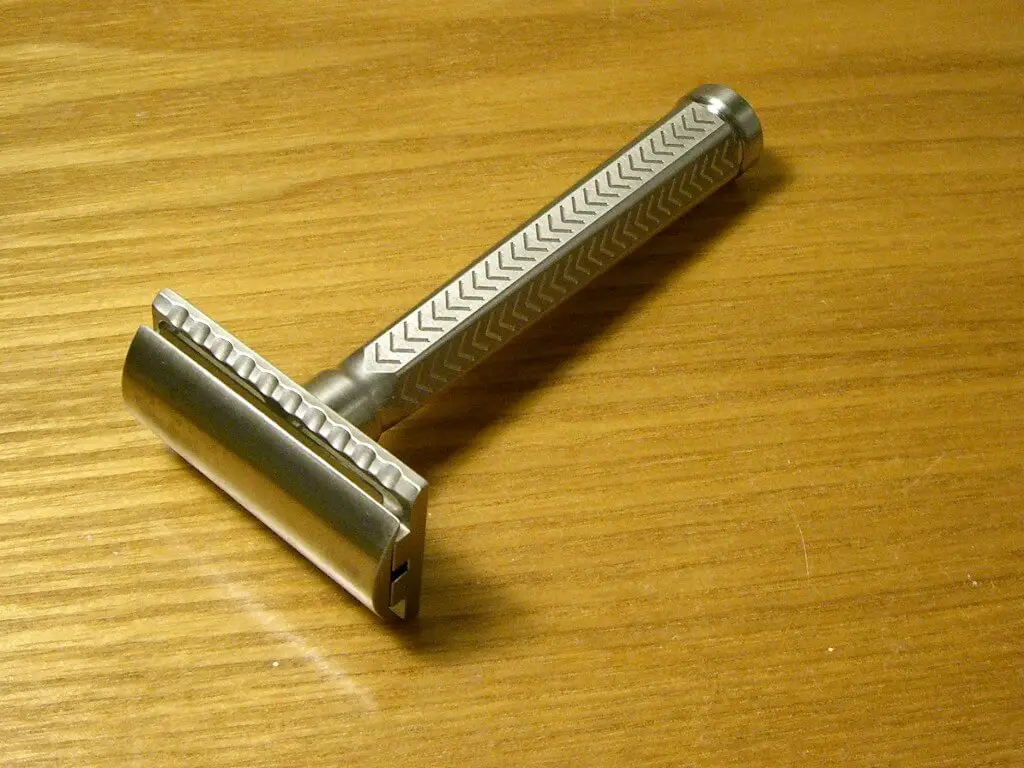 Bullgoose Shaving just announced the Paradigm Shave Ware Titanium DE Razor.  Phil at Bullgoose had asked me to help evaluate the razor before it became generally available, so I have had some experience with it.  With the buzz of the launch announcement I figure now would be a good time to review it here….

Titanium?
Wikipedia describes Titanium as "a lustrous transition metal with a silver color, low density, and high strength. Titanium is resistant to corrosion in sea water, aqua regia, and chlorine."  Obviously, a razor with such corrosion resistance is of interest to the wet shaver!
Of course, there are other lower cost corrosion-resistant metals for the wet shaver out there–Stainless Steel leaps to mind.  Titanium, however, is more resistant than Stainless Steel.
Titanium is also more expensive than other metals and can be much more difficult to work with in a manufacturing setting.  It's strength and durability characteristics take their toll on tools and machines.
Titanium shows remarkable corrosion resistance by virtue of a passive oxide film.  Like stainless steel, it is dependent upon an oxide film for its corrosion resistance. The oxide film formed on titanium is more protective than that on stainless steel, and it often performs well in media that cause pitting and crevice corrosion in the latter (e.g., seawater, wet chlorine, organic chlorides). While titanium is resistant to these media, it is not immune to them!
But is Titanium over-kill?  What other differentiating factors does a Titanium razor offer?
The Paradigm Shave Ware Titanium DE Razor
From the design perspective, the Paradigm Shave Ware Titanium DE Razor shows some interesting elements.  One thing I really like is the blade-holding design of the head.  Instead of the typical two-pin design it uses the less-common (but superior IMO) 'bar' design.  Engineered correctly this can make blade alignment and symmetry much more consistent…and this razor looks to be engineered correctly.
Another uncommon design element of the razor is it's 3.5 inch hexagonal handle.  Although the etching in the handle is not particularly deep, I'm able to easily hold it in my wet hand during a shave.
An element that could be a positive or a negative depending on how you look at it is weight.  This razor is an example of Titanium's characteristic of both high-strength and low-density: it weighs in at 70 grams, about 20 grams lighter than the typical "heavyweight" razor.
Another "positive or negative" is the razor's finish.  Again, a common characteristic of titanium is that the finish may not be quite as "shiny" as other metals.  While Titanium can have a high finish, it generally requires more complicated manufacturing.
More background on the razor is available on Paradigm's website.
The over-all "fit and finish" of this razor seems excellent.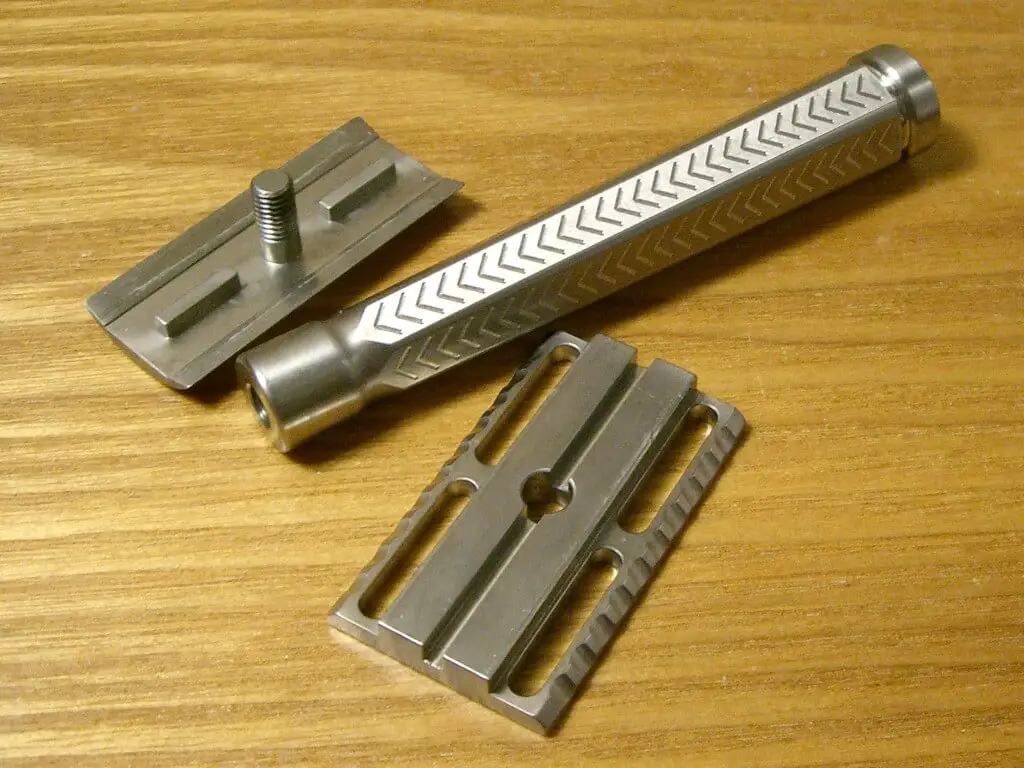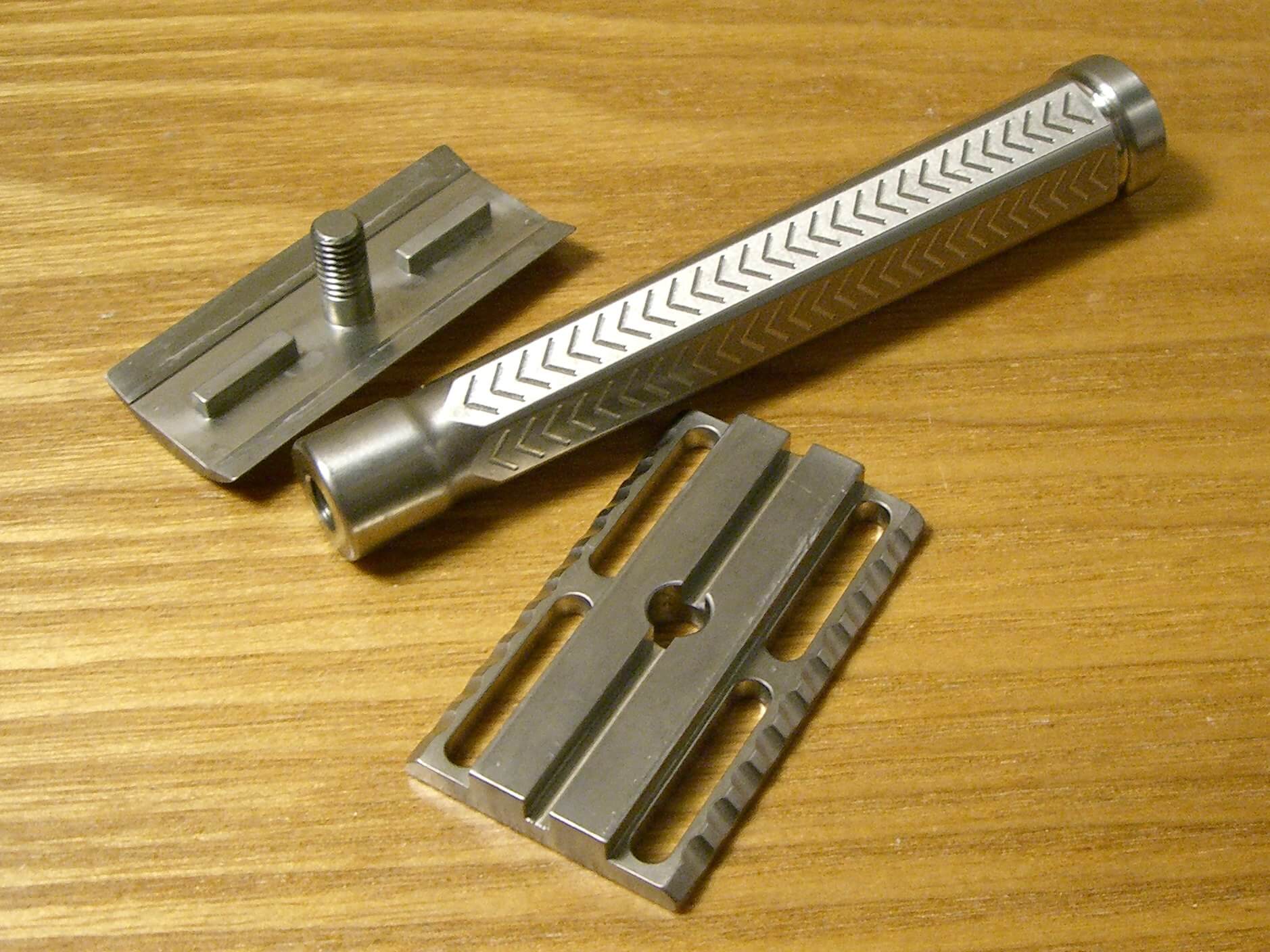 So How Is The Shave?
For me, using the Paradigm Shave Ware Titanium DE Razor took some adjustment.  It's lighter weight and corresponding balance characteristics took me a few shaves to get used to.  And, again for me, the razor was a bit more aggressive than I prefer: though this razor is probably well within  "middle of the road" territory (I think it's roughly the same as a Merkur HD for comparison purposes), I prefer milder razors.
Then there's the elephant in the room: the razor's price.  This is not an inexpensive razor.  And it seems like the high-end of the razor market is getting crowded–if you are looking for a luxury razor you have quite a few choices!
But from the performance perspective, the Paradigm shaves well–very consistent and efficient in my opinion.  If you are looking for a luxury razor that might become a long-term "heirloom" for your descendants by virtue of it's resistance to the ravages of time, the Paradigm Shave Ware Titanium DE Razor might be worth looking at.
Did you find this article useful?  Please share it!