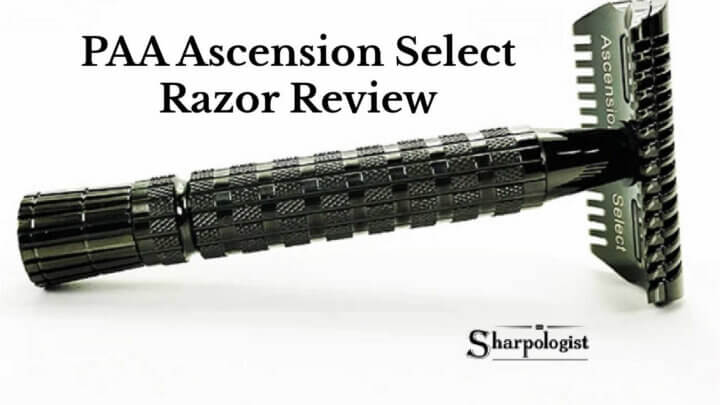 The PAA Ascension "SELECT" DOC razor is finally back in stock.  Here's my take on this interesting razor.
PAA Ascension SELECT
(Note: PAA links are affiliate.)
Highlights from the PAA Website:
The Ascension SELECT possesses all the great features of our classic CNC Machined models and then some; Greater Adjustability, Durability, Weight, Grip and even some Flare!
Tweaks
Not only did we choose to make this handle beefier, but also longer to meet the modern shavers needs (3.5″). I also thought it wise to add a tad more grippiness to the knurling in an effort to give the user more control over the shave at sink or in the shower….

It captures lather and water in the top cap channels and redistributes a trail of it evenly on the skin during the pass, much like a lawnmower leaves a trail behind it. For this reason both the DOC and Grand are known to be the best buffing razors out there.
Twist – Adjustable?
Not aggressive like our DOC Evolution (2015-16), but more than our original DOC (2013), and not in a bad way at all, but in a smooth way. That said, you can easily change and adjust the blade angle with a simple twist of the handle and in turn, customize the aggressiveness and feel of the shave.
Removable Color Flare Tips
…Each SELECT comes with a gunmetal tip but if you want to add a little zing to your next shave, consider adding on one of our color tips! We now offer 7 color options; Classic Gillette Red, Classic Phoenix Shaving Purple, Burnt Orange, Mystical Mustard Yellow, Alien Grey, Desert Turquoise, & Sci-Fi Blue.
NEW Buffer Ring Action!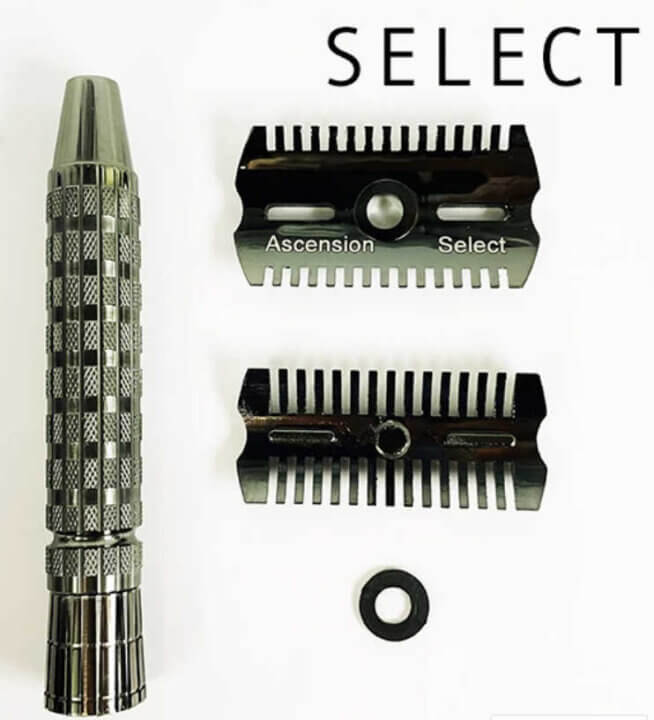 Always dabbling with the Ascension I got to experimenting with nylon washers and in doing so, I discovered I could get even more of a turn out of the handle. This not only amped up the aggressiveness but also gave greater adjustability without sacrificing safety….
Black Or White Buffer Ring? [What Do You Think?]
I decided to include two different washers with this first release. I'm not sure if this is true or not, and if you know please reach out, but I found they each performed differently. This led me to conclude the colors indicated tensile strength…of course this could all be in my mind….
Longer Caps & Divots
We chose to also lengthen the top and bottom caps so as to encase the blade tabs. This was not the case with The Original DOC & Grand Razor…so we decided we would make this modern tweak and consideration in the design of The Ascension.
We also chose to keep what I believe was just decorative indents on the side of the Original DOC cap design. However these curious divots would now serve a real purpose, and that is a secure rest for your thumb and forefinger when Twisting the razor. In slippery, soapy conditions these indentations prove to be highly effective and provide a virtual no-slip grip. 
The Ascension SELECT Safety Razor Specifications:
Starting Blade Gap: 500 Microns Complete Razor Approx. Wt. 104 grams/ 3.07 Oz  Handle Length: 3.5″ Complete Razor Length: 3.80″
Material: 316L Marine Grade Stainless Steel, CNC Machined Handle. Gunmetal Plated. Head: Zinc Alloy, Gunmetal Plated Includes: Nylon Buffer Ring
My Experience With The PAA Ascension SELECT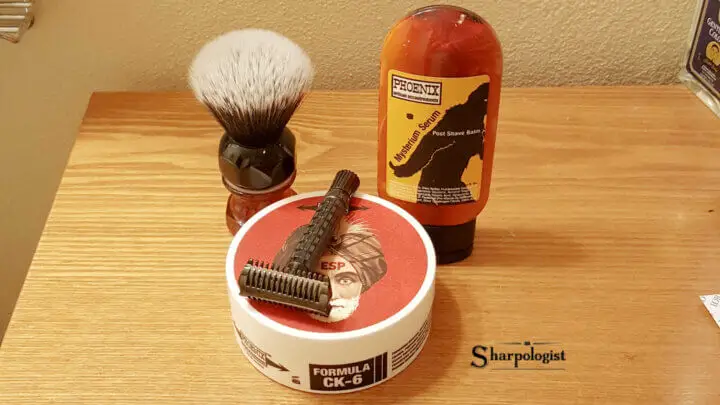 [Note: I received a sample razor some time ago from PAA under no obligation.  My comments are my own opinion and have not been reviewed or approved by PAA.]
Weight, Balance, And Grip
The first thing I notice with the Ascension Select razor is the weight and distribution.  It feels "beefy" to me, heavier than the specs indicate.  That might be because the razor's center-of-gravity is further down the handle than many of the razors I frequently use.  I prefer a balance point closer to the razor's head–YMMV of course.
The etching of the knurling is quite distinct and deeper than the design looks.  I don't have any problems with the razor slipping out of my hand and I doubt others will either.  This is quite a "grippy" razor!
Flare Tips, "Adjustability," And Buffer Rings
The different colored handle flare tips are kind of "off the radar" for me: they make an interesting novelty but I've never been interested in vintage razors so I honestly don't get the appeal.
Douglas Smythe and I have been having a gentlemanly discussion about the "adjustability" of the Ascension razors, including the Select.  Most adjustable double edge razors adjust the blade gap.  Ascension razors adjust the blade angle within the razor head.  While i think this may indeed have a secondary effect of changing blade gap to some degree, my opinion is you adjust this razor to fit the way you hold a razor for best blade edge cut, rather than changing the exposure of the blade edge itself.
Maybe it's a case of "potato, potahto; tomato, tomahto."  If you use an Ascension Select I'd like to know your opinion about "adjustability" in the comments section below!
I think the different buffer rings do seem make a difference: I definitely get a different shave characteristic.  But I prefer not using a ring at all (YMMV).
By the way, I store my buffer rings on the removable flare tip's screw threads, then screw it back into the handle.
The Shave
As background, I'm a fan of PAA's original DOC razor.  As mentioned in the Ascension Select sales page this razor is more aggressive than the original DOC (I prefer mild razors)–but not as aggressive as other PAA Ascension razors (especially the Evolution which is no longer produced).
I prefer using this razor cinched all the way down, without a buffer ring, for the way I shave.  That setting gives me the mildest shave, though it also makes the razor hold angle less generous than other settings.  That caveat aside I find the shaves I get with the PAA Ascension Select very good.
The Ascension Select, like other DOC/SLOC razors, excels when using shaving techniques like short strokes, more frequent rinsing, against-the-grain passes, and especially for "blade buffing" during final touch-up shaving.
Conclusion
The PAA Ascension Select continues a trend I've been seeing among artisan razor makers–riffing on "classic" razor designs to come up with products that appeal to the shave enthusiast.
Do you have a PAA Ascension Select?  What do you think of it?  Leave your comments below.