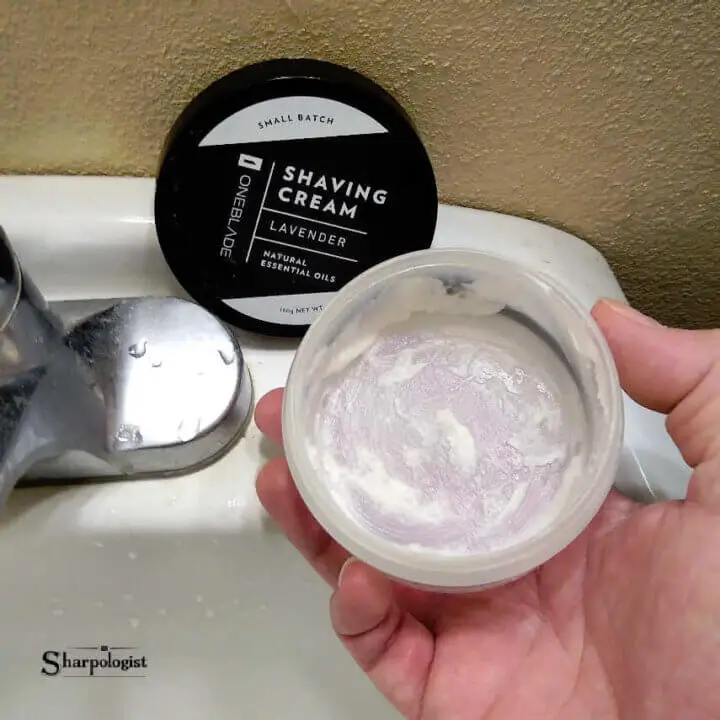 I have a lot of shaving creams and soaps. I'm pretty sure I have enough to last many years.  It's rare that I actually finish a container off but I recently ran through my jar of OneBlade Black Tie Shaving Cream so I thought I'd write up a review.
OneBlade Black Tie Shaving Cream
[Note: Oneblade links are affiliate.]
From the Oneblade website:
The OneBlade team spent months testing various combinations of natural ingredients and shave cream styles in pursuit of a superior shaving cream formula that was ultra-skin friendly yet easily lathered…. Key ingredients include Aloe Vera, Cocoa Butter, Shea Butter, as well as powerful essential oils like Lavender, Geranium, Sweet Almond, Apricot, Avocado, and Safflower….
Softens hair for maximum glide, helps prevent ingrown hairs, fights razor burn, moisturizes skin
Superior formula packed with natural butters, rich essential oils, and skin-friendly antioxidants
Soft cream style for easy rich lathering – can be used brushless or with a shaving brush
Sulfate free – Paraben free – Alcohol free – No artificial fragrances or dyes
Made in small batch in the USA – Not tested on animals
Ingredients: Water, Glycerin, Stearic Acid, Myristic Acid, Potassium Hydroxide, Butylene Glycol, Aloe Barbadensis Leaf Juice, Butyrospermum Parkii (Shea) Butter, Theobroma Cacao (Cocoa) Seed Butter, Lavandula Angustifolia (Lavender) Oil, Pelargonium Graveolens (Geranium) Leaf Oil Prunus Amygdalus Dulcis (Sweet Almond) Oil, Prunus Armeniaca (Apricot) Kernel Oil, Persea Gratissima (Avocado) Oil, Carthamus Tinctorius (Safflower) Seed Oil, Glyceryl Stearate, Glycol Distearate, Sodium Hydroxide, Phenoxyethanol, Ethylhexyglycerin, Sodium Methyl Cocoyl Taurate, Disodium EDTA
My Experience With The OneBlade Black Tie Shaving Cream
For me the OneBlade Black Tie Shaving Cream has a moderately strong, moderately persistent lavender scent.  I find it quite "natural" smelling, unlike some scents that can smell more artificial (click/tap here to also read "Masculine Floral Scents For Shaving?").  My opinion of the strength of the scent is supported by some and not by others.  I suspect this might be a combination of minor variations in the "small batch" production runs and the ever-present "YMMV."
Personal circumstances have lately had me turning more toward lavender scents in general, since the lavender scent has reputed stress relief and relaxing qualities.
Building a thick, voluminous, luxurious lather with this is stupid-easy for me, even with my "hard" water.  I find I need a bit less water in the brush with this cream than other creams I routinely use.
Post-shave performance for me is just a bit below the "elite" level but still very much better than average.  Pairing this cream with the matching Black Tie After Shave Balm keeps my skin moisturized and feeling its best.  And I recently added OneBlade's "Restore Serum" to my skincare routine.
Of course, "where the rubber meets the road" is shave performance.  And in that respect I find this shaving cream is spectacular for me.  Lubrication/glide is excellent and protection/glide is outstanding!  I think this shaving cream can hold its own with any "top shelf" shave cream on the market.
Conclusion
It's no secret that I'm a big fan of the OneBlade Genesis safety razor.  I could probably be a brand ambassador for them and I know some people are sick of me yapping about them.  🙂  But they really do have some fine products.  Their Black Tie Shaving Cream has been on the honorable mention section of Sharpologist's "Best Shave Creams" list for ages: the only reason it's not on the main list is because it comes in a single scent and my own scoring criteria mandates either multiple scents or no scent at all.  If they would add another scent (something I've been pestering them about for years) this shave cream would instantly be promoted to the main list.
When I actually use up a shave cream or soap it surprises me because I have so much stuff lying around that it has to be a superior performer.  The OneBlade Black Tie Shaving Cream is that good.