We've all seen the commercial, Rick Harrison promoting the vintage style razor that'll save you hundreds of dollars shaving. It just so happened that I was looking for just that…..save money. Well hook line and sinker. I fell for it! Placed an order for this razor the very next morning, I had all of the confidence that this was going to end my pocket draining cartridge razor.  I ordered the deluxe version, it came with the black case, the razor stand and I upgraded to the German made platinum blades.

To my dismay it took well over a month to get it and on top of that not only was the razor cheaply made, along with the case, but the blades we're Dorco. I did some research on them and found out they are made in Korea….not Germany.
But anyway, without my knowing, I entered a world far beyond my comprehension by making this small purchase.  A whole world of shaving products soon filled my internet searches along with tutorials and other how to videos about this classic wet shaving thing.
I spent many hours and days "Youtubing," Googling, and searching shave forums (including Mantic59) about razors and how they preform.  I also researched the razors themselves to see reviews and specs. After much thinking and with the knowledge I felt I had learned, I decided to find a razor that felt familiar to what I knew, That was a long handle cartridge razor, and came across the Merkur "Barber Pole."  This became my Excalibur! It had a long handle, which I was accustomed to, it was a two piece razor, which again like a cartridge razor, but the only difference was it was heavier.  This razor above all else gave me the best shave I have ever had.  Simply a whim of a purchase, seeing how I could only read reviews and scan through pictures, not able to actually hold or handle the razor. This paid off very well. This razor holds top spot in my rotation. And all thanks to people Like Rick Harrison to spark the idea in my mind to people like Mantic for teaching me the how's and why's of wet shaving, something I never knew existed in the modern world and has now become a huge part of my grooming routine.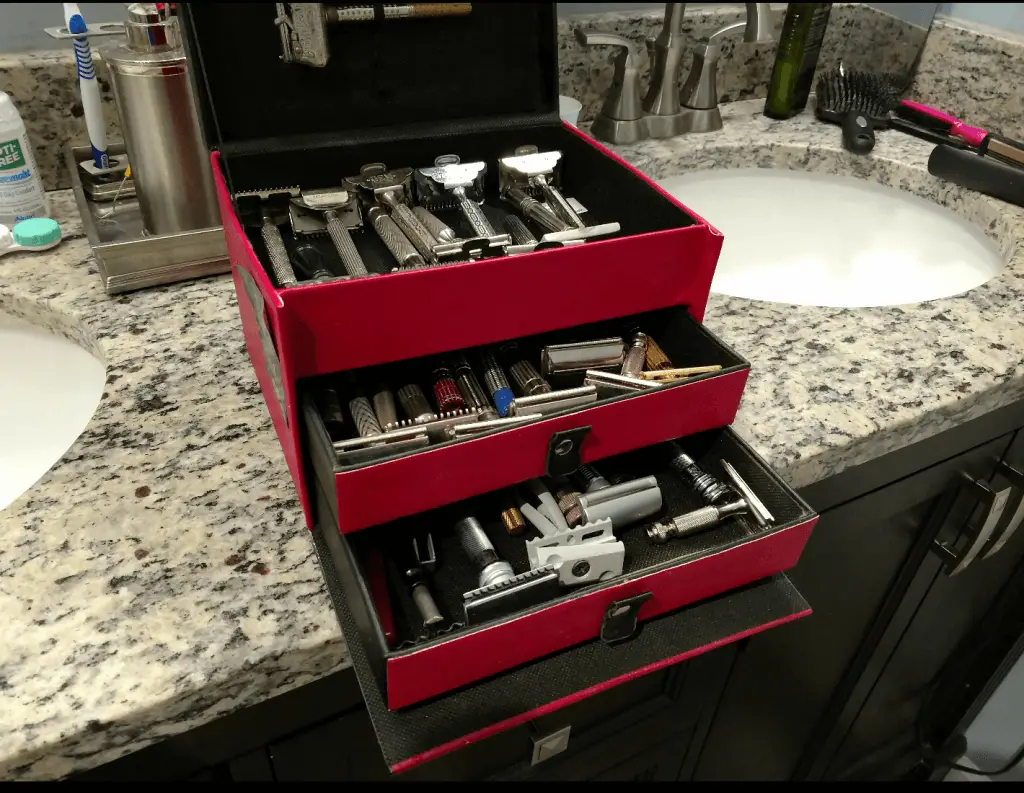 I decided, after many hours watching videos and reading forums, that I was ready to try this metal machine to my face, I had confidence I had a sort of knowledge and I was about to embark on a journey so filled with wonder and joy.
I let myself down, hyped up this shaving thing, and I blew it!  Yes it was lack of actual technique, yes it was the blades, although I had no idea blades could vary since this was my first ever safety razor shave, and yes it was the aerosol foam.  I blew the whole thing from the get-go.
I gave up just that quick. Locked away this vile weapon, this mangler of flesh, this hell tool.  So I decided to research some more, dove deep into this research found a better tool, found a better blade, found better shave soaps.  I found a better way to shave!
Quickly realizing that the razor I bought [from the commercial] was not up to any standard I tossed it away, never to be seen again, but my new Excalibur showed me the light and it was good!
Then others joined my court, hordes of wonderful shave equipment was piling on my door step and in the mailbox, it was unstoppable I was hooked!  Tried every type of razor I could afford or get my hands on, tried all sorts of blade types, makes, and models. So many soaps, cream, and in-betweens it made my head spin.
Displayed are my trophy shaver's, my beloved skin smoothers, my tools, my machines, my razors!  All because of one thirty second commercial for the world's worst razor, it opened the door for the great many to come into my life
So thank you Pawn Star for lying to the world, but regaining a once dominant and true way to shave, thank you for your distrust for allowing me to discover a world far beyond the cartridge and saving me hundreds of dollars a year, that I have happily spent buying other shaving supplies and gear.
About the Author:
Greg Gilbers is an amateur wet shaver from St. Louis, MO. Who turned Wet Shaving from a financial necessity to an obsession.  Now an avid collector of vintage and new razors.