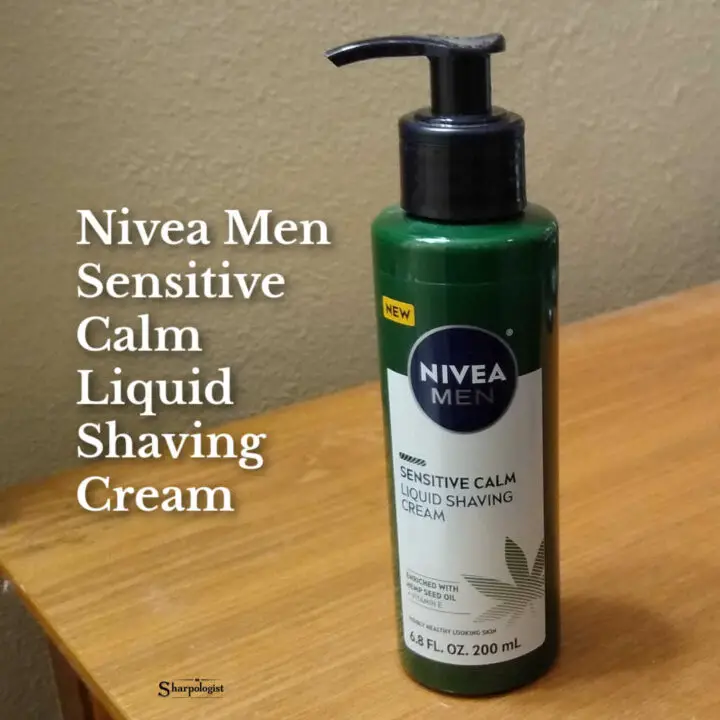 There's a new kid on the mass-market shaving cream block in the US, Nivea Men Sensitive Calm Liquid Shaving Cream.  How good is it?  I picked up a bottle to try.
Nivea Men Sensitive Calm Liquid Shaving Cream
From the Nivea website:
"Does your skin feel dry or tired? Don't let a busy lifestyle affect your skin! NIVEA MEN® Sensitive Calm Liquid Shaving Cream, enriched with Hemp Seed Oil + Vitamin E, helps soften hair and protect your skin from shaving irritation for comfortable and visibly healthy-looking skin. This liquid shaving cream has been dermatologically tested for skin compatibility…."
Ingredients: Water, Myristic Acid, Glycerin, Stearic Acid, Potassium Hydroxide, Cannabis Sativa Seed Oil, Tocopheryl Acetate, Hydroxyethylcellulose, Disodium Phosphate, Sodium Phosphate, Citric Acid, Fragrance
What Others Are Saying About Nivea Men Sensitive Calm Liquid Shaving Cream
Nivea Men Sensitive Calm Liquid Shaving Cream is relatively new to the US market (a version has been available in Europe for a while) so there aren't a whole lot of reviews out right now.  Here are a few I found:
From one of the shave forums:
"I really like it. It lathers very easily and, if you add small amounts of water at a time, achieves very good slickness. Post shave feel is excellent."
"I did a test lather with it couple days ago. Excellent lather… slick and creamy. It's of mid-density and does fine for a mass produced cream. For the price and how much you get, I think this is a winner."
"I tried it. Pretty dang good for like ~$3. I definitely got the cream-to-water ratio wrong, but it was still very serviceable and left the skin feeling nice. I will continue to experiment and will hold off on praising or condemning its performance."
Amazon customers (affiliate link) give it a 4.5 out of 5 score (with an 87% positive sentiment from over 200 ratings).
My Experience With Nivea Men Sensitive Calm Liquid Shaving Cream
Broadly-speaking this shave cream reminds me a lot of Lucky Tiger's shave cream (Amazon affiliate link): liquid consistency, mild scent, brushless but brush-friendly, surprisingly great performance.
As this cream comes out of a pump bottle it's quite a bit "runnier" that the typical shave cream–I would call it a lotion, like a lot of aftershave balms.
From the bottle I get a mild, vaguely soapy/citrus scent into my admittedly very insensitive nose.  Lathered on the face I get nothing–it's basically scentless to me.
The lather itself is very good when applied by hand (brushless) and improves a bit more with a shave brush.  I would classify this as a "brush-friendly" cream like Truefitt & Hill No. 10 and Pacific Shaving Caffeinated shave creams.
Performance is surprisingly good for me, almost to the level of the best traditional creams and it easily holds its own with other good, widely available brushless shave creams like Cremo, Pacific Shaving, and Jack Black.  Lubrication/glide and cushion/protection are both excellent.
Summing Up
It's great to see a shave product that works really well on the shelf of my local "brick and mortar" store.  I think Nivea Men Sensitive Calm Liquid Shaving Cream is definitely worth picking up if you happen to see it and it might even appear on Sharpologist's Best Shave Cream list soon!