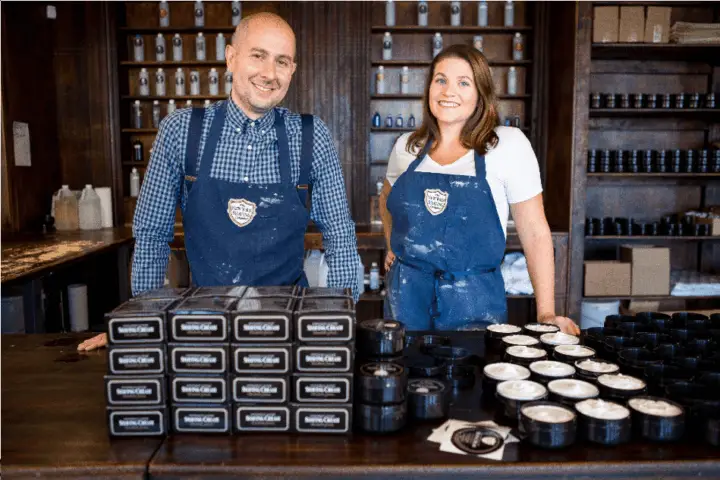 John Scala, who runs New York Shaving Company (NYSC), recently sent me a sample of his new "Mr. Scala" line of shaving and fragrance products. I've been giving them a workout.
New York Shaving Company Mr. Scala Products
There isn't a whole lot of detail on the NYSC Website about the scent of Mr. Scala, so I asked John about it:
Top notes: Black Pepper, Davana , Bergamot, Lavender
Middle notes: Ylang, Jasmine, Soft Woods
Base notes: Amber, Sandalwood, Musk, Vetiver
Of course, be aware that there are usually variations in scent profile depending on the specific product, and I'll go into that below.
(Bear in mind that I have a notoriously insensitive nose, so your experience with scent will probably vary.)
Pre-Shave Oil
"…an innovative shaving solution designed to soften the beard and protect the skin from the razor blade. It adds a protective layer to the skin, helps the razor blade glide smoothly, reduces irritation, ingrown hairs and razor burn while nourishing the skin. Provides the closest shave possible. Developed in our NYC Tonsorial Parlor"
Pre-shave oil ingredients: Castor Oil, Fragrance, Essential Oil.
From the fragrance perspective…well, there almost isn't any. I get just a bit of Davana and Vetiver but that's about it.
Performance-wise the NYSC pre-shave oil works well but you may not need it in conjunction with their shaving creams (I certainly don't).
Shaving Cream
"…This rich cream contains such beneficial ingredients as Coconut Oil, Glycerin, Organic Cocoa Butter & Organic Aloe. Developed for all skin types, our shave cream solution protects the skin from nicks, cuts, razor burn, irritation and ingrown hairs. It can be used with or without a brush."
Cream Ingredients: Water, Myristic Acid, Stearic Acid, Coconut Acid, Potassium Hydroxide, Glycerin, Organic Theobroma Cacao (Cocoa), Seed Butter, Sodium Hydroxide, Organic Aloe, Barbadensis Leaf Juice, Allantoin, Hydroxyethylcellulose, Sorbic Acid, Fragrance
For me the scent of the Mr. Scala shave cream is mainly the base notes above, with maybe a little Davana thrown in. I get a "cologne-like" vibe from it. The scent is medium-strong and fairly persistent through the shave–a plus for me.
Lather is quick, easy, and voluminous, even in my "hard" water.
As for performance, NYSC Mr. Scala, like the other NYSC shave creams, is excellent. Top-notch lubrication/glide and cushion/protection. I have to be careful not to put on too thick of a lather otherwise the cushion aspect could almost be "too good."
Post-shave skin moisturization is also very good.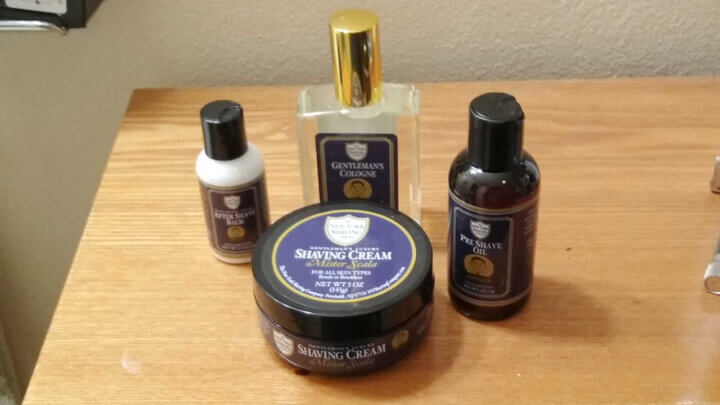 Aftershave Balm
"…This rich cream post shave balm contains such beneficial ingredients as Allantoin, Organic Cocoa, Butter, Jojoba Oil, Organic Sunflower Oil, Organic Aloe, Vitamin E, Witch Hazel and Tea Tree Oil. Our After Shave Balm emerges with notes of Lavender, Jasmine, and Sandalwood."
Balm Ingredients: Water, Organic Aloe Barbadensis Leaf Juice, Cocos Nucifera (Coconut) Oil, Organic Helianthus Annuus (Sunflower) Seed Oil, Cetearyl Alcohol, Ceteareth-20, Glycerin, Phenoxyethanol, Glyceryl Stearate, Organic Theobroma Cacao (Cocoa) Seed Butter, Simmondsia Chinensis (Jojoba) Seed Oil, Potassium Sorbate, Allantoin, Caprylyl Glycol, Disodium EDTA, Ethylhexylglycerin, Sodium PCA, Tocopheryl Acetate, Hamamelis Virginiana (Witch Hazel) Extract, Melaleuca Alternifolia (Tea Tree) Leaf Oil, Citric Acid, Fragrance.
The Mr. Scala aftershave balm scent is very mild and "creamier," primarily Sandalwood-ish for me.
This is one of those balms where "a little dab'll do ya" for me: a bit on the thick side and probably best suited for dryer skin or environmental conditions. I find it quite long-lasting.
Cologne
Cologne: "Elegant and refined, our Mister Scala scent is classic and sophisticated, reminiscent of our old-fashioned Barber Shop atmosphere. This handcrafted cologne combines masculine, Sandalwood, Lavender, Ylang and Jasmine. Wearable day or night and all throughout the year."
Bear in mind that an individual's skin properties has a lot to do with a cologne's scent profile. I'm also not generally a "cologne guy." So take my observations accordingly.
On application I get an initial hit of Davana with a bit of floral underneath–though the alcohol carrier is overwhelming for me at first.
The mid notes are very brief for me and primarily the soft wood characteristic.
On dry-down I get mainly Sandalwood and Vetiver.
Conclusion
"Mr. Scala" is an evolutionary addition to the already very good New York Shaving Company line of shave and fragrance products. I find the shave cream in particular to be an excellent performer.
NYSC products are available on the NYSC website (take a 15% discount with code MANTIC15 at checkout!) and on Amazon (affiliate link).