[Updated May, 2019.  This wonderful shave cream has been discontinued.  Mantic59 mourns.] Wm. Neumann has expanded their shaving product line to include shaving creams as well as shaving soaps, and one of their first is "Old Fashioned Soda" Shaving Cream.  To me the scent reminds me of a combination of cola and root beer, with maybe some cream soda thrown in.  My wife gets more of a citrus cream soda scent.  In any case it's highly evocative to me and I can almost feel the carbonation tickling my nose.  And the scent sticks with me throughout the shave.

Neumann describes the scent as "Orange, Lemon, Nutmeg, Coriander, Neroli, Cinnamon, Wintergreen, Clove, Birch, Star Anise, and Vanilla."
Of course a great scent is no good if it does not perform.  But Neumann delivers performance as well.  In a previous review of one of their shaving soaps I said that it was perhaps slightly less cushioning than I would like.  That's not a problem here: in fact after learning from the first few uses I now"dilute" the cream a bit (use more water than normal) to create an exceptionally lubricating lather that still cushions well.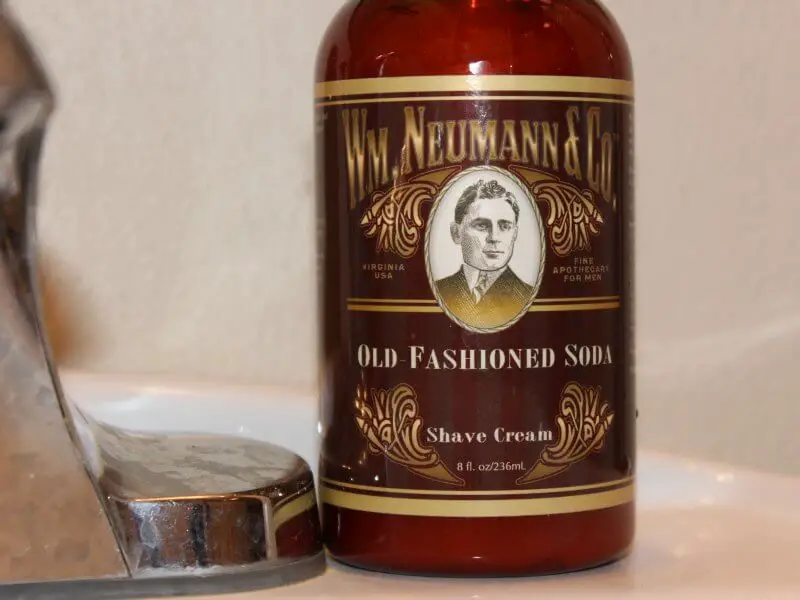 Speaking of lather, a single squirt from the pump-head bottle is enough for plenty of lather when using a brush.  The 8oz bottle will last for months and months of daily shaving.
After the shave I find my skin feeling soft and nicely moisturized.
This is a "wow!" factor product for me that is now in my regular rotation.
Ingredients:  Stearic Acid (Tallow Source), Myristic Acid (Coconut Source), Shea Butter,  Oat Straw, "Premium Oils" (specific oils not listed), Marshmallow Root, Chickweed, Kosher Vegetable Glycerin, Allantoin, Slippery Elm Bark, Green Tea, Blue-Green Algae, Vitamin A, Vitamin C, Nettle, Milk Thistle