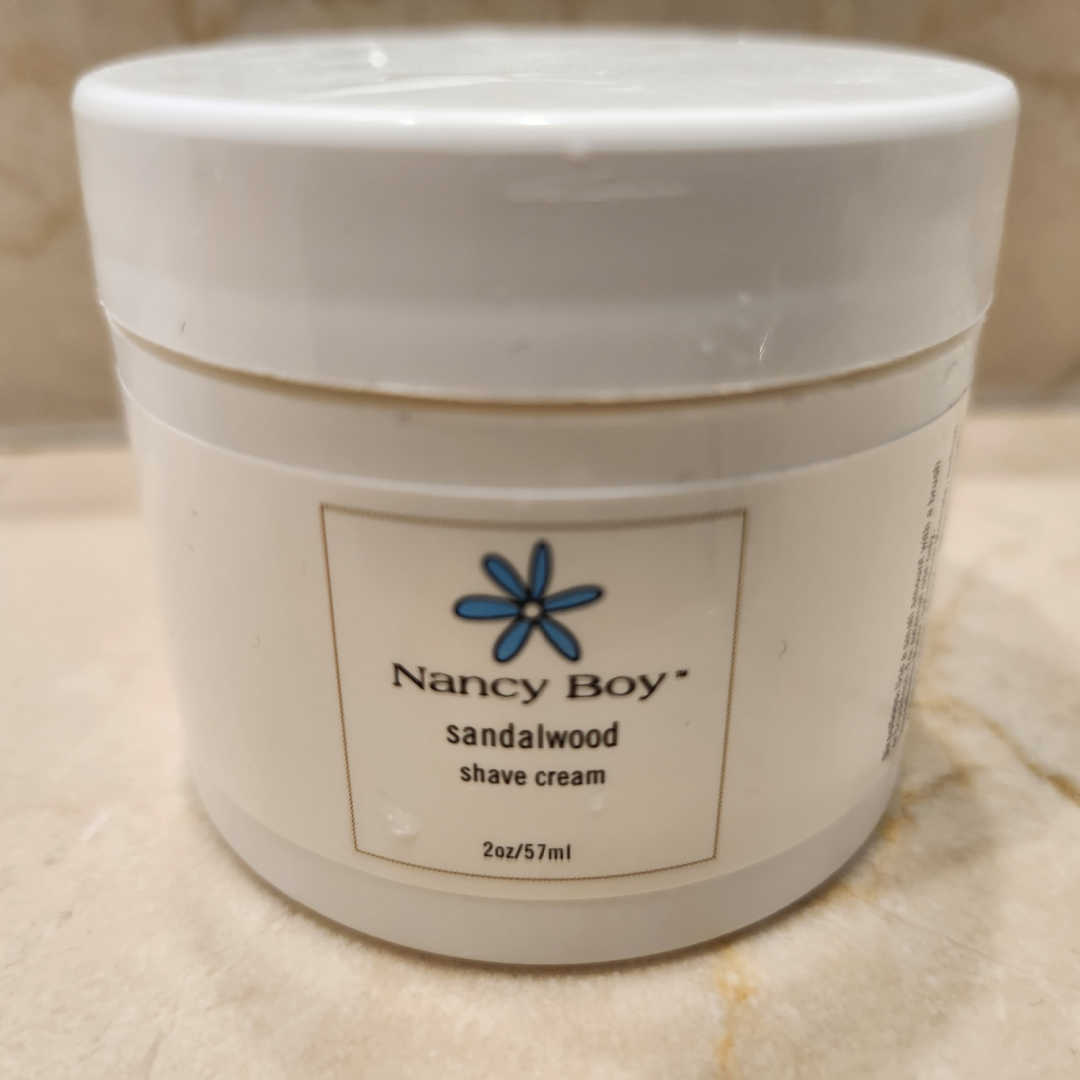 [Ed. Note: Nancy Boy is on Sharpologist Best Shave Creams list. Saul Nathanson offers his opinion.]
Today's review is my impression of Nancy Boy sandalwood shaving cream.
Aside from the odd name the company touts itself as a beacon of "natural" and anti-corporate culture and practices. This is the only company I've encountered that limits the number of their products that you can buy. For instance you cannot buy more than three tubs of this shaving cream per order. Can you circumvent this by placing multiple orders? I dare you.
The product comes in two ounce jars and is definitely a soft cream. I will rate the various aspects with letter grades, just like in high school. 
Lathering
You just dip the top of your brush a tad. This will give you enough for a multi-pass shave. Lathering from a tiny dab is probably its strongest feature. It literally explodes into a thick voluminous meringue. It is probably the easiest lathering product I have ever used. 
Lathering= A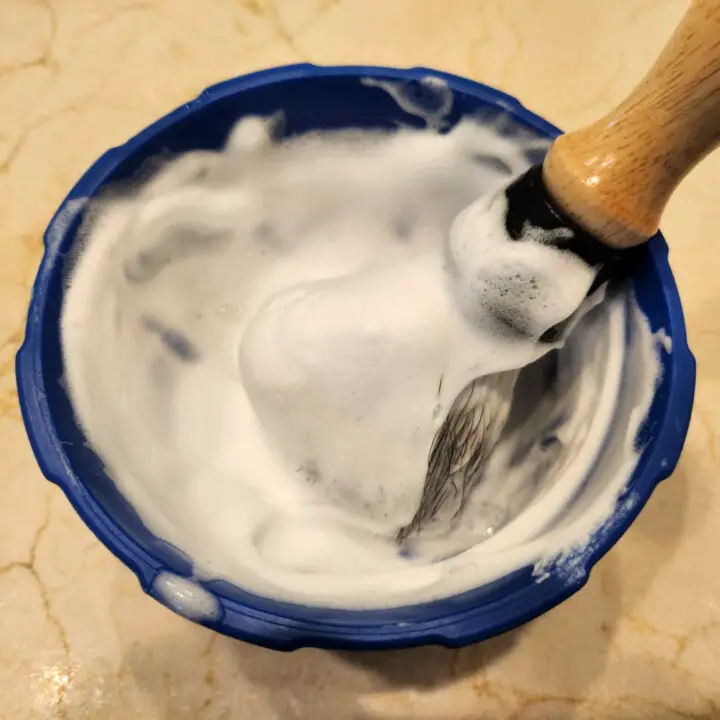 Brushless
Since this is a soft cream the question naturally arises, "Can I use it without a brush?" Similarly, you could go out hunting to bring home meat for the family or you could just go to the neighborhood supermarket. 
Okay, so let's say you're an astronaut on the Moon and you left your brush back on earth, 238,900 miles away. So, I imagined myself on the Moon and went brushless. I wet one side of my face with warm water and the other using warm water and my usual face prep, Dove Men+Care Skin Defense. 
My conclusion was while it was possible it was not as good. There are valid reasons why people use brushes. First, the glide and lubrication was not there, even with the soapy prep, and forget about cushioning. Second, if you want to go for two or three passes, which you must do if you go brushless, then you must use even more product to re-soap your face. I found that with one pass, even with its excellent residual slickness, you're going to have to apply more product again. Over time the excess amount of product would pay for you using a brush. Third, using a brush is BETTER. It is so concentrated that using just a tiny dab is enough for a bowl full of lather, and the lather works better than just the raw cream.
Scent
It says "sandalwood" on the jar but I didn't detect it. I didn't detect any noticeable fragrance. This was confirmed by She Who Can Detect Anything. It was a "nothingburger". 
Fragrance=C
Glide/Lubrication
I used this cream for two or three weeks using new blades and used blades, warm water and cold water and varying degrees of cream density. As for glide and lubrication or how smoothly the blade moves across the skin I found that while it was good, it was not great. This was consistent across all the modalities. 
Grade=B
Cushion
Cushioning was very good. Grade=B+
Residual Slickness
Residual slickness was no better than its merely adequate performance noted above. Grade=B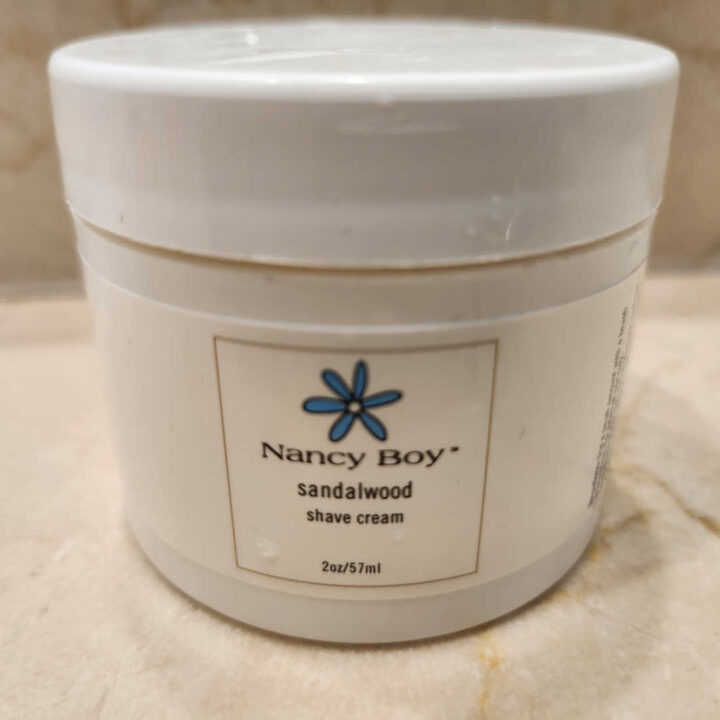 Post Shave
NB claims to have superior post-shave results and cites its use of some rather exotic ingredients. I can't recall ever seeing "pistachio nut oil" elsewhere but it does contain glycerin and its first ingredient is distilled water. I compared it to Mitchell's Wool Fat soap for post-shave smoothness and NB came in a clear second. 
Post-shave=B
Pricing
A two-ounce tub costs $21. Plus $5. Shipping.
Ingredients
Distilled water, potassium stearate, sodium myristate, sodium stearate, glycerin, coconut oil, essential oil fragrance, organic aloe leaf juice, avocado oil, allantoin, pistachio nut oil, extracts of yarrow, burdock, calendula, chamomile, bitter orange, sea kelp, elder flower, comfrey and cucumber, methyl gluceth-20, polyquaternium-7, sorbic acid, hydroxyethylcellulose, vitamin E.
Conclusion
In my opinion Nancy Boy shaving cream lathers easily and provides very good cushioning but beyond that it is merely adequate.