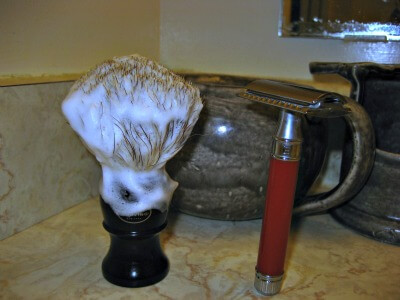 As I had heard rather good things about Mystic Water, I was quite looking forward to my first shave with one of their products. Suffice it to say, I was not disappointed with their Coconut Lime Verbena shaving soap.
The samples that arrived came as little half-moon slices of a rather soft soap, which stuck rather well to the bottom of my scuttle, allowing me to lather up rather vigorously without it moving around too much, which is often a problem with soap samples. As well, the samples were one of the few that came with the ingredient listing on the labels, which even the professional packaged Truefitt and Hill samples didn't bother to do.
It worked quite nicely, creating a nice thick rich cushioning lather, which had enough glide when I remembered to add enough water. That seems to be a constant refrain with me, I'm often not adding nearly enough. It did seem to have a fair bit more in the way of moisturizing properties than most other shave soaps as well.
Mystic Water says that "The emphasis here is on the lime and lemon verbena, with sweet coconut to round it out", which seems perfectly accurate. Overall it's a nice sweet delicious smelling shave soap. The citrus balances the florals of the verbena nicely. It's quite noticeable when first applied to the face, however fades somewhat after a little while. So, as I often say, lather early and lather often!
8/10 Scent Pleasantness
9/10 Scent Strength
9/10 Lather Quality
A full 4 oz puck is $9.91, or $11.91 if you want one of the plastic tubs. The sample used for this review goes for $3.50 for a set of three half-ounce sample slices.
Overall, I'm giving this a 8/10. I suspect that I'll end up scoring at least a couple of the other scents I got in the sample pack a point or maybe even two higher, as some smelled more to my liking. So, yeah, get the sample pack. It's a good deal. And yes, I know I often sound like a broken record when recommending you do so.
Ingredients: Tallow, water, castor seed oil, glycerin, potassium hydroxide, shea butter, avocado oil, palm oil, fragrance, sodium hydroxide, stearic acid, aloe vera leaf juice, bentonite, silk (Yeah, I'm kinda curious about the silk).