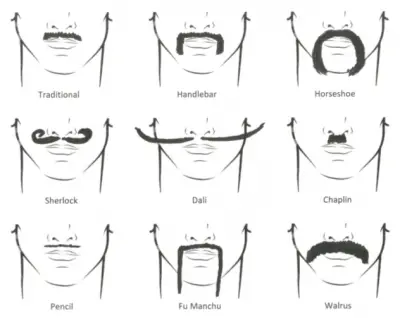 I know most readers, and contributors, to this website are clean shaven, but I prefer the Frank Zappa look I currently have. A moustache, although only worn on the upper lip, can be styled in a significant number of ways. Several men of note throughout history have had their upper lip adorned with this style of facial hair. And, if you had an uncle like mine, you never saw him without his moustache. When you did, it was just odd.
Moustache Styles
The picture above shows several, but not all, moustache styles throughout history. The most prominent is the Handlebar, called so because of its slight resemblance to bicycle handlebars. It enjoyed its greatest success during the mid-late 1800's and the turn of the 20th century. It was also the mark of a gentleman in Victorian era England. It's actually quite easy to style, and you can use moustache wax, glue stick, or my personal favorite, hair pomade. I prefer either Dax Wave & Groom or Murray's, as they're inexpensive and can last upwards of months to a year. The Handlebar's most famous wearers include Teddy Roosevelt, Rollie Fingers, and Eugene Hutz. It also features as William Cutting's moustache style of choice in the film Gangs of New York.
Next is the Walrus, which is an untrimmed moustache allowed to grow over the lips and cover them. Like its namesake, it resembles the tuft of hair a walrus has below its nose. Prominent wearers include Frederich Nietzche, Wilfred Brimley, Sam Elliot, and Gene Shallit.
Next up is the Trucker, or Horseshoe, which is a moustache the grows partly on the chin. To achieve this look, start off shaving and leave a goatee and moustache. Then shave your chin in the middle, leaving the desired look. Famous wearers of this style include Hulk Hogan, Sam Childers, Bill Kelliher, and Paul Teutel, Sr.
Next is the Fu Manchu, similar to the Horseshoe, but shaved in the middle and allowed to grow long at the edges. Famous wearers include Dr. Fu Manchu(The style's namesake), and Al Leong(famous for playing Asian bad guys in action films.)
Last, but not least, is a moustache that has not been worn since World War II, and for obvious reasons. It's called the Toothbrush, because of its resemblance to a toothbrush, and has two famous wearers in history, one of which was infamous and the reason it's no longer worn. Charlie Chaplin was famous in the Silent Film Era for his Toothbrush moustache, which he wore to give himself a comical appearance. Adolf Hitler, a xenophobic, sadistic dictator who made Germany a super power during the 30's and 40's, and who is also known for several other atrocities, also wore this style of moustache. It's no longer worn, and since WWII has been known as the Hitler.
So, for those of you who take part in Movember (I don't, since I wear a beard around that time), you know have a few variations on the classic manly moniker. Which one will you don?