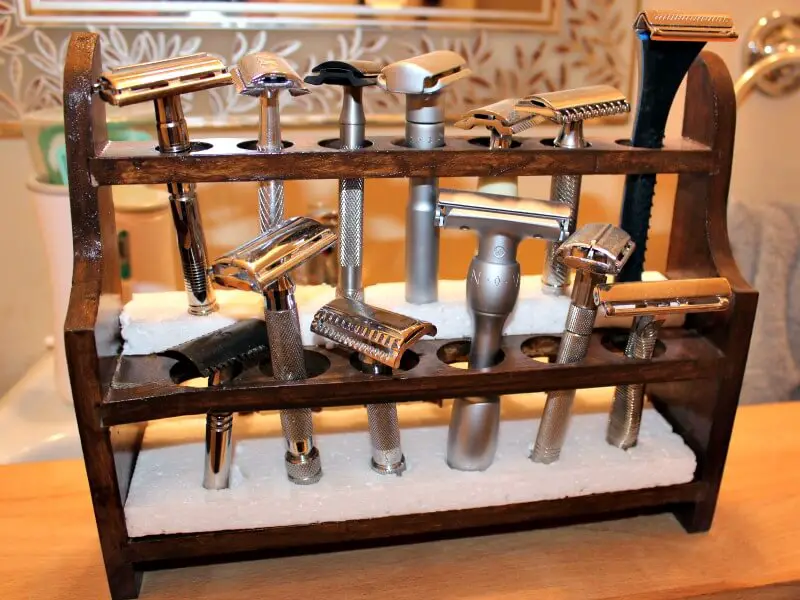 Bernard66 on ShaveMyPlace.com some years back pointed out that using N-S for the first past, E-W (or W-E) for the second, and S-N for the final pass was misleading and inappropriate. While some few may have monodirectional beards, most men must contend with contrary patches and areas where the grain slants to some number of degrees—often, on the neck, a "slant" of 180º, so the grain is upward—or even grows in a whorl. (Your only hope for shaving whorls well is excellent prep, a brand of blade that's very good for you, and—ideally—a slant-bar razor.)

Bernard66 pretty much insisted that we start using "with the grain" (or WTG), "across the grain" (XTG), and "against the grain" (ATG) to describe shaving directions, and people—particularly those who have patches that don't grow N-S—were happy to follow the usage because it better determines the desired action. I myself have a small area of horizontal grain (growing in the direction of ear to nose) on the corner of my right jaw. Only when I closely inspected the grain did I realize why that patch never achieved smoothness: I was never doing a pass ATG for that little area.
I think we need a similar reformation of terminology regarding razors. Quite often razors are described using "mild" and "aggressive" as opposite extremes of a continuum. That approach fails because the words are ambiguous.
Mild – can mean "comfortable" or "inefficient at removing stubble; suitable only for very light beards."
Aggressive – can mean "harsh" or "extremely efficient at removing stubble."
I suggest that we use new terminology that reflects two orthogonal axes, one axis running from "inefficient" to "efficient" and the other from "comfortable" to "harsh." To describe the two continua more completely:
Axis of Comfort – At one extreme is "comfortable": razors that give you the feeling that you are not going to cut yourself even if you try; no harshness at all. The opposite extreme is "harsh." With a harsh razor you feel as though you're teetering on getting a cut and the result of the shave is frequently razor burn. (Obviously, technique plays a role here, but some razors seem to encourage good technique while others demand it—and even then those razors are risky.)
Axis of Efficiency – At one extreme are "efficient" razors, which remove stubble readily and easily, perhaps leaving BBS patches even after the first pass and certainly after the second. At the opposite extreme are "inefficient" razors that seem almost reluctant to cut and are pretty much useless for guys with heavy beards.
Examples (based on my experience):
Feather AS-D1 stainless razor or the bakelite slant: The old description might be "mild and aggressive." The new description is easier to understand: "comfortable and efficient."
The 2011 Mühle R41 open-comb: The old description would be simply "aggressive," but with the new terms I can be more precise: "efficient but harsh."
The Weishi razor: The old description is "mild"; the new is "comfortable but inefficient."
A razor that is both uncomfortable ("aggressive") and inefficient ("mild") generally would have a short lifespan on the market, but perhaps you've come across one or two.
This new terminology obviates ambiguity.
It is important to note, of course, that these terms apply not simply to the razor, but to the combination of razor, blade, and shaver. For example, the Weber razor is for me comfortable and efficient—with most brands of blades. And Kai blades are (for me) a smoother and more civilized version of Feather blades, the Kai blades being exceedingly sharp ("efficient") but also quite comfortable—in most razors.
And yet a Kai blade (great in most of my razors) in a Weber razor (great with most of my brands of blades) I found to be exceedingly harsh (albeit efficient). So it's not simply the razor or simply the blade, but the combination of the two, together with the nature of the shaver's skin and skill.