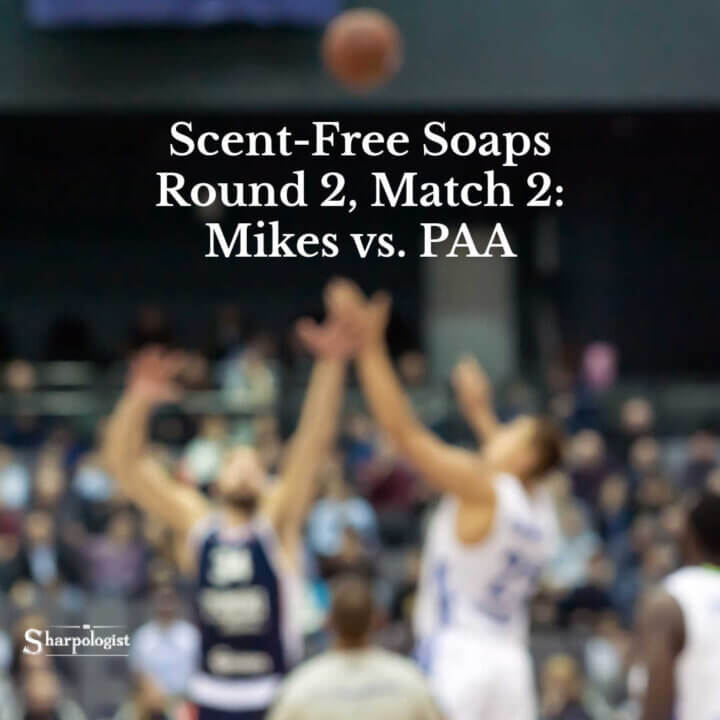 This second, second-round head-to-head (or beard-to-beard) evaluation in Sharpologist's scent-free soap competition features Mike's Natural Soap Unscented versus Phoenix Artisan Accoutrements Scentless Soap (Formula CK-6). In this series I'm focusing on overall shaving performance so neither a soap's scent nor its cost is a factor in the review.
The Contestants
Mike's Natural Soaps Unscented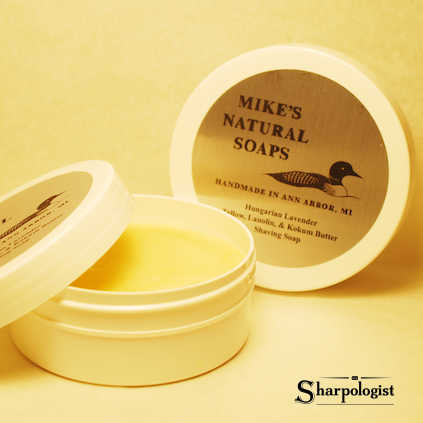 From the website: This soap is the real deal. Tallow is the main ingredient, regarded by many shaving enthusiasts (myself included) as yielding the creamiest, slickest, and most protective lather possible. In addition, this soap is rich in vegetable glycerin, kokum butter, shea butter, and avocado oil. It also contains kaolin clay, which creates a slick buffer between your skin and the blade. The icing on the cake is lanolin, a waxy substance derived from the wool of sheep and a fantastic conditioner and humectant. This soap will provide an effortless and downright decadent shave that will leave your skin feeling soft, supple, and smooth. Each polypropylene recyclable jar contains about 5 ounces of soap. 
Ingredients: Distilled water; saponified tallow (beef) and stearic acid; vegetable glycerin; saponified kokum butter, avocado oil, and shea butter; lanolin; saponified coconut oil; kaolin clay, vitamin E. 
Phoenix Artisan Accoutrements (PAA) Scentless Soap (CK-6)
From the website: Now you can enjoy a Scentsless (scent free) take on our super slick, thick, and mega moisturizing CK-6 Formula! This is especially good news for folks that are sensitive to fragrance oils…or are married to one.
Ingredients: Potassium Stearate, Glycerin, Potassium Cocoate, Aqua, Potassium Kokumate, Sodium Lactate, Potassium Shea Butterate, Potassium Castorate, Sodium Stearate, Potassium Cocoa Butterate, Potassium Avocadoate, Simmondsia Chinensis (Jojoba) Seed Oil, Theobroma Grandiflorum (Capuacu) Butter, Astrocaryum (Murumuru) Seed Butter, Platonia Insignis (Bacuri) Seed Butter
Overall Impressions
This was an unusual series of shaves with results that ranged from uncomfortable to sublime and I suspect the weather caused much of the variation. I used these soaps during a two-week period when the local weather shifted back and forth  from fairly balmy 40-degree days to really nasty, single-digit low temperatures with negative wind chills and bone-dry humidity. (Not to mention almost two feet of snow from one storm!) 
The weather didn't seem to affect the soaps' lathering, moisture retention or lubrication performance. But I did experience noticeable differences in the soaps' protection and especially the post-shave skin feeling. Shaves on the harsh weather days with the Mike's Natural Soap left my skin taut and tender until the next day. The PAA Scentless held up better  but both soaps' scores still dropped off on the very cold  days, especially  when I had to spend much time outside. That's not surprising because this kind of weather is rough on exposed skin.
Points awarded for each factor:
1: Poor
2: Fair
3: Good
4: Very good
5: Excellent
Feature: Lack of Scent
| | |
| --- | --- |
| Soap | Points |
| Mike's Natural Soaps Unscented | 4.75 |
| PAA Scentless CK-6 | 5.0 |
I picked up a very slight buttery scent from Mike's Soap. It wasn't unpleasant and it dissipated on my face. The PAA Soap was scent-free.
Feature: Easy lathering
| | |
| --- | --- |
| Soap | Points |
| Mike's Natural Soaps Unscented | 3.7 |
| PAA Scentless CK-6 | 5 |
All this shaving with different soaps  has improved my lather-building skills. Mike's Unscented lathered well  but the PAA was a lather machine, especially with the badger brush.
Feature: Moisture retention
| | |
| --- | --- |
| Soap | Points |
| Mike's Natural Soaps Unscented | 3.3 |
| PAA Scentless CK-6 | 4.7 |
Both were good but the PAA held up really well.
Feature: Lubrication
| | |
| --- | --- |
| Soap | Points |
| Mike's Natural Soaps Unscented | 3.4 |
| PAA Scentless CK-6 | 4.8 |
Mike's Unscented was good but the PAA was impressively slick.
Feature: Protection
| | |
| --- | --- |
| Soap | Points |
| Mike's Natural Soaps Unscented | 3.5 |
| PAA Scentless CK-6 | 3.8 |
Both soaps provided good protection but as I noted earlier, the results varied widely with the weather.
Feature: Post-shave Skin Feeling
| | |
| --- | --- |
| Soap | Points |
| Mike's Natural Soaps Unscented | 1.9 |
| PAA Scentless CK-6 | 3.6 |
The shaves with the Mike's Soap set up well: an ample quantity of good quality lather and the blade cut smoothly on my face. But after the first pass my skin was unusually dry, taut and tender and those results persisted through three passes. I experienced the same results but to a much lesser degree with the PAA Soap; its post-shave results ranged from great (mild weather) to dry, taut and tender on the brutally cold days.
Final Scores
I used both soaps through a range of weather and skin conditions but overall the PAA Scentless scored higher in every category.
Winner: PAA Scentless Soap (Formula  CK-6) over Mike's Natural Soaps Unscented by a score of 26.9 to 20.8 
Competition Recap
Previous weeks' winners are highlighted in bold:
Round2:
Zingari Man Sego Unscented by a score of 26.75 to 25.6 over Wholly Kaw Bare Naked.
Up Next
Wholly Kaw Bare Siero versus Noble Otter Bare
To be followed by:
Talbot Shaving Trust versus Taylor of Old Bond Street Traditional