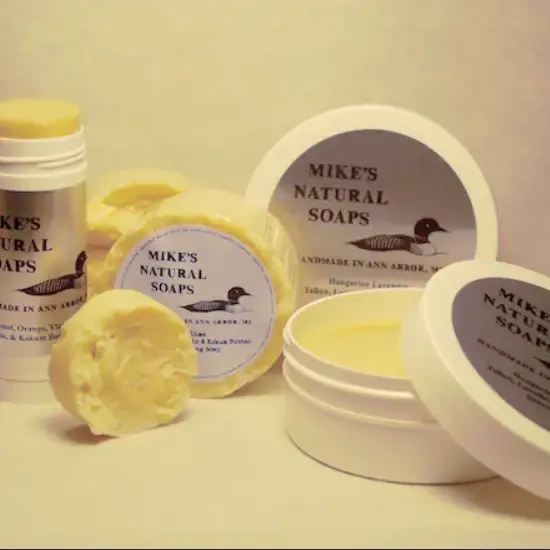 Mike's Natural is a small artisan soap maker based in Portland, OR.  This is a review of Mike's Natural Soap, coconut flavor.
Mike's
How small? On his website Mr. Mike says he works out of his home and is a one-man operation. This shows in the availability of products. 
Of 15 fragrance shaving soaps on the website recently 13 were "out of stock" and only two were available (Rose, Patchouli and Cedarwood as well as unscented). He also has soap pucks and shaving sticks, except that he is "out of stock" on all 15 fragrance choices for both items. 
It seems like he could offer 100 different fragrances as long as they are all "out of stock".   In his FAQ he seems to be saying he'll make more soap when he feels like it. I get the impression that if he gets a cold the whole operation stops.
While there is something to be said for the romance of an individual making small batches in his basement, there is also some benefit to a larger commercial operation that can deliver a larger variety of products.
UPDATE: On a recent visit I saw that he also had Lime and Coconut fragrances available as well so I ordered the Lime for $15. plus $5.33 shipping. There were no pucks or sticks of any flavor available. Alas, Mr. Mike also posted that he was taking a couple of days off so orders will be a tad backlogged until his return.
This is a shame because Mike puts out damn fine shaving soap. I had the pleasure of acquiring a tub of coconut fragrance and it is a strong coconut presence and I don't mean "strong" in a nice way.
The Soap
The soap is what I would call a firm croap, not soft but not multi-milled.
The tub it comes in is wide and deep enough to allow me to just twirl a stiff boar bristle brush and then do direct face shaving without resorting to a mug or a scuttle.
As you can see from the list of ingredients he uses tallow and lanolin and kokum butter and glycerin and coconut oil:
Ingredients: Distilled water saponified tallow (beef) and stearic acid; vegetable glycerin; saponified kokum butter, avocado oil, and shea butter; lanolin, fragrance and/or essential oil(s); saponified coconut oil; kaolin clay, vitamin E.
MWF?
Because Mike's contains tallow, lanolin and glycerin one can't help but notice an amazing coincidence that it bears somewhat of a resemblance to my old favorite, Mitchell's Wool Fat Soap (MWF). A rather quick comparison resulted in me finding that the glide and lubrication are very good for both, unsurprisingly. 
However, there were some slight differences. For one MWF has barely a fragrance while Mike's, theoretically, offers a bunch. Secondly, MWF being milled is much more challenging in starting up a lather then the croapy Mike's. Finally, as far as post-shave smoothness and conditioning I would have to give the nod to the classic MWF. They both come in at about the same price but MWF is much more available.
At the same time after using both for two weeks I would have to give Mike's a slight nod over MWF in terms of glide and lubrication. Cushioning was about equal.
My Shaves
That is a ton of lubrication and it shows when I shaved. The glide and lubrication were top-tier and ranks among the best. The residual slickness was also great but the cushioning was good but not great. My razor literally sailed over my face without any drag or resistance.
The post-shave experience was also very good leaving a smooth face and no obvious irritation.
Each polypropylene recyclable jar contains "about" 5 ounces of soap and goes for $16. for the scented soaps and $13.50 for the unscented, plus shipping. This is certainly a bargain compared to other artisan products.
Conclusion
Mike's Natural Soap is a great shaving soap provided you are willing to accept any fragrance he chooses to make and ship it out whenever he can. You must also be prepared to abide by using beef tallow and lanolin.