You may have seen the late night television commercial selling an old style safety razor called the Micro Touch One and it piqued your interest.   Maybe you were attracted by the sales pitch from that guy who runs the famous "Pawn Stars" shop in Las Vegas as seen on TV–I've been there and they do a lot of business so they must be doing something right.  Or maybe the commercial triggered a memory of you watching your father or your grandfather shaving when you were a kid and it appealed to you.  Or maybe you were attracted by the low cost of blades because they are a lot cheaper than cartridges for the modern razors.
Anyway, for whatever reason, you're interested in the Micro Touch One.  But what do you really get for the money, and more importantly how do you use the razor?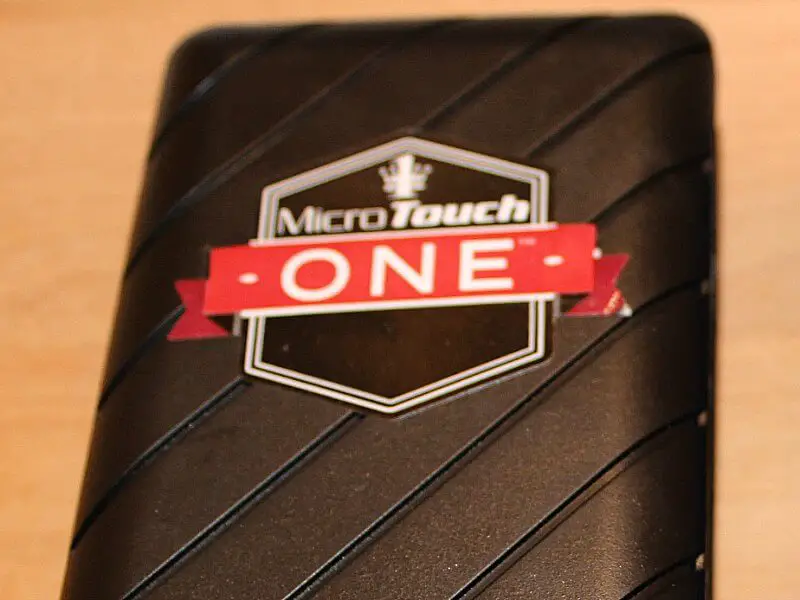 I ordered the standard package with the razor and the extra blades when the commercial first aired on TV and it took over 8 weeks to arrive.  Hopefully they'll improve the turn-around.  Anyway, I received the razor, a travel case with a little mirror in it, and four packs of blades.  There was also a little pamphlet on how to get started using the razor.  The instructions were actually pretty complete, though I think they did neglect to mention a couple things–but I'll get more into that later.
DECEMBER, 2013 UPDATE: The razor has also appeared at some "megamart" retailers in the US, probably just for the holiday gift-giving season.  It appears to be the same razor and blades, though instead of a travel case there is a chrome razor stand: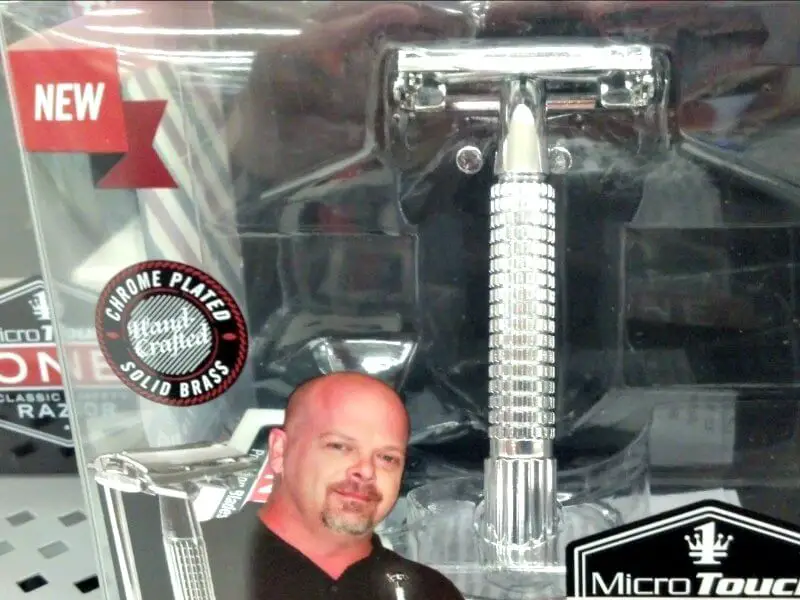 The razor has a relatively small amount of blade exposure, which should give it the reputation of being "gentle" and "forgiving" of technique.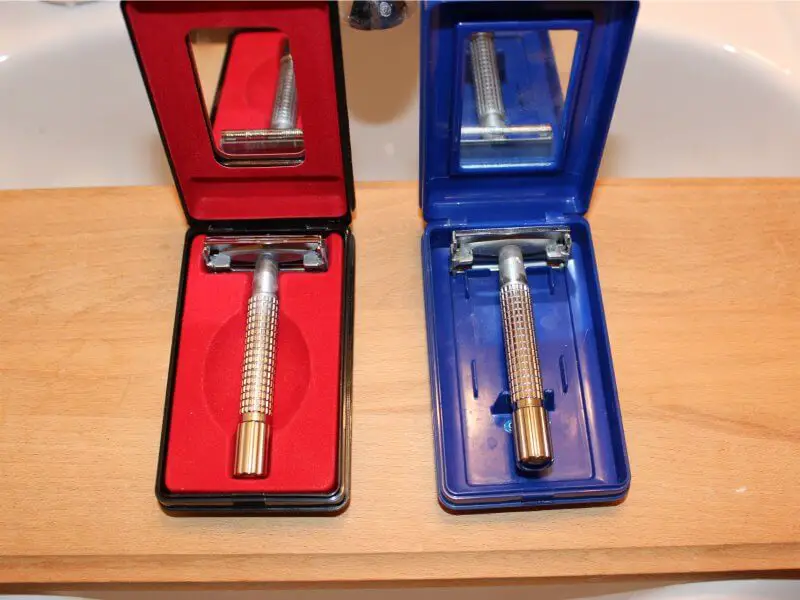 The Micro Touch One razor and travel case look an awful lot like like one made by a Chinese company called Weishi, as you can see from the side-by-side comparison above.  The Weishi safety razor is in itself a knock-off of a Gillette razor from the early 1960's so I supposed the Micro Touch One could be a knock-off of a knock-off–it is a bit lighter than the Weishi I bought a few years ago by a few grams.  But it would not surprise me if the Micro Touch One was made by Weishi.  And if that is the case you can use your favorite search engine or internet shopping site
to find comparable razors and their prices.  But I should say that the razor is all metal and seems to be decent quality.  Only time will tell how well it will hold up over the long-run.
If you bought a One Touch Micro razor on an impulse from the TV commercial, you probably paid too much for what you got, and I don't know how it's going to hold up in the long run, but I think you will find it an acceptable entry into "old school" DE shaving.  Be prepared to give yourself some time to adjust to a new way of shaving.  However there are also other razors available to you that might be better.
The blades are from a South Korean company called Dorco, however these blades were made in Vietnam.  Again, knowing the company should give you the knowledge you need to find comparable prices
.  The blades work fine for me (a bit harsh on the first few strokes but then it smoothed out pretty well).  As always with blades "your mileage my vary" so I acknowledge that what may work for me may not work for you.
But the most important thing here is how you use the Micro Touch One.
How To Shave With The Micro Touch One
Shaving with a double-edge razor like the Micro Touch One is not like shaving with a cartridge razor–you can't just take great mindless swipes with it an expect a decent shave.  It's a skill, like learning to ride a bike or play a musical instrument.  There's going to be a learning curve, but for most people it's relatively short.  You may just have to unlearn some bad habits.  Here are the basics of shaving with an old-school safety razor like the Micro Touch One:
You want to hold the razor so the blade edge is at an angle of between 30 and 45 degrees to the skin.  Modern cartridge razors set this at an average angle for you but here you can to do it for yourself.  On the positive side you can learn the angle that is optimum for you and the area you're shaving.  Try holding the razor handle parallel to the ground and slowly rock down the handle until you feel the blade begin to cut.  Be sure to lock your wrist and move your arm as a single unit while you use this type of razor.
Since there is no pivot on this kind of razor you want to avoid shaving around corners whenever you can.  So divide up the area you're going to shave into its flattest parts.  Think of it like shaving a diamond by its facets.
You don't want to go over the same spot again and again all at once, particularly without shave lather.  Use strokes that overlap slightly and don't worry about getting every bit of stubble all at once.  Shave in phases or passes from different directions, relathering each time, with each pass gradually reducing the amount of hair, until you achieve the level of closeness you are looking for.
Know how your hair grows.  Shaving (at least initially) in the direction that your hair grows in (the "grain") is a common suggestion really essential when shaving with a cartridge razor.  But you may be able to "cheat" a little bit with a safety razor like the Micro Touch One: I suggest trying to shave straight down to make learning to hold the razor at the proper angle and pressure easier.  You want to develop a "muscle memory."
You want to use as little pressure on the razor as possible.  The pivots and head design of modern cartridge razors can compensate for too much pressure on the razor–up to a point anyway–but old school safety razors like the Micro Touch One require a light touch.  Tilt your head to one side and rest the head of the razor on your cheek.  That's as much pressure as you want to use while shaving.  Don't press down on the razor if you can avoid it.
Give yourself some insurance for the shave by preparing the area well.  Use a mild facial soap–no deodorant or body bars please!–and lots of warm water to clean the area.  Then leave it wet, don't towel off.  And for goodness sake, use a decent shave cream.  Nothing out of a pressurized can!  The propellants will dry the skin, then they have to add all sorts of artificial lubricants to make up for it.  I recommend going "old school" with the shave lather too, by using a shave cream or soap you apply with a shaving brush.
If you find that you are experiencing a harsh shave, try shaving more in direction with the grain instead of just going down (or up).  You may want to try a different blade as well: while the Dorco blades worked fine for me, blades can be a very "personal" thing–a brand that works well for one person might be terrible for another!  Blades are not all made the same (they can have different metallergies, coatings, and grindings) so it pays to experiment to find the brand(s) that works for you.
For a lot more information on how to shave with old school tools be sure to view our VIDEOS!