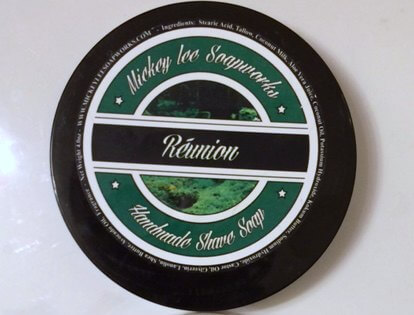 As recent events have shown, the artisanal shaving supply world is beginning to contract a bit, with some well known "old time" artisans (that is "more than three years old") like Strop Shoppe have closed doors, along with a bright, promising newcomer, Tim's Shave Soap. The market is slowly filling up with new makers, many of whom are reverse engineering tallow and vegan formulas used by existing providers to make their own products. Only the scents and the marketing are different and sometimes not even those.

New Dimensions In Shaving: New Formulas From Established & New Artisans
To stay competitive, soap makers both new and old, are trying new approaches to making their product, either in response to perceived issues with older formulas already in use by the artisan, or as new innovations from start ups trying to differentiate themselves from what has gone before.
This review series will look at new ideas in soap making, and assess their success in redefining the parameters of wet shaving software.
"Reunion", Mickey Lee Soapworks. ($16.00 for 4.0 oz tub of soap.)
http://mickeyleesoapworks.com/product/reunion/
Ingredients: (From mfgr website): Stearic Acid, Tallow, Coconut Milk, Aloe Vera Juice, Coconut Oil, Potassium Hydroxide,  Kokum Butter, Sodium Hydroxide, Castor Oil, Vegetable Glycerin, Lanolin, Shea Butter, Avocado Oil, Fragrance and Essential Oils.
Intro: I was very slow in jumping on the Mickey Lee Soap (MLS) bandwagon. "Le Fee Verte", the first soap of theirs I tried struck me as having middling technical performance, with a pleasant, though weak odor that faded rapidly once lathered. After hearing of the bolder scent of another MLS product, "The Kraken", I tried that one and was impressed with the stronger odor, a fusion of barbershop and marine notes. However, cushioning and post shave were still very average, and, worse, something in the fragrance mix burned and stung my face.
Following my usual masochistic tendencies in these matters, I tried a third MLS product, "Drunken Goat", and was (apparently) one of a very few people who did not like the smell (chocolate, chestnut, oats, and molasses) and the formula also stung my face. "Goodbye, Mickey Lee, let us walk our separate paths in peace," I thought.
My decision seemed well founded. The brand began getting more "gourmandy" with cocoa, peaches, honey, grapefruit, and pina colada scented soaps. Not my cup of tea at all. But then last year, rumors began to percolate of a new formula, one that was intended originally for use in special edition soaps. The buzz was that the formula was exceptional, and then rumors were heard that the scent lineup was going to be simplified and mostly revised. My shavedar locked on, and I waited to see what the scent mixes were going to be.
Next, I heard one of the new scents was going to be called "Reunion". As my tens of readers know, I adore vetiver scents, and Reunion Island is known for its Bourbon strain of vetiver cultivar and that scent was famously used  by Jean Laporte to make his famous "Rout Du Vetiver" for the boutique perfumer maker Maitre Parfumeur Et Gantier (MPG) .
I love RdV; it's unique fruity / floral vetiver is pungent, mediciney, yet also sweet and smooth at the same time. The concept of having a shave soap even vaguely similar to one of my favorite vetiver scents galvanized me to take the plunge and experiment with MLS' newest scent and formula.
Company Profile: Eric and Samantha McDaniels founded MLS in summer of 2014. The corporate origin was fomented by Eric switching careers to the Navy from private sector IT, which meant he was now required to shave every day. He soon realized how unpleasant a concept this was when he used the conventional cartridge shaver that he had used during his once-in-a-while shaving now on a daily basis. He began experimenting with soaps and old fashioned shaving and soon began to sell his saponification products on the internet in ever larger volumes.
Samantha provides the women's shaving perspective in scent and product design (though MLS does not target soaps directly to one gender or another) and also handles base formula composition and production.  Eric handles marketing and scent design. Both of them are very active online and in attending various shaving meets and product promotion events across the US.
MLS has made huge strides in its packaging over the years, but there has been a concomitant price increase. The original MLS tubs I purchased were priced at $12 for 3.3 ounces of product ($3.64/oz). The new line is now a 4 oz tub, but the price is up to $14-16 for those 4 ounces (3.50 / oz to $4.00 / oz, with the kicker that only the 2 older pre-existent scents are $14, with the 4 newer scents costing more).
More significantly, the scent design now skews a lot more masculine, in my highly subjective opinion. For a long period in 2015, most of the scent lineup was turning very gourmandy, with honey, fruits, and other stuff dudes are generally not keen on being predominant. In 2015, a new "Limited Edition" base was tested along with a "Grand Havana" scent, a turn away from edibility. That "LE" base proved popular (as did Grand Havana, which is now a regular scent part of the lineup) and formed the basis for the current line of soaps.
MLS has stated they plan to minimize the amount of special and limited releases in their line and focus on vertical integration product sales of the 6 scents they have as part of their standard lineup in the product classes of shave soap, after shave balms and splashes, and hair care like pomade and shampoo. They also offer pre shave oils, lip balms, and bath soaps, though these other scents do not precisely match the core scent "families".
The reduced option set in soap choices is an interesting one, and I believe the 6 choices available is the smallest number of soap options available of any major artisanal lineups, with most artisans having about half again to twice as many choices available at once, and some offering 5 or 6 times as many.
MLS is available on many internet sites, including the artisan's own site, and is sold in an increasing number of brick and mortar stores including Pasteur's in NYC.
Packaging: The 4.0 ounce tub is conventional enough, quite comparable to what most PVC-using artisans offer. (There are still a few metal can holdouts, but we are seeing a plastic tub convergence that has led to most packaging from mny reasonably priced artisans looking similar.) The tub is about half full (or half empty!) vis a vis its maximum capacity, allowing even we messy oafs enough room to load our brushes without overflow. The label graphics are well done, and there is a pleasant little picture of a tropical island setting (presumably Reunion) in the center of the label. Mr. McDaniels allegedly made the label and its art himself, and, if so, he deserves credit for a job nicely done.
As has become the (unfortunate) standard, there are no scent notes on the package (leaving puzzled shoppers in Pasteur's and elsewhere wondering what exactly they are smelling) and "Reunion" is not especially indicative of vetiver, unless you are a fragrance geek like me. An ingredient list is found on the front of the label, though there is no breakdown of essential or fragrance oil specifics, just the cryptic "fragrance".
Anyway, current packaging gets 2 out of 3 points; my regular readers (all 4 of you!) know I like scent descriptions and full ingredient notes, especially essential oil details, on shave soap labels. But then I would also like an end to global war and hunger, a few extra million in my bank account, and back-to back Bills Super Bowl wins. I have my doubts that any of these things are attainable, but hope is the thing with feathers as the Immortal Poetess says… Sigh. Let's move on.
Scent in Tub: Per the MLS website: "It has been said that some of the finest quality vetiver oil comes from the Reunion Islands. This scent is our tribute to the wonderful scent of vetiver:  earthy like patchouli, but a murky "underwater" quality and a definite green note. Our blend ties together vetiver, oakmoss, and petrichor for a scent that is not freshly-cut grass, but darker, with a somewhat bitter, dirty edge." I'll go with that, but I don't get much dark or dirty. There is a sharp, dusty green note (galbanum maybe?) mixed in with clay (the petrichor I would guess) and the vetiver is crisp and green, rather than smoky. The composition is pretty extraordinary balancing earthy, pungent, and sweet all at once. I could smell this one all day. Yup, this is why wet shaving is fun. That and the days when there's no bleeding! 2 out of 2 points awarded.
Lather Ease:  The old formula was slightly easier than Barrister & Mann White Label to lather, which is to say it was thirsty and needed a bit of work to get into a nice lather. The new formula is much easier to whip into a lather and also needs less water to form a dense cream. (You will be reading this phrase a lot in the upcoming series; most of the new versions of artisanal formulas aimed for quicker lathering and less water use.) The MLS lather stays hydrated and thick very well during the course of an extended (4-5 minute) pass and does not need any additional product added to my brush after a one minute swirling load in the container in order to complete a three pass shave.
This is a great lathering soap, not finicky, and is easy to use. I have not tested the new formula in hard water yet, but the old formula did quite well there, so assuming ML did not change that desirable feature, I think most users will be well pleased with this soap. 5 of 5 point awarded.
Lather Quality: The old soap was pretty slick, but, to me, often lacked sufficient cushion, compared to the better tallow stuff like Tabac and B&M. The new soap has both guns and butter, giving as good a slickness or better, along with far superior cushion. The fact that it bests the old soap in all ways while also being easier to lather is very impressive. You would really have to work hard to get a bad shave out of this lather.
In comparison to my ideal tallow based lather, Barrister & Mann White Label, MLS ends up in a virtual dead heat. White Label, in soft water and with a bit of added water, can match MLS' newest for slickness and cushion, but White Label notoriously worked less efficiently in hard water, and MLS Reunion also can be whipped into an excellent lather more quickly, so I would give MLS the slightest of nods over B&M White. (However, as stated, I have not yet tested Reunion in hard water, and also B&M is now replacing White Label with their "Glissant" base, which will be reviewed soon.)
Again, 5 of 5 points awarded.
Scent During Shave: Takes the promise of the product In the tub and delivers on it amply. Reunion has a slightly sweet grassy scent that has more prominent dirty "earthy" vetiver and smoky notes that become more noticeable when lathered. I am almost convinced that there are many more scent elements present in the fragrance than are alluded to in the artisan's description, as this is a complex vetiver based scent that is merely pretending to be simple, Guerlain's Vetiver in an Encre Noire costume if you will. The complexity makes for a fun and interesting shave, one that is accessible to both vetiver haters and lovers.
The scent is quite powerful, amply present throughout the shave and upon rinsing. There is no fade at all and the complex fragrance notes remain fully present and properly developed throughout the course of the shave (and even cleanup! A badger brush smells lovely for several hours after using Reunion…)
The petrichor recedes a bit once lathered, as the slight clay tinge in the tub goes away and you are left with a more traditional vetiver note, i.e. one that has a smokiness to it that generally dominates over the purely earthy tones. If you are looking for something similar to the excellent "Sherlock" from Chiseled Face, this will not do, as Reunion definitely is meant to be an attractive, balanced fragrance rather than a slightly weird though interesting one, which is more "Sherlock" territory.
Good stuff for vetiverphile me, but accessible enough so that those new to the note or uncertain about its appeal can still enjoy the experience. If you absolutely loathe vetiver though, there will probably be little for you here, as the Big V is very much a solid always perceptible center around which the rest of Reunion's scent revolves. Move on vetiver haters, and go see about getting a nose transplant, you pikers! ☺ 5 of 5 points awarded for the rest of us.
Also, it should be noted that despite the very faithful rendition of vetiver, Reunion is not at all fatiguing due to its balance and mix of heavy and bright notes. This could definitely be a daily shaver for most, unlike say Stirling's Port Au Prince, which is a heavyweight bruiser than car readily wear out its welcome if used too much in a short period of time.
Post Shave Feel: Another problem of the old MLS soap for me was its mediocre post shave feel. The old MLS did little to soothe or moisturize my pathetically delicate face, and if I tried to get by with using only the soap as a skin care product, I would soon feel like I was wearing one of those leathery face masks that the nutty cinematic fellow in Texas with the chainsaw used.
The MLS new formula is another epiphany in this realm. The kokum butter and avocado oil additions, when mixed in with the existent aloe vera, lanolin, castor oil, and shea butter resulted in a face that felt smooth, supple and moisturized for hours afterward. In cold weather, I would still use a balm and / or moisturizer, but those whose faces are more naturally hydrated than mine will probably not need anything.
This post shave feel is more or less industry standard, with B&M's new Glissant and Cold River's new Select 2.0 being roughly as good. These three formulas basically now divide the tallow world between them, readily besting other modern competing tallow formulas (Bufflehead, Chiseled Face) & some well known (now historic, alas) bases like Strop Shoppe's SE base in terms of spa like post shave feel.
5 of 5 point awarded.
Value:  $4/oz for well performing soap is more or less the industry standard. Some soaps from some competitors cost more per ounce, but other products from the same makers cost the same or less, so this is more or less an average value. In the absence of a detailed explanation from the artisan as to why we are paying comparatively more for these scents than for Kraken or Drunken Goat (both $14), I will award 3 out of 5 points. (This is why if you cram a ton of costlier essential oils in here, or other exotic scent touches, you should probably tell us about it, artisans! If I knew there was a ton of vetiver oil packed in here, I might have gone for 4 out of 5 instead…)
Old Versus New:
Old Formula: Stearic Acid, Tallow, Aloe Vera, Coconut Milk, Coconut Oil, Potassium Hydroxide,  Sodium Hydroxide, Castor Oil, Vegetable Glycerin, Lanolin, Shea Butter, Fragrance and Essential Oils.
New Formula: Stearic Acid, Tallow, Coconut Milk, Aloe Vera Juice, Coconut Oil, Potassium Hydroxide,  Kokum Butter, Sodium Hydroxide, Castor Oil, Vegetable Glycerin, Lanolin, Shea Butter, Avocado Oil, Fragrance and Essential Oils.
Of interest: the new formula adds kokum butter and avocado oil, adds a bit more coconut milk, and has less aloe vera juice.
I could not find any artisanal quotes online as to what the intended effect of the new formula was. However, as my review indicates, I found the new formula to be easier to lather, just as slick, with better cushioning, better post shave, and less need of hydration during lathe creation. In short, the new formula is superior to the old in every way, with the one caveat that I have not yet confirmed ease of use in hard water, a strength of the old formula. Anecdotal internet evidence seems to indicate that hard water is not an issue, so I am confident that this soap will deliver for customers with harder water than myself.
Total Score: 27/30. Which amounts to an A-. MLS is doing everything right here, but lost two points on value and one on packaging, which will not concern most users. The dual tier pricing for old and new scents in the same base confused me, and if this is due to the use of fancier scent fragrances in the new scents, including Reunion, then the artisan should tell us so, making the price differential more explicable and (perhaps) palatable.
But this is a minor quibble, and frankly if all the 6 soaps in the current lineup were $16 for their 4 ounces, I would not bat an eye at the concept. But human nature being what it is, I see some soaps are cheaper than others and wonder why they can't all be priced at the lower level.
But all in all, this is a must buy soap, and the other examples of the new line I have tried have impressed me as much or more ("Cape Verde" probably smells even better than  Reunion in my humble opinion; this from a man who loves vetiver and only likes lavender, so this should tell you how great Cape Verde smells….)
Into My Rotation? Absolutely!
This concludes my focus on vetiver (sadly Cold River Soap's "Vetiver Select V 2" was sold out throughout the writing of this new series) and I will now move on to other scent varieties made by artisans who have either revised their formulas recently and / or who take a different approach to the bases they use as compared to the industry standard.