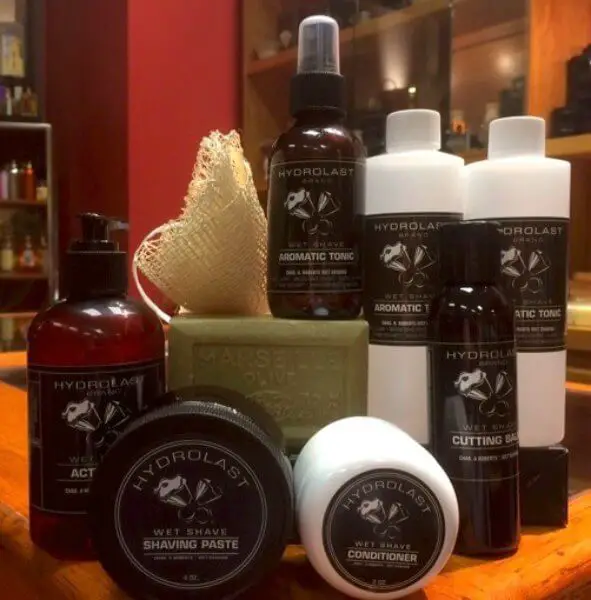 Sharpologist has occasionally covered Method Shaving, and I've visited Charles Roberts and Enchante' several times–it's a day trip from my home.  I just received an email about a special promotion.  To my knowledge this is the first "sale" of Method Shaving products Enchante' has ever held.

"Grande" Starter Kit
The promotion is for a Method shaving "Grande" starter kit.  Here's what comes with the starter kit, and what each product does:
Primer soap: essentially an olive oil-based Marseilles soap used for "priming" the cloth (or a shaving brush)–think of the lather from this soap as the mechanism that helps bind some of the other ingredients together.
Cutting Balm, Shaving Paste, Activator: these three products are used together in different combinations and ratios to achieve the level of lubrication and cushioning needed for different parts of the shave.  Like a cook modifying a recipe's ingredient mix to create a slightly different dish to match the diner's tastes.
Shave Cloth: Method shaving requires a lot of water and a lot of "surface area" to prepare the "mix," and this rough cloth can do the job inexpensively (a large silvertip badger or latest-generation synthetic brush will also work well).
Peppermint Conditioner: there's been a lot of controversy about Method shaving over the years, but one of the things a lot of people agree on is the quality and effectiveness of the aftershave conditioning balm.  Several people have said it's one of the best on the market, particularly for those with very dry skin or who live in arid climates.
Bay Rum Tonic, Lime Tonic,  Tonic Spray Bottle: These are aftershave splashes contain essential oils for some additional skin moisturizing.

If you've been curious about Method shaving but the cost has been a barrier-to-entry, this may be a chance to see what it's all about.  It's been a while since I've done any Method shaving myself, so I have one of these kits coming.

Have you tried Method shaving?  What do you think of the results?