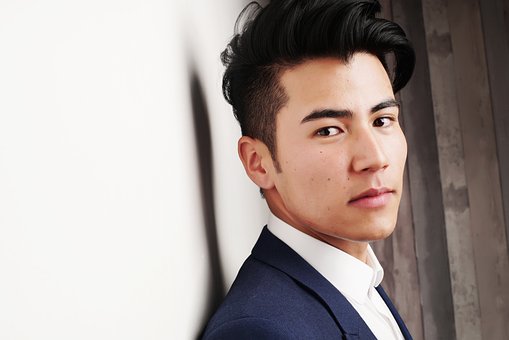 Various questions that pop up in the mind of an individual while sitting in the barber's chair is 'which is the latest trend in hairstyle' and 'will it suit me,' 'would it give me a cooler look,' etc. There are chances that the latest best hairstyle for men, may or may not suit your face cut.
The Best Men's Haircut for Every Face Shape
Many a time, man leave it up to the barber as they think that being professional, he would be a better decision maker. Well, getting a new hairstyle is an important decision, as it forms an important part of that dashing and handsome look. Hence, getting guidance is okay but why let anyone else decide which would be the best hairstyle for you.
Best hairstyle for men is the one which enhances the face cut. Whether a hair cut would suit you, depends on two major factors- the structure and shape of your head. The right choice of hairstyle can help in highlighting the best features of the face. Hence, knowing the face shape is very important.
How to determine my Face Shape?
To find your face shape, you need to study your face's length, the width of your cheekbone and forehead, chin and jawline. You can determine your face shape by following these 3 simple steps:
Stand in front of a mirror and pull your hair back. This will give a clear view of your face.
Draw the outline of your face on the mirror. Try to keep your face as steady as possible.
Once the outline is complete, compare it with the different head shapes. Depending on the outline you can place your face shape into the most suited category.
Best hairstyle for men based on the head and face shape.
Different types of face shape are
Long
Oval
Round
Square
Triangle
Diamond shaped
Once you get an idea about your head and face shape, select the Best hairstyle for men for your face type.
Oval Face: 
Oval is the elongated form of the round shape. Absence of sharpness along cheeks, chin, and forehead are some of the distinctive features of the oval face. Men with oval face shapes are quite lucky as various types of hairstyle suits this face structure. This gives them more scope for experiment. However, it's better to select a hairstyle which can add some length and volume on top.
Haircuts For Oval Faces
Comb over fade: It's one of the most versatile form of hairstyle. Depending on the preference of the side cuts, men can choose from low, high, skin and mid comb over fade. Besides this, men also have the option to select from short or long fade comb depending on their preference for the hair on the top.
Brushed Up Hair with short sides and full beard also look good on men with the oval face shape.
Caution: Men with oval face shape should try to avoid hairstyles that could cover their forehead, and it would add further roundness to their face. Hence, fringes and bangs are highly avoidable.
Square Face: 
Square shaped face is sharp, angular and has symmetric qualities. Men with square shaped face have a strong jawline. Men with this face type can experiment with various strengths and lengths. It is advisable to select a hairstyle which emphasizes on your strong jawline. Keeping hair faded high and sideburns short would add more to your square face.
Haircuts For Square Faces: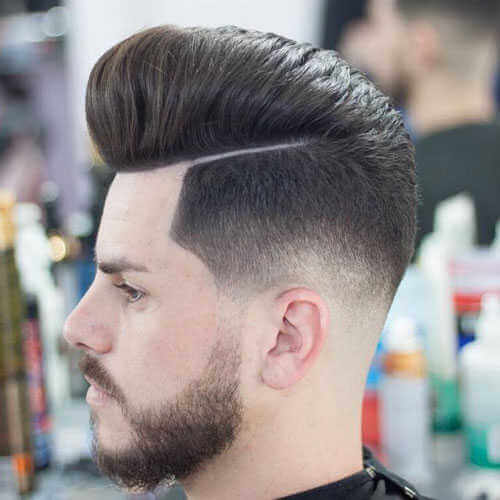 Pompadour with Fade and Beard: Pompadour haircut gives a softer look. The hair on top helps in relaxing the sharper lines of the square-shaped face. To give a neater look, men can opt for the classic side parting. This style further highlights the strong jawline. Heavy stubble and long beard also look nice on square-shaped face men.
Slicked Back Undercut: This hair cut gives an elongated look to a square-shaped face by balancing the width of the face. In this, the top hairs are cut either short or till a medium length and the hairstyle is done in a way to create volume.
Buzz Cut: Short hairstyles like crew cut or buzz cut can also be a good option for men with a square-shaped face.
Round Faces:
The shape of a round face is quite similar to a square face. However, the only difference is that they have smooth edges. Length and width in the round face are almost equal. Moreover, there are no defining jawline and sharp cheekbones in case of round faces. Best hairstyle for men with a round face is the one which gives them an angular and muscular appearance. Hairstyles which give their face an elongated appearance can be a very good option. You can even go for Asymmetrical styling, to get that urban look.
Haircuts For Round Faces
Faux Hawk: This hairstyle very-well goes with round shaped face. Short back and side hairs along with top hairs emphasize cheekbones and also give the face an elongated look: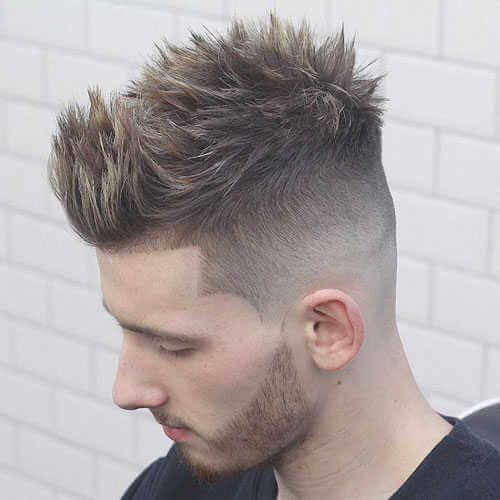 Quiff: If you are looking for a more dynamic look than quiff could be a very good option: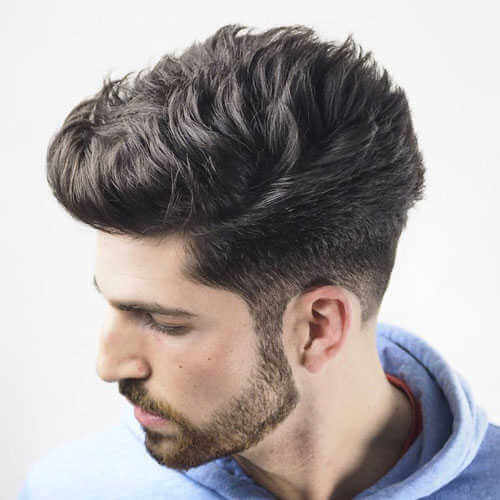 Diamond Faces: 
Such faces are long and angular. Men with diamond shaped face have pointed chin and wide cheekbones. Both long, as well as, short hairstyles suit this face cut. Growing some facial hair would help in softening the chiseled jawline. Men with a diamond face can experiment with different hairstyles. Try having thick hair with layers.
Haircuts for Diamond Faces
Long Slicked Back: Best hairstyle for men with diamond faces should go for full-volume hairstyles.
Brush Up: Brush Up also offers a great and modern look.
Triangle Faces: 
Men with triangle face have wider jaw lines in comparison to their temple area and cheekbones.  Sharp and angular features are another trademark of triangle faces. Long and Medium length hairstyles can be considered as the Best hairstyle for men with triangle face. Such hairstyles give a thick look to the forehead and soften strong chin.
Haircuts for Triangle Faces
Quiff, and Angular Fringes: The best choice for such face-type is the one which adds volume to hair on top. It would help in creating an illusion of thicker forehead. This classic hairstyle goes very well with men with a diamond face.
Crew Cut: Crew cut is also a very good option.
Selecting a hairstyle becomes quite easy once you understand your face shape and features.
Author Profile:
Rander Gardner is the owner of TrendySeekers who are working on hairstyle, lifestyle or fashion niche and when not working he enjoys rugby, cycling and swimming.