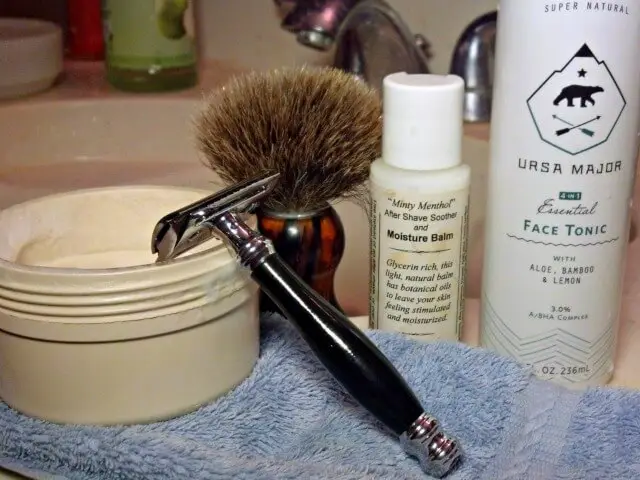 I bought a Matador razor from Razor Blades And More a while back and finally got around to trying it recently.  It came with Gillette 7 o'clock and Polsilver blades so I slipped a Polsilver in for the 1st shave (the balance of the "shave of the day" shown above was a Havanna Handle brush from shaveplace.com, DR Harris Arlington shave soap
, Ursa Major Toner, and Shaveplace a/s balm).
The Matador performed well: solid and well-built, competitive with razors costing more money.  It has a handle longer than normal and a scalloped safety bar a la Merkur and Edwin Jagger, though the head is thinner. I found it "middle of the road" aggressive-wise.  My first shave was very good, though I did get a nick on my chin. I suspect that had to do more with the Polsilver than the Matador though.
It certainly wasn't due to the lather.  DR Harris' Arlington shave soap is one of my favorites and an old school tallow soap.  It's lather is really exceptional for me, particularly because I have hard water.
India?
I'm told that the Matador comes from the same factory in India that makes the Cadet
and the RazoRock Black Tie razors.  If true I'm beginning to wonder if India will be the next manufacturing hub for traditional shaving gear (though perhaps for export only).  There is still a lot of junk out there but this razor and Parker razors are competitive with other good razor brands, at a better price-point.

Related content: