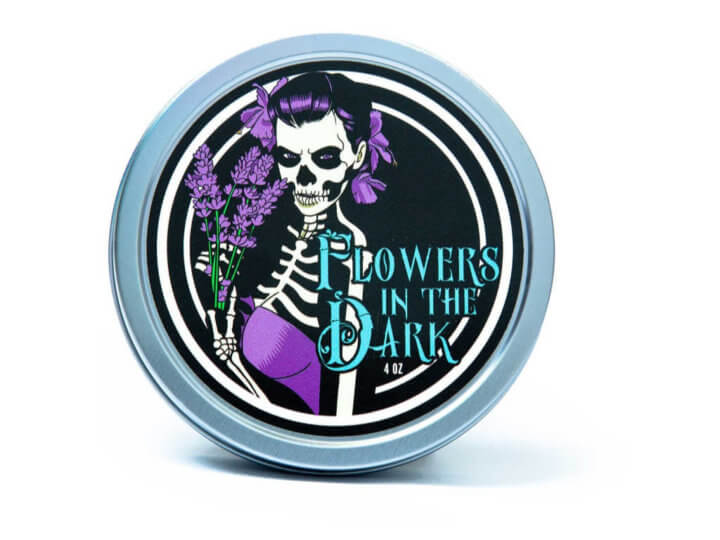 Dr. Jon's Flowers In The Dark shave soap is a darker, more whimsical take on the ubiquitous lavender scent so common in artisan wet shaving products.  I picked up a puck of the newest version of the soap to see if it is still "disturbingly pleasant."
Flowers In The Dark Background
This is the third iteration of Dr. Jon's Flowers In The Dark shave soap.
From Dr. Jon's website:
"The scent of lavender with a soothing undertone that is somehow familiar yet unnatural. After the lavender fades all that remains is something resembling coffin wood and ozone, a disturbingly pleasant combination."
Ingredients: Stearic Acid, Water, Castor Oil, Potassium Hydroxide, Shea Butter, Mango Butter, Babassu Oil,Sodium Lactate, Fragrance, Sodium Hydroxide, Vegetable Glycerin, Myristyl Myristate, Avocado Oil, Sunflower Oil, Evening Primrose Oil, Grapeseed Oil, Jojoba Oil, Meadowfoam Oil, Soy Wax, Cucumber Extract, Licorice Extract, Candelilla Extract, Sodium PCA, Sensolene, Squalane, Slippery Elm Bark, Aloe Vera Concentrate, Citric Acid.
My Experience With Flowers In The Dark V3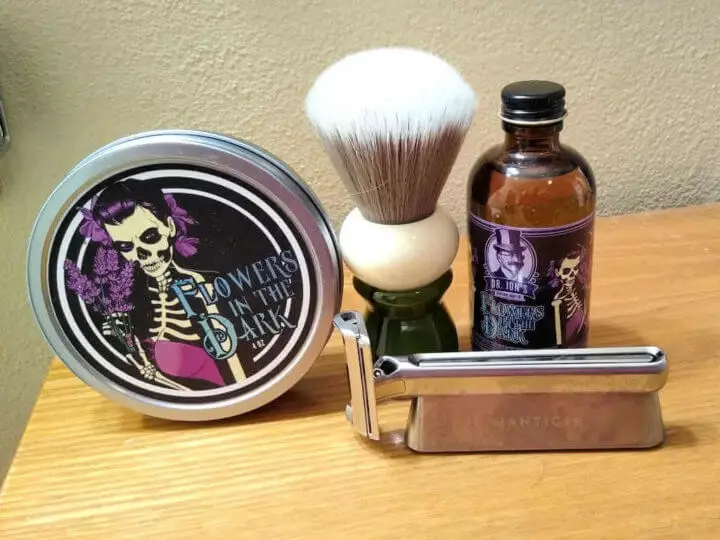 I also have a puck of Flowers In The Dark shave soap in its first formulation.  It quickly became my favorite lavender-scented shave soap, and one of my favorite over-all performers.  So when the latest formulation version came out I couldn't help but wonder how the two compared to each other.
Side-by-side I find the scent of the original formulation a little stronger and "dirtier," with more of a woody undertone, than Version 3.  The latest formulation seems to be a little more toward that of a pure lavender note.  I think the scent of the original formulation is more "disturbingly pleasant" and the newer version a bit more mainstream–but still different enough to make it stand out from the crowd.
(I think the scent of the aftershave splash is still a little "dirtier" and may have not changed appreciably with the soap reformulation.  But the splash's alcohol base overwhelms my insensitive nose so it is difficult for me to say.  I can't really judge performance, either: I'm more of a "balm" guy than a "splash" guy.)
And I find Version 3 doesn't build a lather quite as voluminously as the original, at least in my hard water.  Adequate to be sure, but a bit of a disappointment in comparison.  However it lathers quickly and is pretty tolerant of the hydration ratio.
BUT! Where the rubber meets the road–performance–Version 3 shines!  I was worried about how the relatively thinner lather might translate to the shave itself.  But there is a noticeable improvement in both cushion/protection and lubrication/glide…and Version 1 was no slouch in that department!
Conclusion
[Note: West Coast Shaving links are affiliate.]
Although the lather is just a bit thinner in my hard water than previous versions, Dr. Jon's Flowers In The Dark shave soap's new Version 3 formulation continues the line's excellent performance.  The soap's lavender scent is just different enough to make it stand out among other lavender-scented products.  Flowers In The Dark is available at Dr. Jon's website and other popular wet shaving vendors like Maggard Razors and West Coast Shaving.