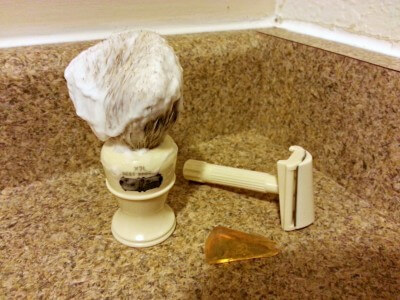 Ye Olde Barbershoppe is a rather nice combination of woodsy and spicy scents (mostly amber and bay rum, with a bit of musk according to Mama Bear's website). Does it smell like a barber shop? Well, I guess that depends upon the barber shop. I guess the problem is that there isn't any real agreement on what a barber shop scent should smell like, even amongst the experts. I can say it doesn't smell a thing like Taylor of Old Bond Street's Shaving Shop cream. Which overall I think is a good thing, I do prefer this scent.
Strength-wise, it's not quite as strong as I would have preferred, but better than most of the soaps I review manage to pull off.
As for the shave itself, by now I've reviewed half a dozen of Mama Bear's soaps. And I haven't noticed a difference in how they perform at all. So here's the standard boilerplate: Lathers up nice and thick to begin with; be sure to add a decent amount of water to get enough glide, but not too quickly as it's easy to over-shoot the mark and be left with something too runny; if you're using a scuttle, the heat will cause the lather to break down between passes, but a few extra drops of water and a quick stir will fix that up nicely. Gives a perfectly nice shave.
8/10 Scent Pleasantness
8/10 Scent Strength
8/10 Lather Quality
Since I started these reviews, Mama Bear's added some more options for sizes and presentation. The samples (like the one shown / used) are still a dollar each. However you can get 1.5 oz mug soap for $4.29, a 5 oz puck, for $9.99, with the option for a plastic tub or wooden bowl for an extra $1.65 or $9.99 respectively.
So, the overall score? I think that'll probably have to be an 8/10. Definitely worth a shot.
Ingredients: Coconut Oil, Palm Oil, Castor Oil, Safflower , Glycerine (kosher, of vegetable origin), Purified Water, Sodium Hydroxide (saponifying agent), Sorbitol (moisturizer), Sorbitan oleate (emulsifier), Soybean protein (conditioner), Wheat protein and fragrance.