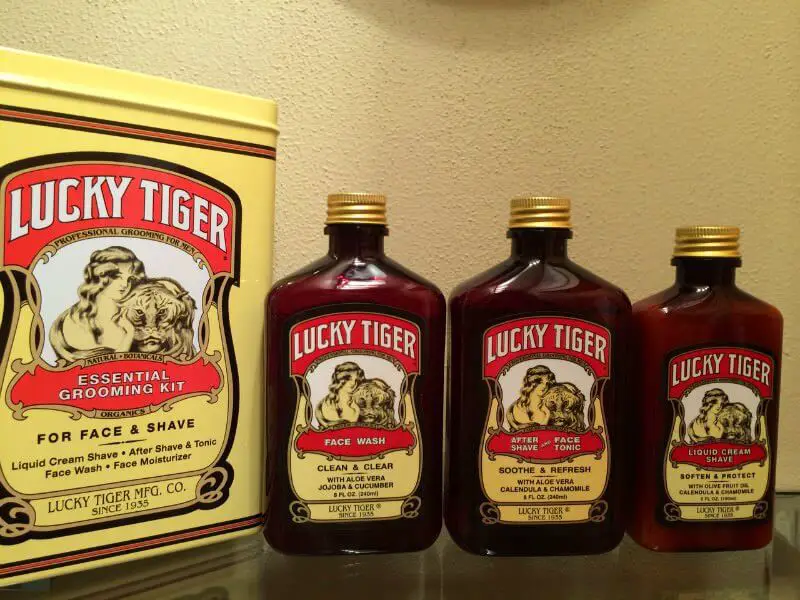 In an industry where positioning a brand as retro vintage is suddenly new and trendy, Milwaukee's Lucky Tiger doesn't even need to even try.  Trademarked in Kansas City in 1935, the iconic men's brand actually stretches back to a barber shop from the 1920s, when it was a very large line of tonics and hair products.  Amazingly, many of those exact same formulations exist today.

Lucky Tiger In Milwaukee
Now, Lucky Tiger, which was bought by BlueCo Brands in 2012 and relocated to Milwaukee, exists as two lines: its Barbershop Classics and Premium Products.
The Barbershop Classics, according to Sales Director Brenda Leckie, are designed to be used in the barber shop. And old-school barbering, along with scents like bay rum, are making a come back, she says.
"We're a heritage brand that people seem to remember," says Leckie. "It takes them back to their childhood. I know when we first bought the line and I smelled the bay rum … oh my gosh. It's my grandfather."
Which is a change from a few years ago, before wet shaving was embraced by the hipster set.
Says Leckie, "At the time, when the previous owners sold the company, (sales were) flat.
"People didn't really know about (the brand). It used to be men would go to a barber shop. Then it was more trendy for them to go into the salon. Now, the trends are going back. The more upscale barber shops … men are starting to do that. Going in for the shave. It's more of a service, a treatment."
To that extent, Lucky Tiger all sells its Premium Products, but their price points are actually lower than their closest competitors, like Jack Black or Baxter's or Art of Shaving.
"(BlueCo) is new to the company, so we just really wanted to get a feel for who our audience is," says Leckie. "The biggest change is that we've moved everything to Milwaukee."
In fact, Leckie says Lucky Tiger hasn't done any reformulating of its products whatsoever.
"There has not been any reformulation. We bought the company, bought the formulas. Over the years, the line's been scaled back. They've discontinued some items. We did bring some items back into the line when we bought the company.
"When we were out talking to customers, we listened to the voice of the customer. There were certain products – exfoliating massage cream and the lemon cream, which is a cleanser – that people really wanted. They couldn't figure out why they previous owners had discontinued them."
But bringing them back can be difficult when the original supply is gone.
Says Leckie, "We didn't really have anything to compare it to. We had to rely on our customers, our barbers, to sample it and say, 'Yes. This is good.' From time to time, I'll have somebody call me and say, 'Something just doesn't seem right. The consistency isn't right.' We'll take it back and we send it to quality, have it tested, send them a new one. That's really how we can compare the product.
"Reformulation is a no-no in this industry," she says.
"And you have to be very careful with repackaging. That's why everything looks the same. You can take this product – same exact formula, put a new label on it, repackage it – if they have it in their head that it's different, they're not going to like it."