Lime is one of those classic wet shaving scents.  Less common than orange or lemon but still refreshing and evocative of some far-off place.  What is the best lime-scented shave cream?
Lime!
I'm a fan of lime-scented shave creams.  So I assembled some popular brands to go over the different variations you can get–there's lime, and then there's lime.  🙂
To keep things manageable I'm going over shave creams with a pure lime note (not "lime and…" or "…with lime").  If there is enough interest I will do a follow up article on lime shave soaps.
Products are listed in alphabetical order.
(Amazon links are affiliate.)
Captain's Choice Lime Shave Cream
The Captain's Choice website calls this "An invigorating, citrusy scent for a morning energy boost."
I am disappointed with the scent of Captain's Choice Lime.  I get less of a lime scent and more of a sort of generic citrus scent with a distinct alcohol component.  I find it surprising because the other Captain's shave creams I've tried (Bay Rum and Venture) smell terrific.  It's moderately strong both from the jar and lathered on the face.
The lather is a bit thin in my hard water.  But many creams I've tried are thin in my water too, so that's not really a "knock" against it, just an observation.
On the other hand, the actual shaving performance of this shave cream is excellent.  I can use razor/blade combinations that are more "aggressive" than I usually use and, as long as I'm a bit more mindful of my shave technique, the results are smooth and comfortable.  I've found Captain's Choice products to be exceptionally stable (meaning you can take your time shaving without worrying about the lather drying out or disappearing) and this cream is no exception.
Ingredients: Water (Aqua), Stearic Acid, Myristic Acid, Cocamidopropyl Betaine, Lauric Acid, Potassium Hydroxide, Fragrance (Essential Oil/Natural Fragrance Blend), Glycerin, Cetyl Alcohol, Decyl Glucoside, Sodium Lauroyl Lactylate, Aloe Barbadensis Leaf Juice, Triethanolamine, Glyceryl Stearate SE, Prunus Amygdalus Dulcis (Sweet Almond) Oil, DMDM Hydantoin, Sodium Hydroxide
Castle Forbes Lime Oil Shaving Cream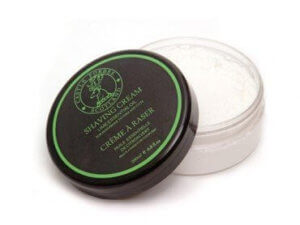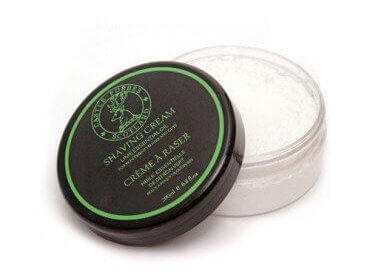 One of my all-time favorite shaving creams, Castle Forbes lime's scent is very sweet and very strong (too strong for some), both in the tub and lathered on the face.  I like to tell people that it's like getting smacked in the face with a key lime pie.  This is a completely refreshing, invigorating lime scent for me.
Getting a thick, creamy lather takes a bit more effort in my hard water.  But for me the results are well worth it.
Performance is widely regarded as top shelf (at a commensurate price) and I agree: it may be obscenely expensive to some but the lubrication and cushion is amazing to me, and worth the price of admission.  I think the post-shave moisturization is just average but the matching aftershave balm (there's a travel size for those who get sticker-shock from the price of the full-size bottle) more than makes up for it.
Ingredients: Aqua, Stearic Acid, Aloe Barbadensis, Myristic Acid, Potassium Hydroxide, Glycerin, Coconut Acid, Dipropylene Glycol, Citrus Aurantifolia, Citric Acid, Triethanolamine, Phenoxyethanol, Sodium Hydroxide, Methylisothiazolinone, Potassium Sorbate, Limonene, Citral, Gerniol, Linalool
Truefitt & Hill West Indian Limes Shave Cream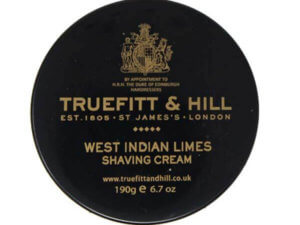 More tart than sweet (like the fruit's zest instead of the "meat" of the lime), I think Truefitt And Hill West Indian Limes shave cream has an earthy, acidic scent (that reminds some people of a household cleaner smell).  The scent is fairly strong, too.  Lathering is quite easy and performance is usually regarded as very good–though personally I think the lather of this cream, like most other T&H creams, could use just a little more "cushion."
Ingredients: aqua, stearic acid, myristic acid, potassium hydroxide, coconut acid, glycerin, parfum fragrance, triethanolamine, sodium hydroxide, methylparaben, propylparaben, limonene, citral, linalool, CI 19140 yellow 5, CI 42090blue 1
Trumper's Extract Of Limes Shaving Cream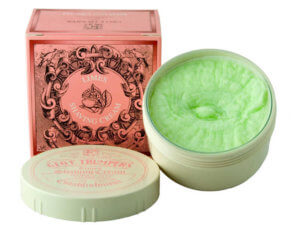 More sweet than the tart but not dramatically so…Trumper Lime shave cream has a good citrus balance I think.  It has a mild scent, both from the tub and lathered on the face.  Speaking of lathering, like the Salter cream above this cream is dyed light green but turns white when lathered.  I think performance has taken a bit of a "hit" (particularly with post-shave skin feel) after a reformulation a few years ago: the cream's texture and performance suffers from a thinner, runnier lather than it used to have (again, in my hard water).  However, the results for me are still very good.
Ingredients: Aqua (Water), Stearic Acid, Myristic Acid, Potassium Hydroxide, Coconut Acid, Glycerin, Parfum (Fragrance), Triethanolamine, Sodium Hydroxide, Methylparaben, Propylparaben, CI 19140 (FD & C Yellow 5), CI 42090 (FD & C Blue 1), CI 14700 (FD& C Red 4), Alpha-Isomethyl Ionone, Benzyl Benzoate, Citral, Coumarin, Hexyl Cinnamal, Limonene, Linalool.
Conclusion
I enjoy citrus-scented shave products.  I enjoy strongly-scented shave products.  I enjoy shave creams with exceptional performance.  So there is no hesitation to my unabashed, full-throated endorsement of Castle Forbes Lime shave cream as the best lime-scented shave cream on the market today.  Change my mind.
What's your favorite lime-scented shave cream?  Leave a comment below.