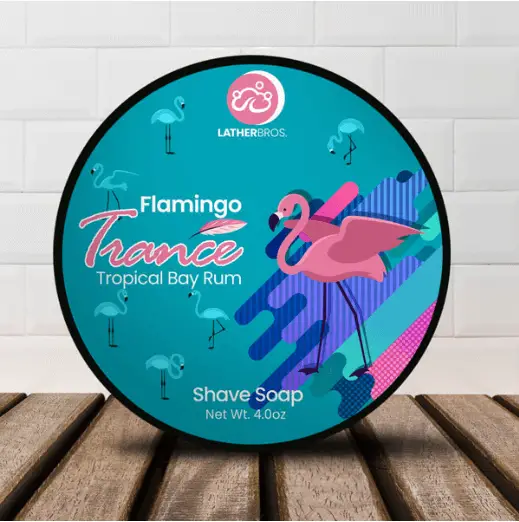 I'm still making may way through all the products I bought at Big Shave East.  I was particularly intrigued with the riff on Bay Rum that Lather Brothers had on display, Flamingo Trance.

The Inspiration
The Lather Brothers Website says of Flamingo Trance:
"A recent trip to the zoo and video my wife showed me, is the inspiration to this soap. The mating group dance of the flamingo is so fascinating and interesting that it leaves you in a trance when you see it. This is why [we] decided on the name for this soap.
"This limited edition scent was created for BIG SHAVE EAST meet up, but we felt is was unfair to the folks that can't make it our neck of the woods, so this take on bay rum with tropical fruits will leave you smelling great and put people in a trance, just like the flamingos."
My nose is pretty insensitive, it just doesn't get the subtleties of scents.  I get relatively heavy spices (cinnamon?) with an "oceanic" or "marine" note.  I do get a citrus-like "tanginess" that tickles my nose at the very end which must be the "tropical fruit" note.  I can see this as a Miami Beach riff on Bay Rum.  🙂
Ingredients: Stearic acid, Coconut Water, Cocos Nucifera (Coconut) Oil, Sodium Tallowate Adeps Bovis, Aloe Vera Juice, Agua (water), Ricinus Communis Seed Oil, Butyrospermum Parkii (Shea) Butter, Prunus Amygdalus Dulcis (Sweet Almond) Oil, Elaeis Guineensis (Palm) Kernel Oil, Garcinia Indica (Kokum) Seed Butter, Glycerin, Sodium Lactate, Essential & Fragrance Oils.
Performance
Scent aside, this soap performs very well for me, even in my hard water.  Lathering is good (again, my hard water tends to somewhat impair a really good lather), cushion is excellent, and lubrication is outstanding for me.
While I think Bay Rum purists may not be completely satisfied with the scent of LatherBros Flamingo Trance I do think it's something to get if you're looking for that Miami Beach "vibe" in your shave den.  I'm getting great shaves with Flamingo Trance.