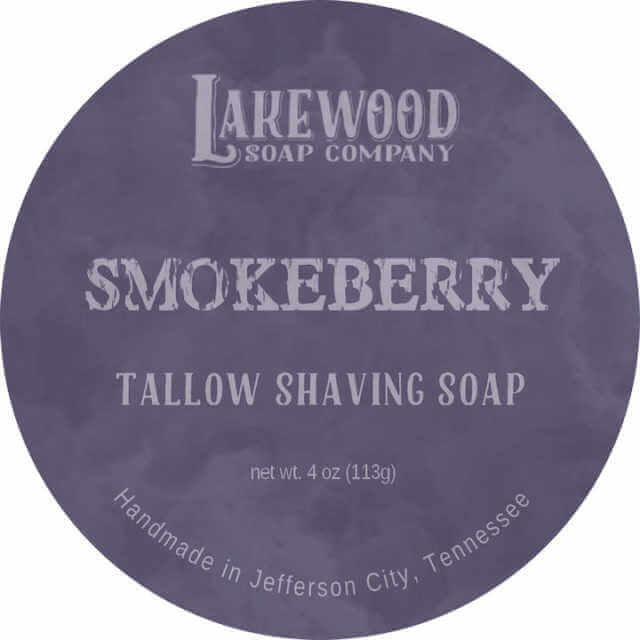 Lakewood Soap Co. has a shave soap with an unusual scent: "Smokeberry."  I recently picked up a jar to try.
Lakewood Soap Co. Smokeberry Shave Soap
From their website:
"The idea for this scent came about when I asked a group of wet shavers on Facebook what scent areas they felt were underserved in the shave world. "
"Juicy blackberries, old leather, and a bit of smokiness make this an intriguing masculine scent. "
Ingredients: Tallow, Water, Shea Butter, Stearic Acid, Potassium Hydroxide, Castor Oil, Sodium Hydroxide, Fragrance.
My Experience With Lakewood Soap Co. Smokeberry Shave Soap
The "Smokeberry" scent is fairly strong, both from the jar and lathered on the face (a good thing for me, I prefer strongly-scented products).  I get a vibe of grilled or smoked blueberries in my dull nose, though it could also venture into blackberry territory.  I don't get a leather note, but remember my nose is notoriously insensitive and uneducated.  Lakewood uses the term "juicy" in the scent description and I think they have hit that perception.
While the lather itself may be a touch thinner in my "hard" water than some other soaps I have, lathering is quick and easy.  Smokeberry seems to be pretty tolerant of the soap/water ratio.
Performance-wise I think Smokeberry is fairly typical of the current world of artisan-made, tallow-based soaps.  Meaning it performs very well!  With all the competition in artisan shave soaps now, expectations are much higher than they used to be just a few years ago.
In my experience with Smokeberry I find the protection aspect good and the lubrication/tracking aspect very good.
Conclusion
Lakewood Soap Co. was looking for an "underserved" scent and I think they hit the mark with their Smokeberry shave soap.  It's certainly unusual!  If they wanted to carve out an unusual niche' for themselves, I think they've accomplished that.
The scent is strongly "berry-ish" with shaving performance that competes well in the increasingly crowded market.  I give Smokeberry a 3.5/5 rating.  It is available only at their website.
Have you used Lakewood Soap Co. Smokeberry shave soap?  What do you think of it?  Leave a rating and comment below!