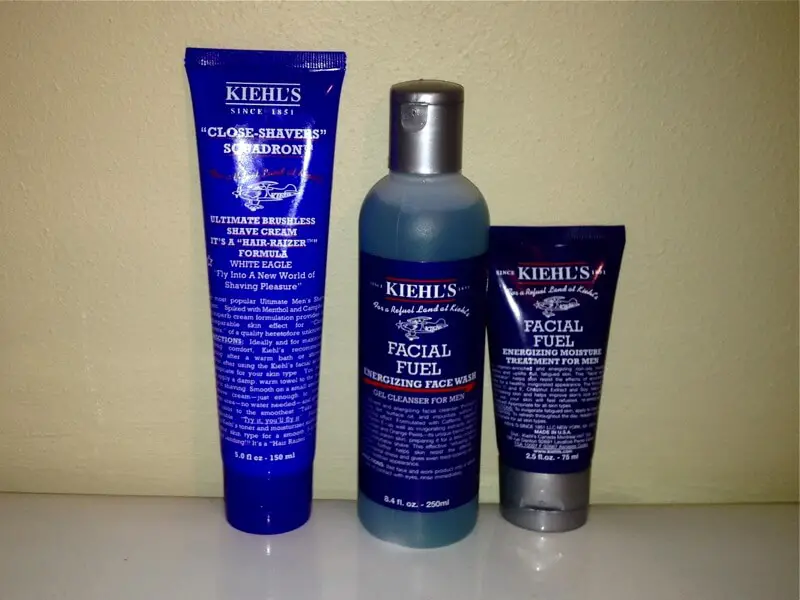 I'm always up for trying products that claim to improve my complexion and slow the signs of aging (hey, I'm almost 38), so I was excited when Kiehl's sent over a trio of goodies from the Facial Fuel line. Yet another shaving product is an extra bonus.
Their Energizing Face Wash is interesting; it contains caffeine that literally wakes your face up in the shower. It's a surprisingly pleasant feeling. Kiehl's says it prepares your face for a less irritating, more comfortable shave.
When paired with their "White Eagle" brushless shaving cream, this appears to be true.
The tube offers a blast of menthol and camphor, stronger than Bigelow, as far as I can tell – that works really, really well. And believe me, I was skeptical, having used a badger hair brush and soap or traditional cream for more than a year.
The stuff doesn't lather at all, but shave after shave, I've been impressed with the results. It seems to keep my neck irritation at bay, which only a few creams have been able to accomplish.
You even get a surprise when you do your cold water rise; somehow it reinvigorates the menthol and your face again feels ice cold. No, I don't foresee giving up traditional wet shaving, but if I'm in hurry, or it's during the dog days of summer, I expect this to be my go-to shaving cream.
Finally, the "Energizing Moisture Treatment" is exactly what I was looking for. Coming back from Arizona this spring, I was a little sunburned, and this matte-finish, vitamin-enriched moisturizer had a subtle cooling effect and it leaves my skin looking better than without. Maybe its the inclusion of chestnut extract, which Kiehl's calls its "facial recovery accelerator" to help skin resist the effects of environmental stress.
Whatever it is, it works. Actually, it all works. And that's about all I could ask for.