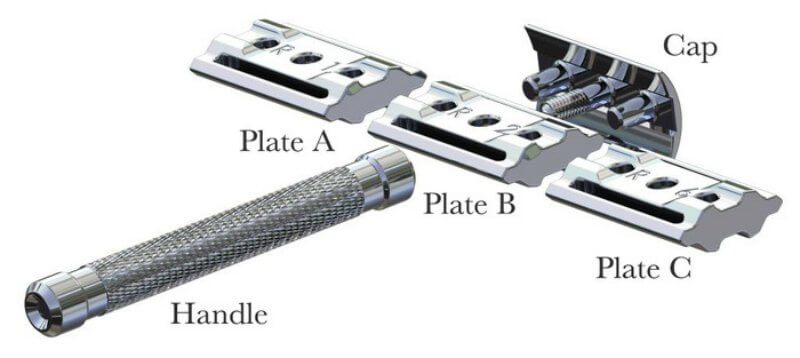 [UPDATE: Rockwell Razors met their initial funding goal on it's first day on Kickstarter!]  Sharpologist likes to publicize shaving-related funding projects.  For example, we've previously showcased Dave's Shower Shave and BornSharp.  Here's a new one: Rockwell Razors.  Rockwell has some interesting attributes–an all stainless steel razor with a price point far below other stainless steel razors, and a set of reversible, interchangeable base plates.

A Chance Meeting
Morgan Nordstrom, 20, is an engineering student and Gareth Everard, 21, is an environmental sciences student at Western University. Both Morgan and Gareth, who met at a business pitch competition, have been working on Rockwell Razors while both studying full time.
Rockwell Razor
They say "we've been working with expert engineers, designers, and machinists in North America, refining the Rockwell Razor to be the best razor in the world. By manufacturing the Rockwell Razor with stainless steel, we are able to make a high quality product that will last for generations, instead of just weeks or days. Stainless steel is durable and hefty, allowing for precision maneuvering while ensuring the razor will survive the wear and tear of everyday use or travel.
"We believe American steel is still the best in the world, and we wanted to keep jobs here in North America, instead of outsourcing to Germany or China. Partnering with a steel mill in America guarantees we'll do just that, while shortening our supply chain and reducing our environmental footprint."
There are some interesting aspects to the Rockwell razor.  The first is the price-point of $50.  That is lower than any other stainless steel razor I have seen.  Perhaps more interesting is the unique set of razor base reversable plates with different exposures on each side:
Size 1: 0.38 mm
Size 2: 0.56 mm
Size 3: 0.72 mm
Size 4: 0.84 mm
Size 5: 0.94 mm
Size 6: 1.12 mm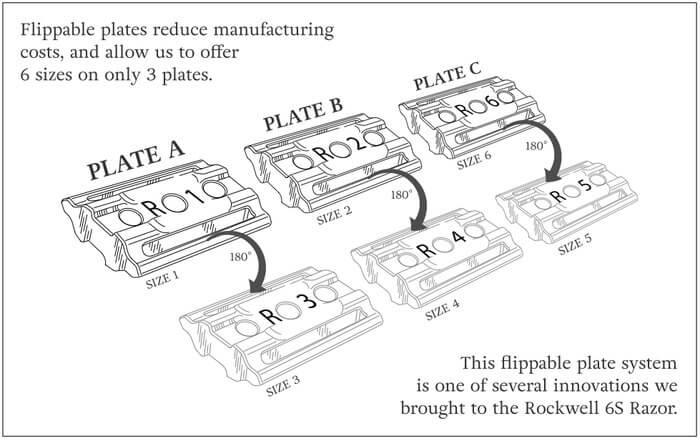 Be sure to take a look at their Kickstarter page for more information!