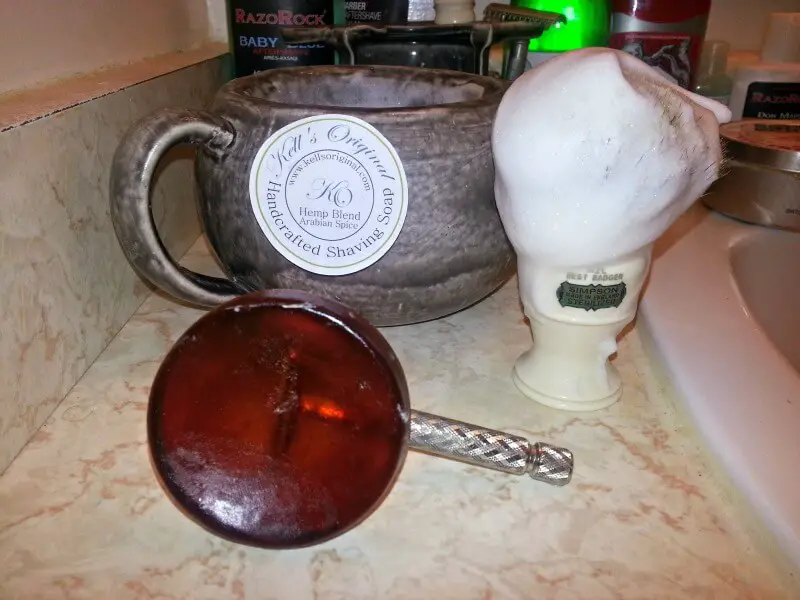 First off, let's get the lather out of the way: it hasn't changed from any of the others of the same formulation I've reviewed. Quite nice. Rather thirsty, but the water gets put to good use in providing a lot of glide without thinning out much. A bit better than average moisturization properties for the skin as well.
The scent is just delicious. It's a "mix of Myrrh and Orange, with tones of Ginger, Cinnamon and Cloves"; the girlfriend thought it reminded her a lot of autumn and apple pies back home in Nova Scotia, but I definitely got a bit more of the exotic vibe that they seem to have been going for. The orange is just sweet enough to balance out all the spices.
It's got some pretty decent strength to it; what I would say is a medium level of scent when applied to the face, enough to be easily noticeable, but not what I would consider strong. It also manages to not fade during the shave.
9/10 Scent Pleasantness
8/10 Scent Strength
8/10 Lather Quality
The sample puck used was $2 for 1 oz, also available are 2.7 oz cakes for $5.25, 4oz in a tin for $8, or a 2.5 oz shave stick for $9. All are also available in a formulation that includes either a bit or a lot of aloe extract.
Overall, this is a nice solid 8/10. It's a good performing soap, that smells quite nice. No complaints here! Well worth at least the cost of a sample to give it a shot.
Hemp blend ingredients: Coconut Oil, Palm Oil, Olive Oil (Grade A extra virgin), Safflower Oil, Glycerine (vegetable origin), Hemp Seed Oil (unrefined), Purified Water, Sodium Hydroxide (saponifying agent), Sorbitol (moisturizer), Sorbitan oleate (emulsifer), Soy bean protein (conditioner), Wheat Protein (conditioner)