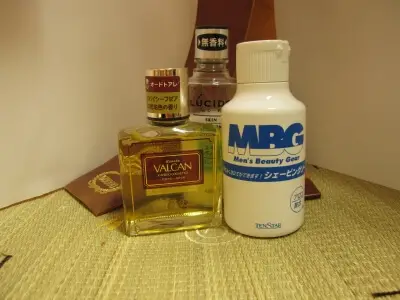 Japan, while not the wetshaving mecca that England or Germany appear to be, has some things to offer the wetshaver in need. While it is possible to find a decent range of imported goods like Merkur razors and blades, or Plisson brushes, they tend to be limited to the cities and major department stores and they are wildly overpriced. Native products, while limited, are worth a look.
I'll be talking over the next couple of months about Japanese products of interest to the wetshaver, both hardware and "software," as they say, and hopefully something interesting will popup.

Let's start with shaving creams and soaps.
There are a few Japanese made shaving creams on shelves. The two that are most readily available (usually on the shelf just below Feather DE blades) are Rohto Mentholatum Medicated Shaving cream and Milk Brand cream. These are both non-lathering brushless creams, with lots of menthol. Naturally, the former (Rohto Mentholatum) is very strongly mentholated, with a cooling punch like a boxing polar bear…or something of the like. Milk brand, though promising a soothing and nourishing shave, offered only thing, cooling slickness. Sadly for me, my face is highly sensitive to menthol and I was in eye-watering pain within minutes of trying both of these creams. I couldn't finish a shave with either, so I'm not really the person to tell you whether they are worth trying. However, they are cheap and very old school, so if you don't mind non-lathering creams, and you like menthol (and, of course, you happen to be in Japan) it might be worth picking them up.
Shaving soaps are slightly more promising. Japanese-made soaps include powdered varieities (Kao and MBG brand soaps) and liquids (LION Professional) and as far as I'm aware, one single, solitary puck.
The puck is Kamisori Club's Catechin soap. It's a melt-N-pour soap with added Catechin (a chemical found in green tea) that is supposed to have excellent skin care properties. In the two or three times I tried this soap, the shaves were just ok (the lather was unstable but super slick) and my skin felt good afterwards. It was an odd thing, actually. I can't say that the shave itself was enjoyable. The unstable lather tickled as it popped, and it was a rather unappetizing greenish-brown. However, it was really quite slick, with reasonable cushion so I can't say it was bad. After the shave, my skin did feel quite refreshed, though I can't really say if that was the soap or not. All in all, it was a middle of the road shave, though the price for the soap (1,680 JPY or roughly US$20) suggested better.
Another soap I've tried more recently is the powdered MBG with added Aloe extract. You can see a more detailed review at my blog Eastern Smooth, but basically…thin, unstable lather but a super slick shave, with a nice, moist face afterward. A lot like the Catechin soap, actually, though at half the price a much better deal.
And that about finishes up the soaps and creams of Japan. Overall, not the best prospects, but better than nothing I guess. Maybe? Next time, I promise the outcome will be much rosier as we discuss one of Japan's strengths: Aftershaves!