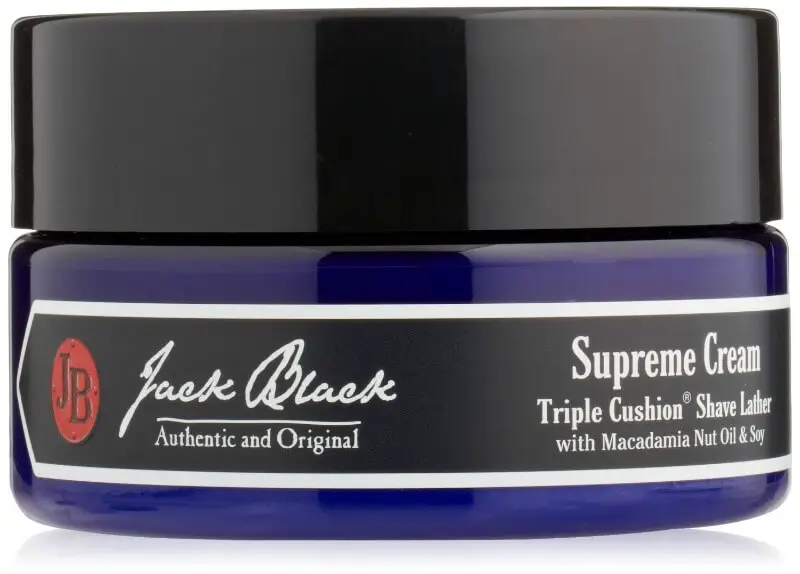 Recently, I was visiting our local beauty supply place to get my wife a hairbrush (oh, the things I do). I know they carry Art of Shaving, Jack Black's and a few other shaving brands, so I asked if they had any shaving samples, and sure enough, they gave me a plethora of samples of Jack Black's shaving products.
On to the shave!


For my shaves I use the same prep and post-shave products each time:
Pre-shave: Hot shower, leaving beard wet; lather beard for at least a full minute.
Shave: Semogue 830 boar brush, Muhle R101 with a Feather blade.
Post-shave: Warm/hot rinse, cool rinse; aftershave balm/milk on moist beard.
SCENT
While the website for Jack Black's  products lists this shaving cream as "fragrance-free", it definitely does have an aroma. The most prominent note is the rosemary, followed by a light lemony, floral note which is (no doubt) from the flower oils. I find it to be very pleasant smelling.
LATHER
The instructions for the cream are as follows (emphasis is mine):
Start with a slightly moist face.  Apply an even layer of Supreme Cream over face and neck with fingertips or a shaving brush.  Activate Supreme Cream by working it to a rich, creamy lather using circular motions.  Shave with a sharp, clean blade, rinsing razor frequently.  Rinse face with warm water.
Shaving brush you say? Carry on then…
Using standard lathering technique in my scuttle, and a small almond-size dollop, I was able to produce a very stable, creamy lather. It took a couple of shaves to learn the cream's properties, especially that this stuff really likes water! It takes quite a bit of our hard water to hydrate the cream.
PERFORMANCE
For my first shave with [inhaaaaaaaaaaaaale] Jack Black's Supreme Cream Triple Cushion® Shave Lather with Macadamia Nut Oil & Soy…
[gasps for air]
… I had used it in conjunction with a sample of their Beard Lube product which resulted in an extremely slick and cushioned shave. It was one of the closest shaves I have gotten in recent memory. Since then I have shaved three times using the cream by itself. While certainly not as slick, it was still a comfortable shave and very close with no irritation at all.
My skin felt very supple and soft after each shave. With other products, I occasionally find that they contain some ingredient that makes my skin slightly burn or tingle. This has none of that, and in fact, it feels very soothing.
VALUE
The online
price for this shaving cream seem to run $13 (USD) for the 3-ounce tube and $23 (USD) for the 8-ounce jar. All in all it's not too pricey, and I say it performs quite well using a minimal amount of cream per shave.
THE JACK BLACK BOTTOM LINE
I give the cream an 9/10. A well-performing, mid-priced cream that could easily be part of a shaver's regular line-up.
Ingredients: Water (Aqua), Sodium Lauroyl Sarcosiante, Stearic Acid, Myristic Acid, Palmitic Acid, Potassium Hydroxide, Lauric Acid, Glycerin, Macadamia Ternifolia (Macadamia) Nut Oil, Simmondsia Chinensis (Jojoba) Oil, Glycine Soja (Soybean) Oil, Plantago Lanceolata (Plantago) Leaf Extract*, Leontopodium Alöinum (Edelweiss) Extract*, Calendula Officinalis (Calendula) Flower Extract*, Rosmarinus Officinalis (Rosemary) Leaf Oil, Pelargonium Graveolens Flower Oil, Anthemis Nobilis Flower Oil, Cocos Nucifera (Coconut) Oil, Cetyl PEG/PPG-10/1 Dimethicone, Perfluorononyl Dimethicone, Phenoxyethanol, Disodium EDTA, Butylene Glycol, Iodopropynyl Butylcarbamate, Xanthan Gum.
*Certified Organic
†Note: this cream does not bring about a compulsion to watch School of Rock or any other Jack Black films.