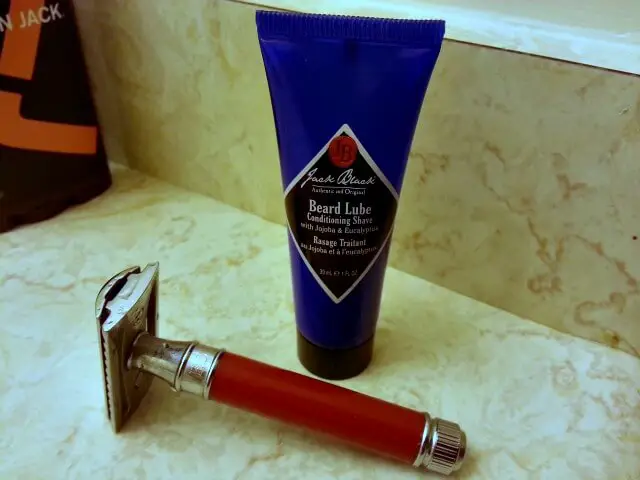 The too long; didn't read (tl;dr) for this review is simple: there wasn't a single aspect of this "shave cream" that I particularly liked.
It's a non-lathering cream. Actually, it touts itself as an all-in-one pre-shave oil, shaving cream, and skin conditioner. Anyways, as creams go (and I think "cream" is stretching it, it's really more of a gel), it's a relatively thin one, which only provides a minimal amount of cushioning. It also doesn't seem to provide too much in the way of lubrication, certainly less than the vast majority of soaps and creams that I've tried. It does have a fair bit of peppermint oil and menthol, which do provide a cooling sensation to the face as you shave (and a fair bit afterwards). Whether or not that's a plus is up to your own tastes.
The peppermint is also the predominant scent of the Beard Lube, which I suppose it pleasant enough, but it's relatively weak, as I was mostly straining to smell it once it was applied to my face.
8/10 Scent Pleasantness
6/10 Scent Strength
3/10 Lather Quality
Unfortunately, the sample pack I got this tube in is no longer available, but other sizes are still available, with the best value being 16 oz / 480 mL for $32. Which brings me to another point that I didn't like all that much; I had just enough to wrest 2 shaves at 3 passes each out of the 30 mL sample tube, and that was being rather stingy with the stuff too. So that would seem to average out at about $1 a shave, which is pretty bloody expensive in comparison to any latherable soap or cream.
Anyways, I'm sure you can guess my verdict here. 3/10, not recommended unless you like over-paying for an inferior product.
Ingredients: Water, Behentrimonium Methosulfate, Cetearyl Alcohol, Macadamia Ternifolia Seed Oil, Simmondsia Chinensis (Jojoba) Seed Oil, Hydrogenated Lecithin, Glycerin, Calluna Vulgaris (Heather) Extract, Mentha Piperita (Peppermint) Oil, Menthol, Eucalyptus Globulus (Eucalyptus) Leaf Oil, Phenoxyethanol, Chlorphenesin, Methylparaben, Benzoic Acid, Dimethicone, Phenyl Trimethicone, Lecithin, Dimethiconol, Propylene Glycol, Cyclomethicone.
[Note from Mantic59: For another perspective on Jack Black Beard Lube, see THIS post from last year.]