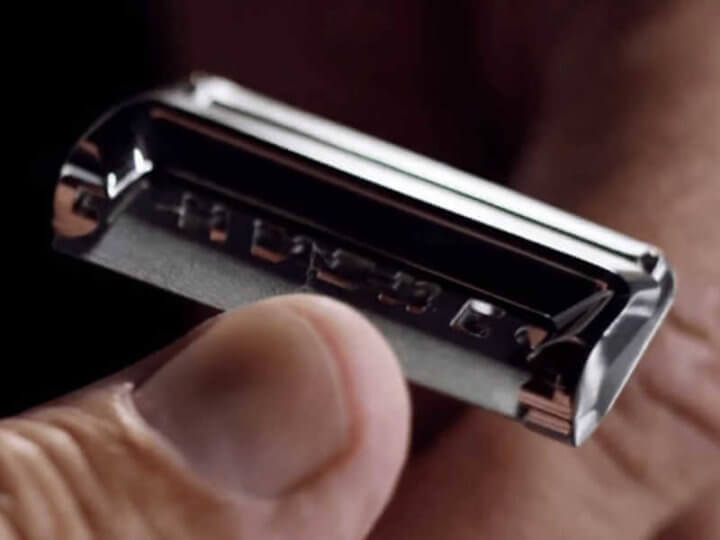 Do you have trouble opening and inserting the blade into your OneBlade razor? Here are a couple tricks that can make the process much easier.
Dealing With The Wrapper And Glue
It's no secret that I'm a big fan of OneBlade razors (Sharpologist is a OneBlade affiliate) and a lot of OneBlade users are also Sharpologist readers.
As good as the razor is, some new users have expressed frustration to me about the Feather FHS blade.  Specifically, unwrapping the darn thing!  Some people also have a little trouble aligning the blade into the razor's head.
As you know, the razor blade is inside a waxed paper wrapper, held closed by a couple little blobs of glue.  What you may not know is the outer-most fold of the wrapper always exposes the blunt end of the blade.
So unfold that first fold and grasp the blunt end of the blade. Then you can take your other hand, reach under the wrapper for the fold, and slowly unwrap the rest of the blade.
And if you still have trouble inserting the blade because of the glue, just briefly rinse the blade in warm water. That should loosen it enough to make insertion into your oneblade razor a snap.
Lining Up The Blade
One last trick. If you have trouble lining up the blade into the razor head, try looking at the head from behind instead of above. That should give you a better perspective on alignment.
Conclusion
OneBlade razors work very well for  lot of people and a couple little tricks can make using the razor a little more convenient.
Do you have a tip or trick about using the OneBlade razor?  Leave them in a comment below!