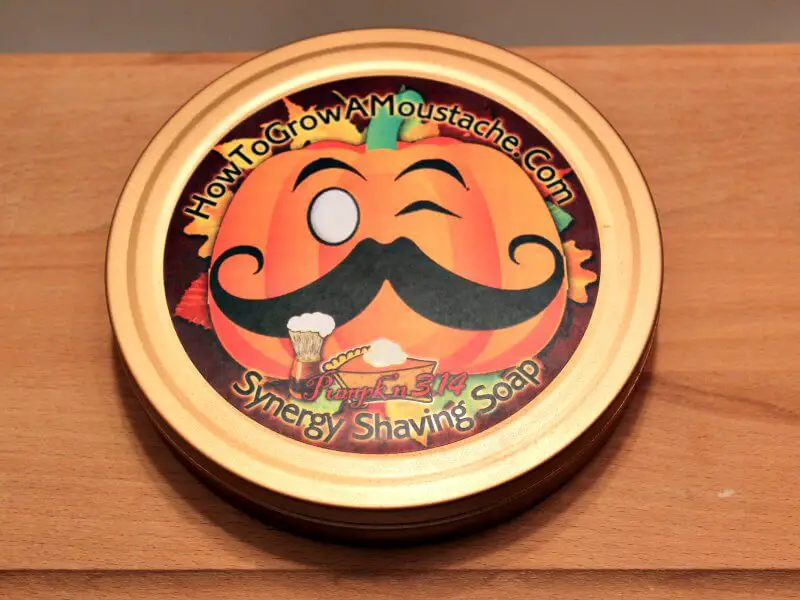 Round three of the Sharpologist Scent-Off!"  We challenged artisan shaving soap makers to come up with a Fall or Winter "seasonal" scented shaving soap, to be judged by our panel of shavers.  We have previously evaluated Mystic Water Indian Summer and Barrister & Mann Hallows.  This week, "Pumpk'n 3.14" from How To Grow A Moustache.

How to Grow A Moustache

Artisan Bio: Meet the guy who gave you the 5″ tin. Douglas Smythe is a Writer, Podcastor & Artisan Soapmaker. He began making cold process soap after college and more recently started to experiment with hot process soap. Inspired by his passion for wet shaving he dove into trying to produce a "peoples soap". A soap that would work for everyone everywhere, in all conditions with a wide sweet spot for lather based on temperature.
Back in the workshop Synergy was tested with both hard and soft water, cold and hot and over 20 different brush types were used to test lather integrity. The large tin was more than just novelty it was a well thought out piece of the puzzle, the perfect delivery system for his blend, the perfect blend for the delivery system…Synergy.
Douglas is Commander over at How To Grow A Moustache and co-host of the new Moustache & Blade Podcast.
Scent Description: This version of Synergy is its own special blend. We added Pumpkin Seed Oil (a rich source of skin shielding vitamins and minerals), Pumpkin Enzyme Powder, Organic Yellow Dock Root, Maca Root, Chaulmoogra Oil, Neem Oil & Aloe Vera Extract (for scent, color & more skin food).
Judges Comments On How To Grow A Moustache "Pumpk'n 3.14"
Judges were asked to evaluate the entry by shaving with it at least three times and based their score on Scent (up to 10 points), Performance (up to 10 points), and Presentation (up to five points). Here are some of their comments along with the averaged score:
Scent
"This is Thanksgiving in a shave soap. The fragrance and smell is just like pumpkin pie loaded with spices."
"Being a huge fan of pumpkin pie and pumpkin spice, this scent brought a big smile to my face upon every shave.  I even caught myself taking sniffs between shaves.  The scent lasts fairly long after the shave, so be aware of this…"
"It was Pumpkin Pie for me all the way. Potent and remained aromatic during the shave. I liked it a lot for a holiday scent and it captured the season perfectly."
"This soap reminded me of a slice of pumpkin pie with a definite hint of pumpkin spice. This soap took me back to boyhood memories of the aroma that filled our kitchen and the house when pumpkin pies were being baked for a family gathering.  A very pleasant scent but not one that I would choose day after day. The makers of the soap did capture the fall season."
"It seriously smells exactly like a pumpkin pie. I'm not too big of a fan of the taste of pumpkin pies, but even I'll admit they smell quite nice, and it also got the "girlfriend's seal of approval". The strength level is just about perfect as well; since it's not really a scent you want too strong, but it stays at a nice medium-strong level throughout."
"Scent was agreeably strong and right on the money for a pumpkin pie, and given the close association of pumpkin pie and the fall—and specifically Thanksgiving, with pumpkins also associated with Hallowe'en—I would say that the fragrance totally hits the criterion. It lasts well for the entire shave, and it is an especially warm and comforting fragrance. I'm surprised how much I like it."
"This soap smells like…yes, you are right, Pumpkin Pie! And this could be a plus for some, but it is not for me. Its a scent quite on the spicy/sweet side and doesn't make the cut to make me satisfied with it.  If you love Pumpkin Pie…you are going to adore this soap for sure!"
Score: 9.4
Performance
"Supplied with a very generous puck that lathers with ease and leaves a slick surface on your face that makes shaving a pleasure. Feels wonderful on the skin."
"The performance of this Kokum butter based soap is outstanding…. The lather is thick and protective but also slick if you mix in a good amount of water, worked perfect for both palm lathering and face lathering.  My face felt very moisturized and fresh after the shave."
"I found the suds needed a fair amount of whisking both in a bowl and with face lathering to produce a nice amount of lather which was not a deterrent, but the suds were airy and if left for any period on the face, began to dry out a little. The cushion or lubrication was moderate. I would have liked it to be a little more."
"The soap easily produced a rich lather. The soap provides enough cushioning for the razor to glide across the face without irritation or tugging. I did not experience what I sometimes describe as that ultra slick feeling of a slick trout.  However, the soap provided an adequate slick feel that made each shave enjoyable. The soap has very good conditioning properties that left my face feeling conditioned long after the shave.  Anytime I use a soap and find myself putting my hand back to my face later in morning to check the conditioned smoothness I know I have a solid performing soap and this soap fits that description."
"It lathered up easily, a tad on the thirsty side, and gave a good balance of glide and thickness, with a reasonably wide "sweet spot".
"I have really excellent experience with this soap, and certainly the large-diameter puck is an unexpected assist to good lathering. The lather is thick, creamy, and long lasting with excellent glide and cushion."
"This is one of the easiest soaps out there to lather and to get the kind of lather most of us like…. The lather is quiet rich, but maybe not as thick as other artisan soaps I have tried. However, its slickness is simply wonderful."
Score: 8.8
Presentation
"Came in a very whimsical  8oz container that says holiday all over it."
"The tin is painted golden orange to resemble a big pumpkin, great label and I'm a fan of the petri dish type tin.  The back had a nice little story. "
"It was spot on for the season. Just a great job on the label and the tin color complimented it well. This is a large portion of soap and I think this size would be very popular in the buying market."
"This presentation of the soap from How To Grow A Mustache was one of the best and most creative and that I have seen during or apart from this competition."
"A cheerful label and an interesting tin. I do like the wide format, makes loading a breeze. My only quibble would be the lid of the tin was often difficult to remove."
"This soaps arrives 'gift-ready,' in a container whose color was (I think) selected for the theme and whose label is informative, humorous, and distinctive."
"Of all the artisan soaps that I have been testing lately, this…has the best presentation.  I also like the design of the stickers, very clear and easy to read."
Score: 4.4