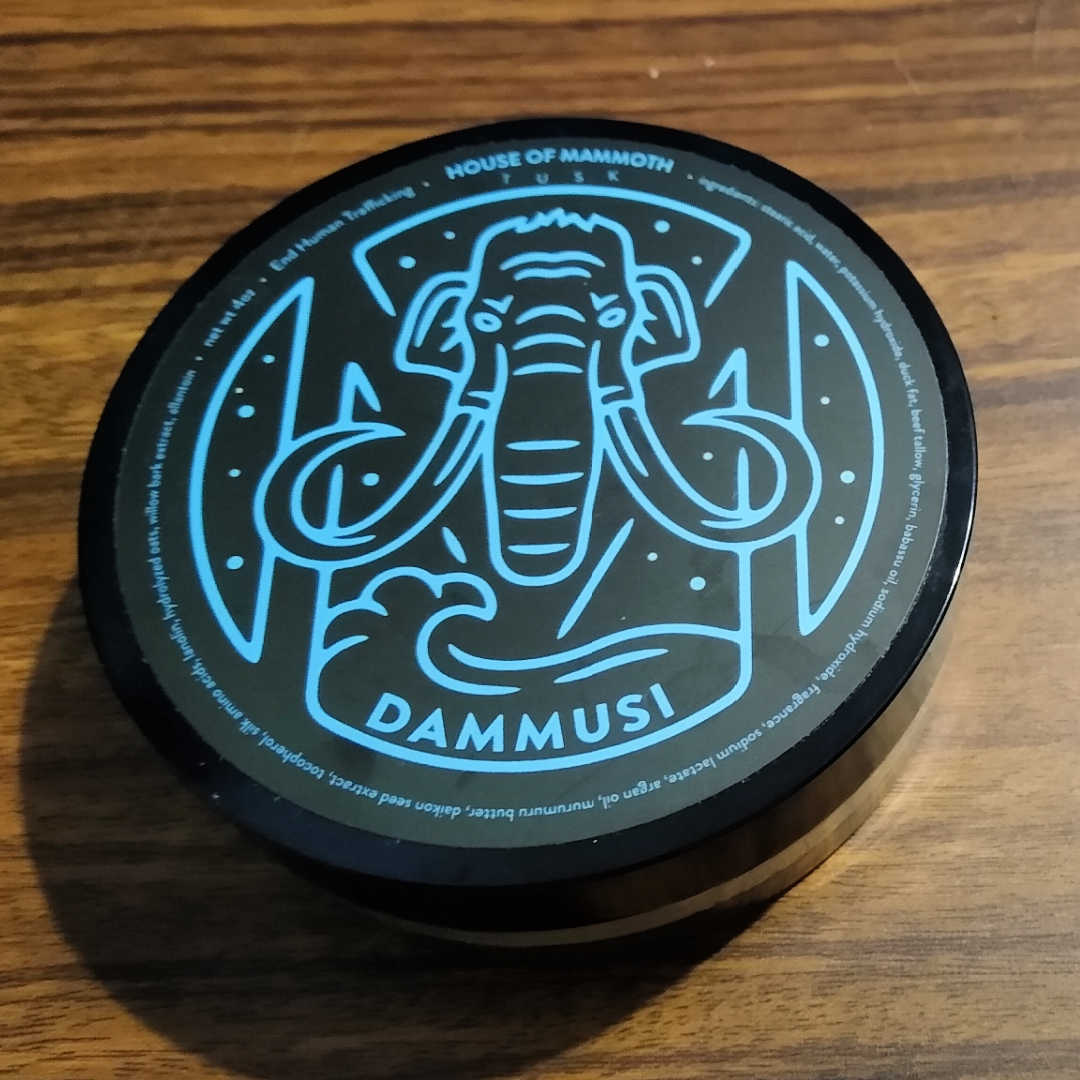 I'm still working on trying the products I picked up at the Maggard Meetup back in May. I recently started using House Of Mammoth Dammusi shave soap. I think I should have tried it sooner! Here is my review.
House Of Mammoth partnered with Chicago Grooming (previously Oleo Soap Works) for a shave soap base that uses both duck fat and beef tallow.
From the House Of Mammoth website:
"A beautifully unique fragrance featuring blood orange from Italy, Sicilian lemon, aleppo pine, herbs, white lily, transparent watery notes, and the cool earthy stone of the dammusi, ancient houses on the island of Pantelleria, located between Sicily and Tunisia.
"$1 from each tub of soap sold will be donated to RestoreNYC and their work to make freedom real for survivors of trafficking in the United States."
Ingredients: Stearic Acid, Water, Potassium Hydroxide, Duck Fat, Beef Tallow, Glycerin, Babassu Oil, Sodium Hydroxide, Sodium Lactate, Fragrance, Argan Oil, Murumuru Butter, Daikon Seed Extract, Tocopherol, Silk Amino acids, Lanolin, Hydrolyzed Oats, Willow Bark Extract, Allantoin.
My Experience With House Of Mammoth Dammusi Shave Soap
Presentation
As seen in the picture above, House Of Mammoth Dammusi shave soap comes in a four inch diameter plastic tub. There is 4oz. of product in the tub.
Scent
I get mainly an effervescent lemon note with an under-note of water to my notoriously insensitive nose.
Mrs. Mantic59, on the other hand, gets lemon, lily-of-the-valley, and water and sandy beach notes ("It's like when the tide comes in and you scoop it up to your nose," she says). She also gets a mild sweet floral note at the end.
The scent is moderately strong off the tub, softening a bit lathered on my face (though still noticeable and reasonably persistent through my shave).
Lather
Wow. Just…wow. This stuff explodes on my brush, even with my "hard" water. Dammusi loads up as quickly and voluminously as the other top tier shave soaps I have, notably PAA CK6 and A&S Ultima bases. It seems to be reasonably tolerant of the soap-to-water ratio as well. The consistency is like yogurt.
Performance
Again, every bit as good as the best shave soaps out there. Adding duck fat to a beef tallow shave soap base really seems to amp-up the performance. Both lubrication/glide and cushion/protection are among the best I have in my shave den, but the addition of duck fat seems to give this shave soap a better post-shave skin feel.
Summing Up
There are a lot of good tallow shave soaps. Duck fat makes a pretty good shave soap base, too. The combination of the two is something to behold for me. The outstanding performance combined with a pleasant scent will make House Of Mammoth Dammusi shave soap a regular in my rotation.