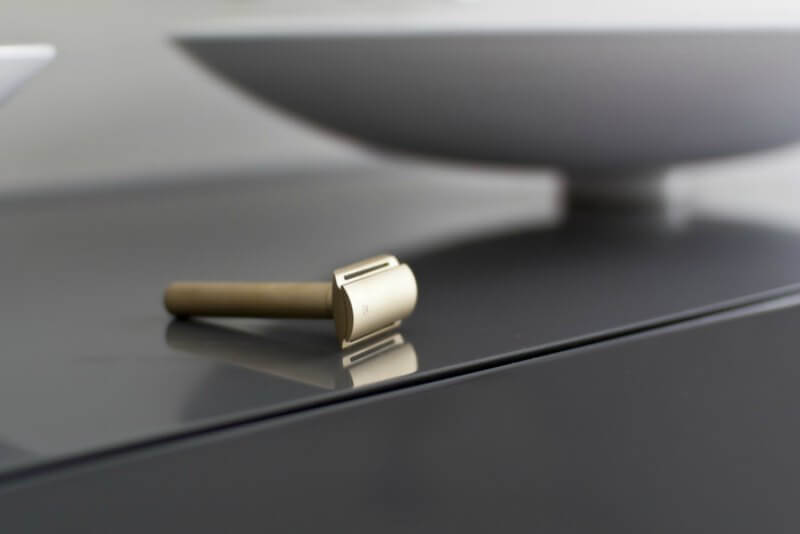 Yet another razor-related crowdfunding project on Kickstarter!  This one is the Hone Razor, a razor made out of Bronze.

Hone
From their Kickstarter page:
"The Hone razor was designed to focus on the experience of ownership and use, not just in the short term, but for years of service. Made from Bronze it is designed to age with you, gaining patina through endeavor and personal connection. The Hone razor won't distract you from the task in hand, and won't contain extra features or gimmicks; instead focusing on quality and individuality as well as improving with time.
"The Hone safety razor has taken many prototypes and improvements to get here. The goal was to make a razor that has a great balance and shaving feel without being too aggressive. Each prototype slowly refining the feel of the shave and the overall form to create an experience that is great for those new to safety razors to grow into, whilst making something with depth for more experienced users.
"The Hone Razor is deliberately balanced around the neck of the handle, giving confidence and control over the razor, and allowing you to use the weight to your advantage.
The Hone shaving brush is designed to compliment the razor. The handle is turned from solid bronze giving it a distinctive weight. The bristles are high quality nylon. Although I considered a natural material such as badger hair, finding a humane and reliable source of quality bristles is a challenge, and I didn't feel I could guarantee these aspects. The brush builds a rich lather quickly, and holds it well. It also looks great with the razor.
"Both the Hone safety razor and Brush are made from solid bronze. Copper alloys such as this and brass are time honored materials for a safety razor, and match the Hone values of uniqueness, traditionalism, and 'wearing in', whilst at the same time providing balance against the contemporary form. The surface of bronze changes over time, shining and mellowing in line with the habits of use. This creates a unique patina for every owner of a Hone razor. In addition bronze is a great thermal conductor, so warming the razor before shaving and handling the Hone razor and brush provide a great experience of touching 'real' materials. The bronze chosen for the Hone products is more corrosion resistant than a standard brass, providing longevity and also make it lead free.
"CNC machining is used to make every aspect of the Hone razor. This offers a unique surface quality and finish that are hard to achieve with other manufacturing methods. It also offers great control over tolerances and repeatability to ensure quality."
Check out their page to learn more.