Born in 2009, Hart Steel was the first production razor produced in the USA for over 50 years. Although the company considers itself to be mass-producing razors, each one is crafted by a single artisan, and quality tested to ensure a consistent product. Hart Steel has gained a reputation in the wet shaving world as a high quality, no frills razor built like a tool, rather than a display piece. 
Although this company is rather quiet, and does not advertise, it is still very much a part of the wet shaving world and actively still producing razors.  Being in business for over 12 years, Hart steel was the first player in the production razor game here in North America, beating out Weber and Tradere by over three years.  
So why haven't you heard much about them?  That's a good question.  Let's find out!
About Hart Steel
Tim Zowada, a knife and custom straight razor artisan is the driving force behind the creation of Hart Steel. At the time (2009)  his work was already known at that time and even today most straight razor enthusiasts can agree his work is legendary.  Tim created his first knife in 1979 while still in high school and decided to continue his passion. In 1983 he began working full time as a knife maker and the rest is history.  He's won  several awards, written many articles for publications such as  Blade Magazine, and Knives Illustrated, and has contributed a chapter to Blade's Guide to Making Knives 2nd Edition (Ed. Note: 3rd Edition now on Amazon [affiliate link]).
He became the first full-time craftsman to make straight razors in North America and use Damascus steel of his own design.  Today after 40 years of knife making, he's still actively producing straight razors and knives, doing all the work in house and with his own steel called "Tim-ahagane". Currently he is the only maker in the world creating straight razors entirely from his own steel, and continues to innovate his designs which can be seen on his website.  
If there were any wet shaving legends that deserve a round of applause, Tim deserves a standing ovation.  
In 2009, Tim collaborated with several artisans (Randy Buckmaster,Terry Van Norman, Bruce Gregory, James Arman) and Classic Shaving to create Hart Steel. He worked with the artisans on building a straight razor from start to finish, engraving their initials on the tang so you know who built your razor. The first razors made were of the 6/8 size, quarter hollow design, and retailed for $239.99.
Tim's affiliation ended in 2012 but made a lasting impact, which is still seen today.  The artisans whose initials are on the tang of every razor that produce Hart Steel razors continue to deliver high quality razors.: Randy Buckmaster (RB), Terry Van Norman, Bruce Gregory  and James Arman. 
Hart Steel eventually evolved, adding more straight razor sizes (⅝, ⅞,), a wide array of scales in different materials, different points (round, square) and even polished blades. They also added a selection of accessories, such as strops and mugs, although the mugs are no longer available. 
The Hart Steel Razors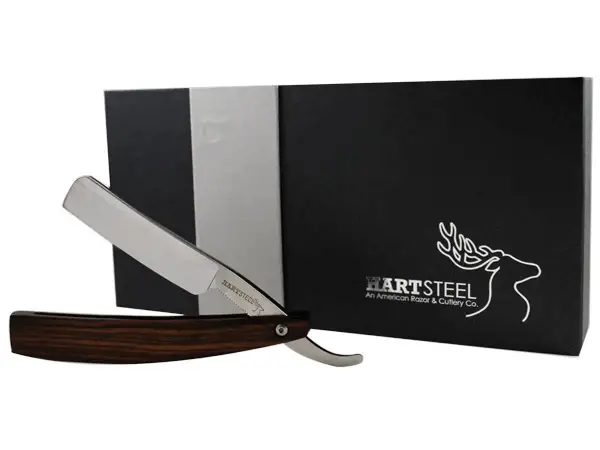 *Note: The author is not affiliated with Hart Steel.  The Razor was purchased at retail from Classic Shaving. 
Hart Steel razors are forged of new O1 tool steel  ability to provide ample hardness and resistance. It has the ability to form a sharp edge and not dull easily. They hold a nice edge and require the same amount of attention when honing in experience. 
It's important to mention the grind on the razor and how it may be different from other modern day straight razors. The quarter-hollow grind, leads the razor to feel differently when shaving and was a popular design in the mid-late 1800's before hollow-grinding became popular.  See image below

A quarter hollow design (or commonly referred to as a "partial-wedge") consists of a partially concave design, and works very well with heavier beard types.  The blade is more forgiving than that of a hollow design as it won't nick the user as easily, and the edge won't damage as easily if improperly stropping. Quarter-hollow blades also tend to hold an edge longer but require more attention when honing.  (You can read more about blade grinds here) 
One feature that is unique to Hart Steel that has since been adapted by other makers is the use of a hex nut assembly for attaching the blade to the handle. This allows the blade to be removed from the handle easily, allowing scale changes to be done in house rather than the razor to be sent out.  It also makes cleaning the razor much easier and thorough. An allen wrench is included with every razor, and can be purchased from the site if you happen to lose it. 
Hart Steel offers different scale (handle) materials that include plastic, exotic woods and carbon fiber.  These can be purchased separately, and with the hex head screws make installation very easy.  The ability for the average user to be able to change the scales at home in my opinion is a major plus. 
As previously mentioned, the razors are available in an array of sizes, scale materials, points and the option to add a barber's notch. Although not fully customizable, there are still plenty of options. 
Packaging
Although I never judge a product by the packaging , I was impressed with Hart Steel's set up.  The box, instruction manual, leather sheath, allen wrench and razor oil was a nice touch.  Although previously included with the razor at no additional cost, you now have to purchase the packaging for $23.99 extra.  Although we've seen promotions on the razors in the past I'm not sure I would add the packaging if I were to buy a Hart Steel Razor today.
The Shave
Now for the most important part…The Shave!  Having been an owner of a Hart Steel razor for several years, I must admit it does have a strong presence in my straight razor rotation. (My razor is made by Terry Van Norman)
*Note: This review is based on the experience of one wet shaver.  Always remember YMMV.
As with all my other straight razor reviews, I like to keep it consistent. I use the same soap and brush for at least 3-5 days at a time so I know I'll get consistent results. 
Upon holding the Hart steel, you can't help but notice the weight.  Being made of a ¼ hollow design, the blade is noticeably heavier than a hollow-ground razor. It's surprisingly balanced and solid.
Although I went with the basic black scales, part of me wishes I opted for the better quality materials. 
Shaving with the grain proved to be quite enjoyable.  No pull, and the razor felt extremely smooth and literally felt like I was shaving with one of my 1700's wedges. I did not hone, nor touch up the razor other than a light stropping before the shave. It's easy to maneuver even at the 6/8 size and performed well in the hard to reach areas such as under the nose and ears. 
Shaving against the grain was absolutely flawless.  I love the feeling of a partial wedge design shaving this way as the razor itself doesn't require any pressure and just glides over the face with ease.  Whenever I use a razor of this grind I rarely get any irritation, and my face always feels good . 
The shave overall was very smooth and efficient.  The partial wedge design made the razor quietly glide over my face, and felt like I was shaving with a tool from times past in a modern package if that makes sense.
Conclusion
Hart Steel razors are utilitarian tools that get the job done without any frills or fancy etching, designs ect. They are well built and deliver a great shave as long as they are well maintained.  Priced at $200+ they are right in line with new straight razors of similar quality and are definitely worth the price. 
I can see some users may be worried about trying a partial wedge blade design, just because of the unknown and the difficulty it is to hone them when the time comes, but I can assure you it's a great experience.  The way a ¼ hollow plows whiskers without making a sound is something that can't be replicated by newer hollow-ground designs.
I really like the hex screw design and the ability to remove the scales without the use of extensive tools. Not only is it great for changing scales, it also makes it easy to clean the tang of the blade which is really difficult with the handle on the blade. 
I'm a little disappointed that the packaging now costs extra, as I feel with a purchase like this it should be included but will not let that affect my opinion on the razor and/or it's performance. 
Overall I enjoy owning a Hart Razor and will continue to keep it in my rotation for years to come.