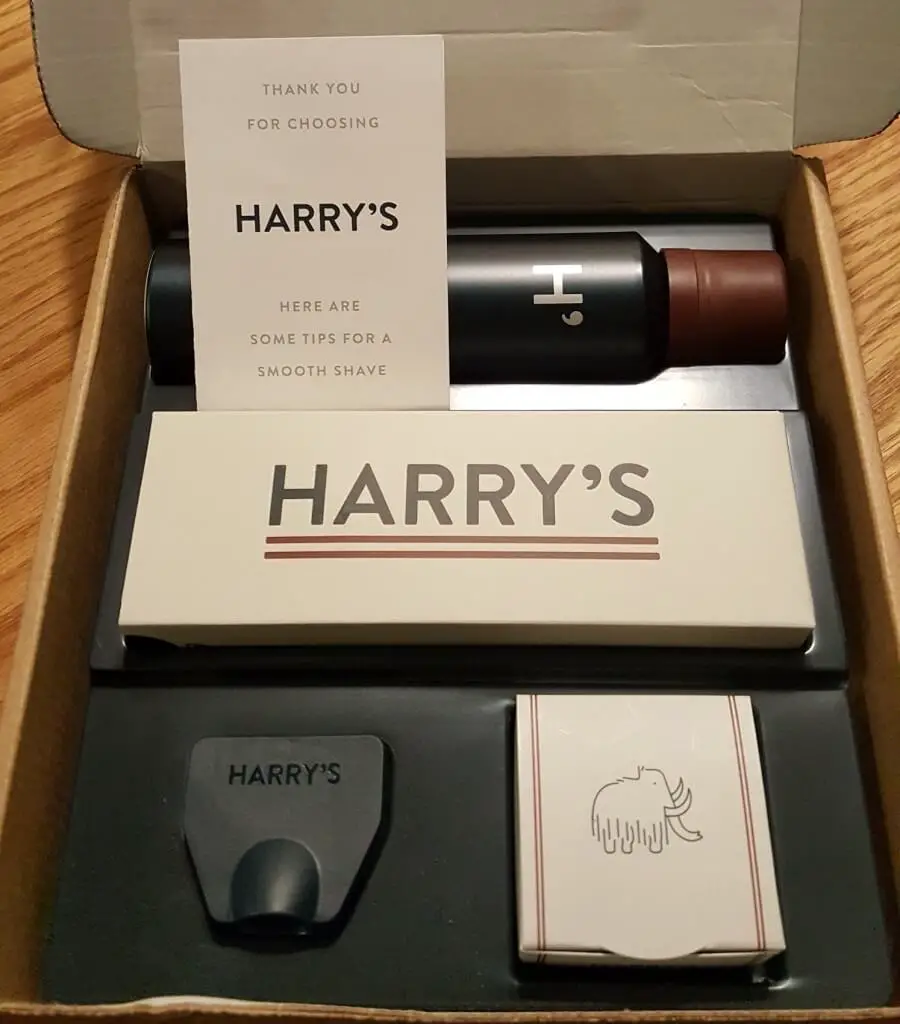 [Post updated February, 2017 with information about Harry's new razor cartridge and availability at Target department stores in the US.] As I wrote about recently, Dollar Shave Club's allure is an "in your face" marketing theme. In the first 20 seconds of their commercial, the founder Mike says their blades "are f*cking great." They don't mince words. You get blades much cheaper than from the store. Seeing as how Gillette has 70% of the world's market on razors, you know who they have their sights on. And DSC has been growing.

Harry's Razor And Cartridge
But so has another company. Harry's. They couldn't be more different from Dollar Shave Club (DSC). While DSC uses humor to get their point across, Harry's goes for sophistication. From their website to the design of their razors, the idea is that you can get a great shave, for less, and get to look and feel cool while doing it.
While DSC gets their razors from Dorco, Harry's went a different route and bought a $100 million German razor blade factory called Feintechnik to control the quality of production. And last summer they raised more than $75 million in funding, so it's easy to say they're in for the long-haul battle of taking on Gillette's $7.9 billion in sales. Yep, that's billions with a "B."
While Gillette and DSC are going for the "bro, frat, athlete" market, Harry's is shooting for the guy who wears a suit, or at least a button-down shirt to work. Do they deliver? Let's dive in!
The free ($3 shipping and handling) trial kit comes with a handle, three blades and a can of shave gel. You gotta give them credit for packaging. That's one of the things that I noticed about Harry's was the attention to detail they show in the smallest things…like how they want your first impression to be a good one when you open your starter kit. Now to the goodies!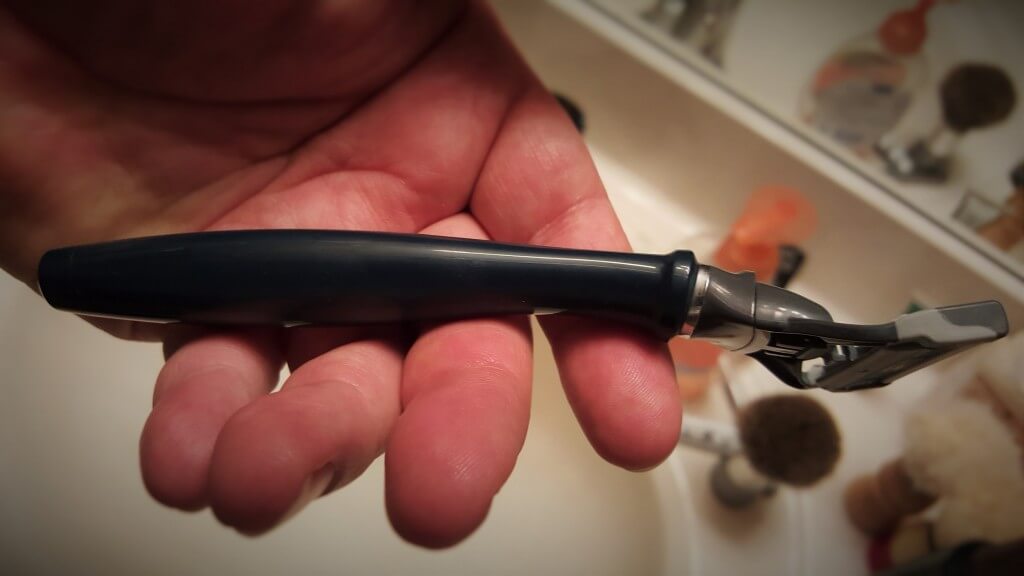 One look at the razor handle and it's obvious that the design in more in line with the Merkur*, Truefitt & Hill* or Edwin Jagger* style of cartridge razor. It has a clean, simple look to it rather than the shiny chrome and bright plastics that DSC and Gillette boast.


The razor head is unique design, with a head that detaches so a new set of blades can be snapped on the top. This is quite different than the other, more common designs. It's pretty easy to change out the shave heads, but Harry's provides instructions just in case you're painfully inept at basic skills. (I got it in one, BTW!)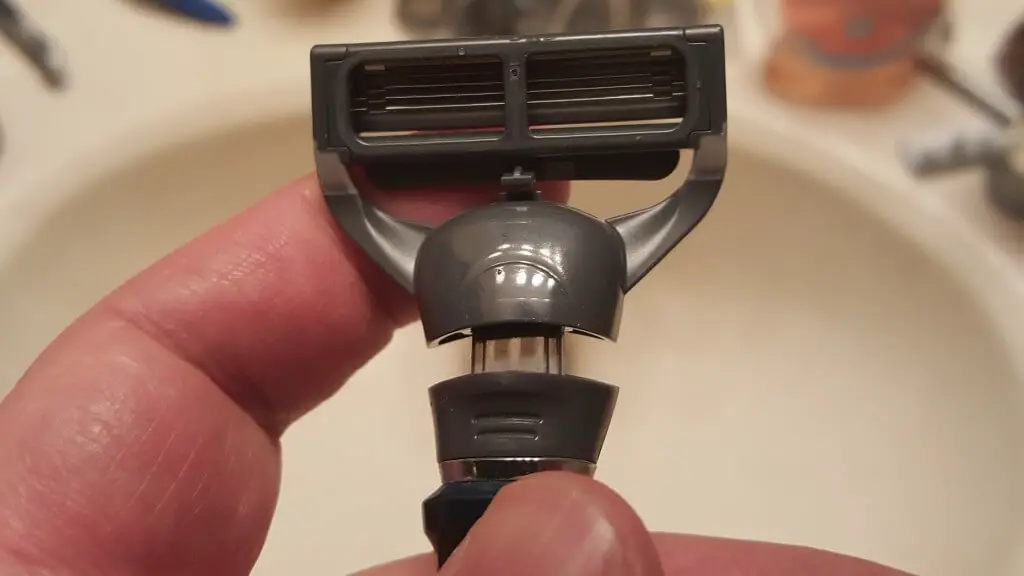 This is the original razor head that they sold until very recently. It came with five blades and a lubricating strip. The one criticism that I had of this blade was that while it had a flex hinge so it tilted and it shaved very well for a cart, it didn't have a trimming blade. So when they announced that change, I decided to test it out!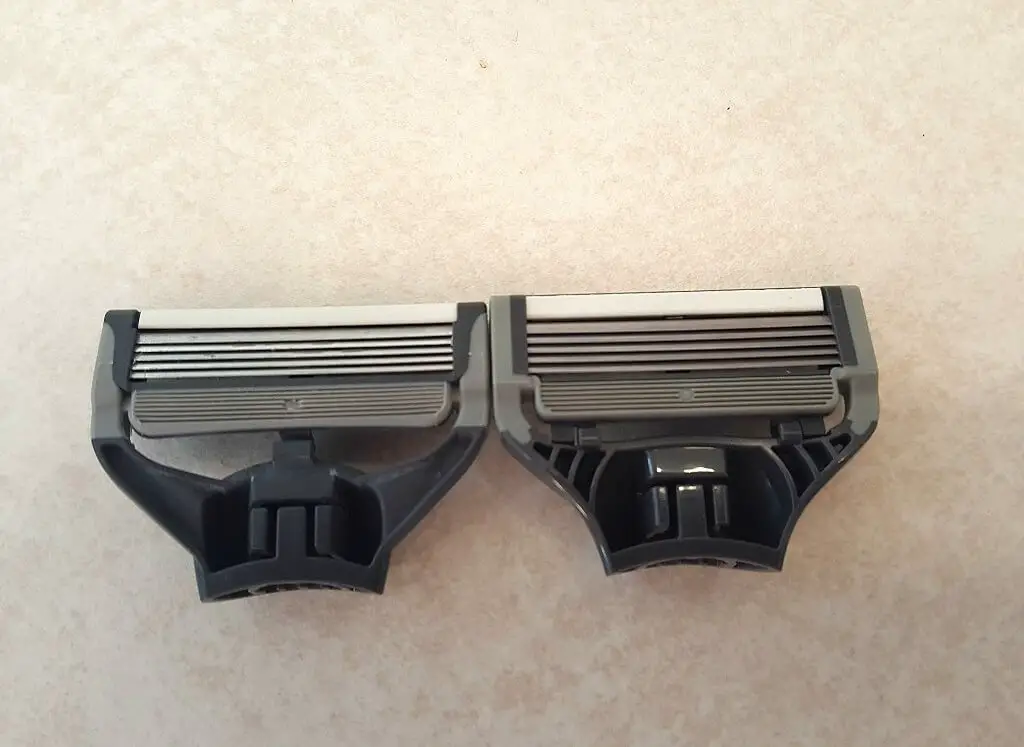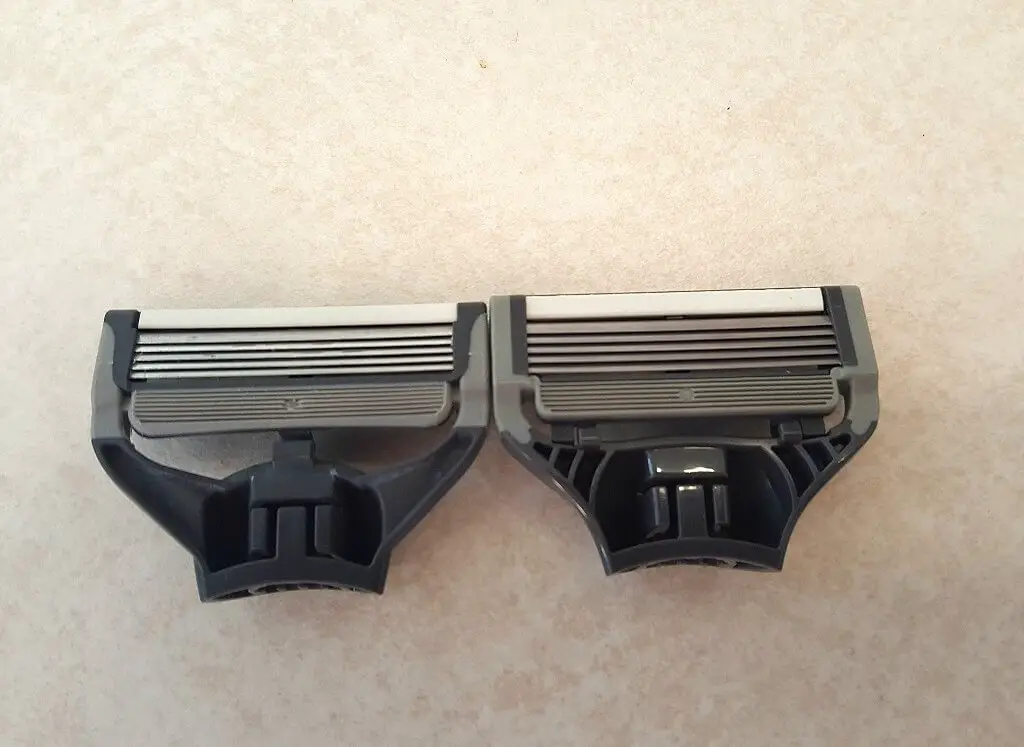 Side-by-side, the two carts look similar. The older one is on the left. I had put it through about a week of shaves so I could get a good comparison and as you can see by the blades, it's about done. I believe I could have gotten two more four-pass shaves out of it, which is normal for these blades. I have had a couple of people comment that they've had a problem with their Harry's blades rusting, but I haven't experienced any.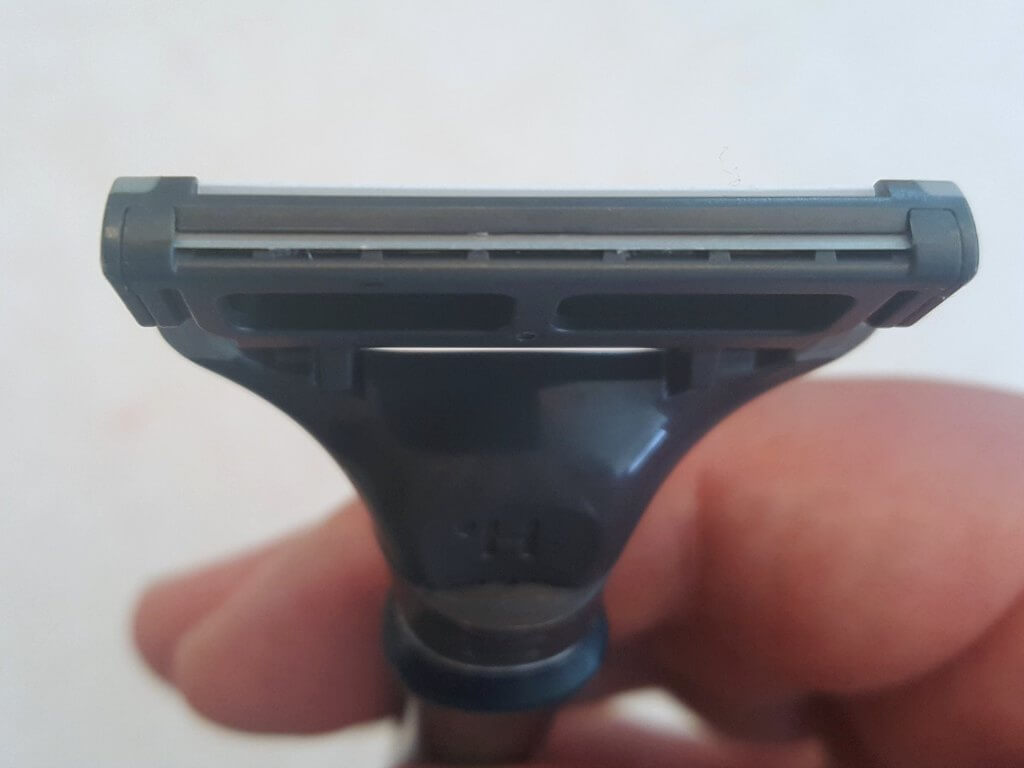 The one thing I found out is that this trimmer blade is sharp! I was holding the razor in my hand and as I moved it around, I grabbed it from the top and I could feel that blade start to give me a very fine cut on my finger. Genius that I am, I stopped putting pressure on it! But it is a very sharp piece of steel!
The first time I tried out the new cart I used it with a clear shave cream because I wanted to see how well it did trimming and I had also waited a few days so my whiskers were long enough to also as a way to judge the effectiveness.
I started on my sideburns and the trimmer blade glided right through the hair, no tugging or pulling and didn't leave any behind. I was impressed and had the thought "could I shave with just this one blade?" The answer is kind of. I did one line, top to bottom, and it performed well but the hair started clogging up the blade about ¾ of the way down my cheek. Not a negative on the trimmer blade though! It cut just fine.
I then shaved normally and used the trimmer on the spot under my nose and the corners of my mouth. After a four-pass shave, with no stragglers and a good job of trimming, I have to say that this new blade from Harry's is definitely better than the older model. Granted, I never had a complaint about the shaving properties of the old cart, but I did feel like it was lacking in one area and that was a trimmer. By adding that, Harry's got this cart right.
Harry's At Target
When I heard that Harry's cartridges can be purchased at Target*, I decided to try them out again (since I shave with a DE I hadn't gone through the cartridge pack that I wrote the review on).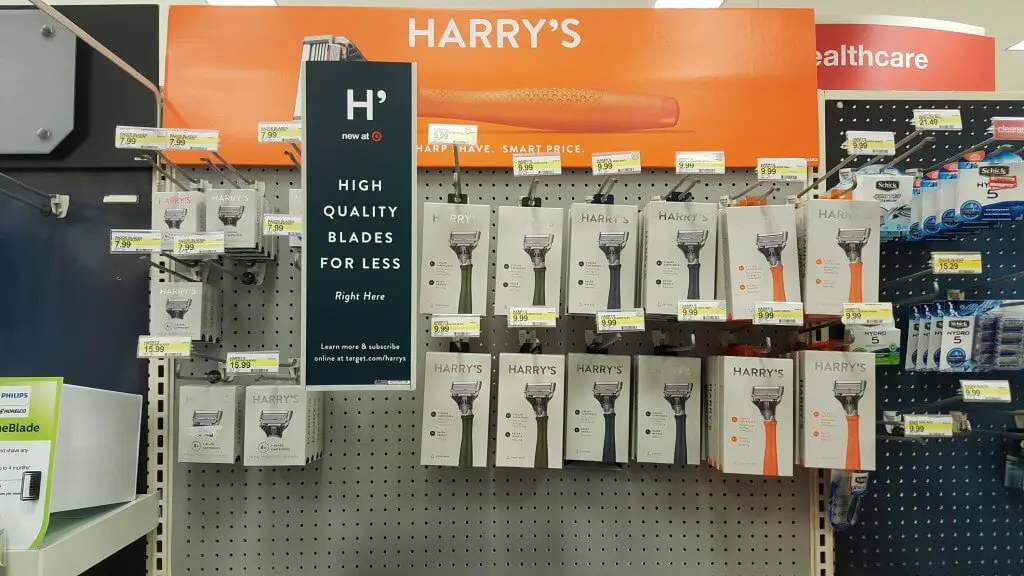 The one thing I noticed at Target is that the selection is pretty large and it gave me the chance to put their new handle as well as a couple of the blades. Picked up the same color, dark blue, as the one I have and two heads for $9.99
I like the feel of the Target handle over the original. The new one is rubberized and is nearly impossible to have slip out of your hand. That was one aspect of the old one that bothered me. Nothing like lather on your hands and a slick plastic handle!
Side by side, the razor heads look just about identical and when I shaved with the newer head and handle, I didn't notice any difference from my previous experience. The trimmer blade is sharp enough to cut through my sideburns without having to put a lot of pressure on it. The razor itself shaved like it should, with no tugging or pulling. But I did notice one thing they changed.
The way that the head attaches to the handle has been changed, and as a result, it tends to fly off whenever I tapped it against the sink. I don't know how many of you do this, but it's one of my shaving quirks. I don't slam the head down like I'm trying to beat it into submission, but I found that whenever I did more than lightly, lightly, tap it, the head came off. So I swapped it out with one of the older heads, with the same result. Harry's had changed the way that the razor head is held onto the handle.
So, to compare, I shaved a couple times with the older head that has the trimmer and the original handle and didn't encounter the problem of having the head come off while tapping it against the sink. It was the new handle's design that was the problem. I really don't like sticking my hands in lathery water searching for a razor head that has five pretty sharp blades on one side and super sharp trimmer blade on the other.
In the end, I have to say that change isn't really better for Harry's. I think this could be a case of engineers building something without it being tested enough in a real-world situation. And when the result is a head that detaches that easily, it's not a winner for me. But I still don't have any problems with the new blades tugging, pulling or not lasting for more than a week.
Harry's Shave Gel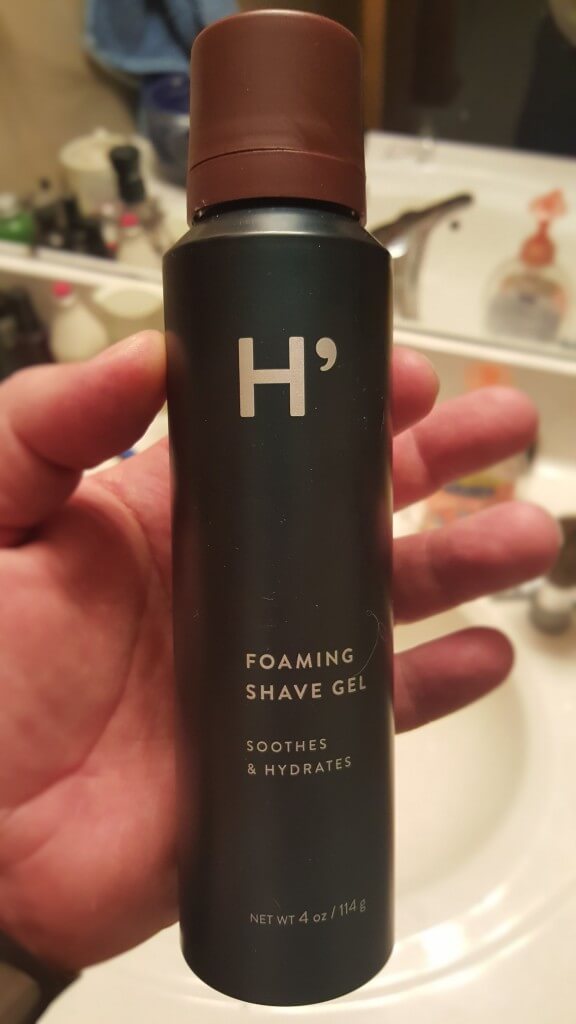 Included in the starter kit is a can of their gel*. It's about what you'd expect from a gel, but it does have a good scent of light peppermint and eucalyptus. That's about the only positive point. As I was putting that gel foam stuff on my face I realized why I'm so glad that I've gotten into wet shaving. The products I use daily is made of compounds and ingredients that you can actually identify. And you're not turning a gob of blue goo into some sort of man-made foam to smear around your face. Sorry for the small rant! Back to the review! The end result is nothing special for a gel foam. It does cushion fairly well and didn't dry my skin out.  But there is one problem that I saw with this blade.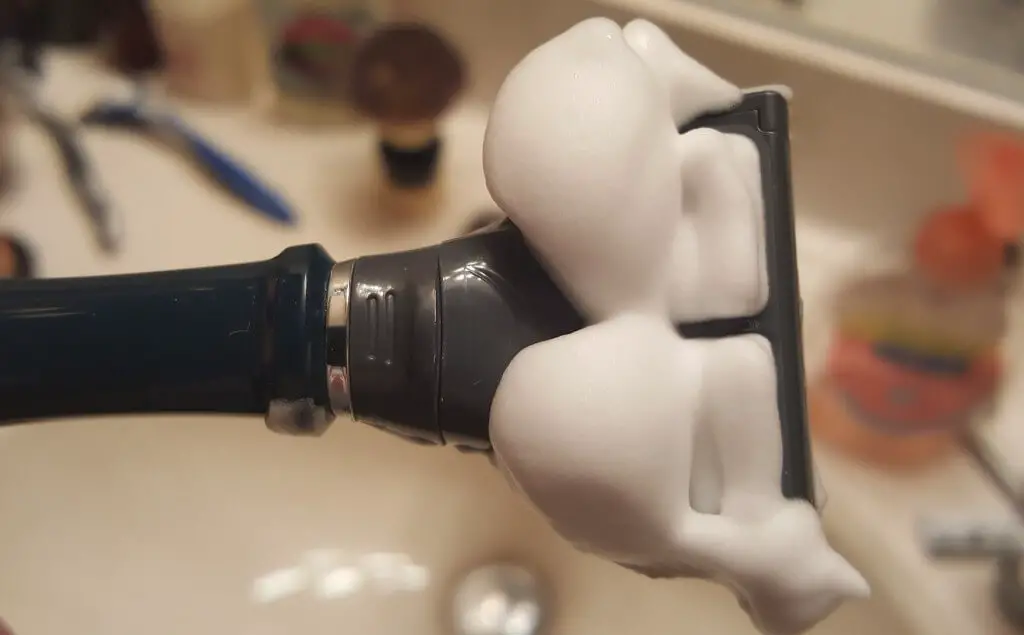 This is from using the gel, but I had the same issue when I shaved with my real supplies. The shaving cream on your face that you've just shaved over comes out the back of the razor. This can lead to you dropping hair-filled clumps of shaving cream on your arms, chest and sink. Not a lot of fun! I saw the same problem with I used Truefitt and Hill's #10* and Ultimate Comfort,* Geo F. Trumper Lime* and several Taylor of Old Bond Street* creams. When you put on more than a light covering of shaving cream and start shaving, within one pass, maybe one and a half, the used cream starts coming out the back of the razor. If I shave every day with my Fatboy or Super Adjustable, I can easily do three strokes before cleaning the razor. With Harry's, I felt like I had to rinse it after every stroke. Is it a deal breaker? I don't think so. But it's something to be aware of.
The Shave
As I shaved the last couple of months with the DSC and then the Harry's cartridge razors, I noticed I didn't enjoy the shave as much as when I switched back to my safety razors. Yes, the other two did the job of cutting the hairs off my face, but it required no skill or even concentration. I realized that shaving with cartridges is like driving a Corvette with an automatic transmission. Yes you can still go fast and look good, which is the purpose of having that muscle car, but unless you're throwing the gear stick as you let the tach climb to the red line and doing some heel and toe shifting into the corners, it's just not as much fun. And that's one of the reasons why I'm hooked on wet shaving. While the end result is a shaved face, it's the journey of getting there that's the draw for me.
So, is Harry's worth the money? If you're into cartridge shaving, I think it's a good deal for the money. The blades start at $2 apiece and go down in price from there and give a good shave. They have a quality-feeling handle which can also be ordered in aluminum with your initials engraved. They even offer shaving cream if you can't do the goo. All in all, what Harry's is selling is an excellent way to chip away at the Gillette empire. For me, I'll continue to do it one razor blade at a time.
*affiliate link
Do you use a Harry's razor?  What do you think of it?  Leave a comment below.
(Find this article useful?  Be sure to share it!)