One thing I've learned while wet shaving is what I like in a razor. I've done a few reviews of cart razors this year and one feature I noticed that I really liked was the trimming blade on the back of the razor. Since I've been wet shaving for about 5 years, I haven't needed this feature, because no matter what DE razor I'm using, I can always get under my nose, make sure my sideburns are squared away and get the corners of my mouth.

Prior Experience
Back in February I wrote a review of Harry's, the upscale marketed shaving company that debuted in the last few years. While I liked their cart products, one thing that I felt was missing after I published the article was a trimming blade. In fact, a reader commented on the article in late July saying that they missed having a trimming blade that comes with some Gillette's and the top of the line cart from Dollar Shave Club. The same day, I received an email from Harry's…saying they were introducing their next generation of blades, and that it included a trimmer blade on the back. Needless to say, I burned up the keyboard ordering a set of four. It cost $11 with shipping, so each cart is a little more than two bucks.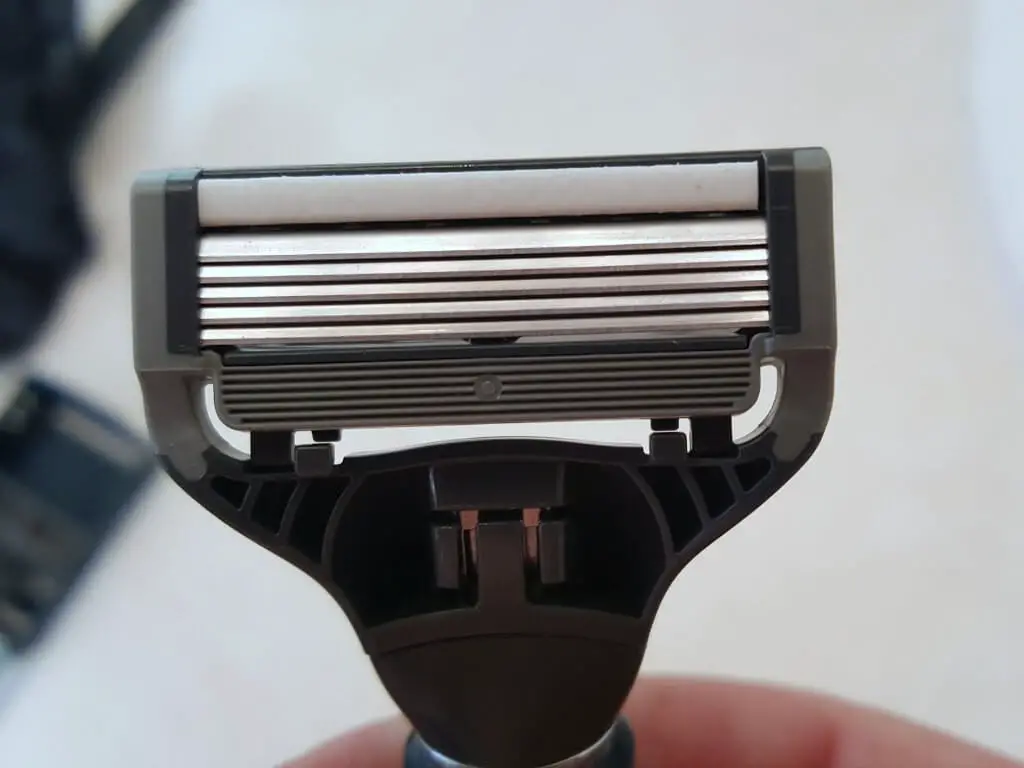 Now to the goods! Harry's says that along with the trimmer blade on the top, they've also increased the flexibility of the head with a new rubber flex hinge. I didn't think the earlier version had a problem with flexing, so I'll skip that.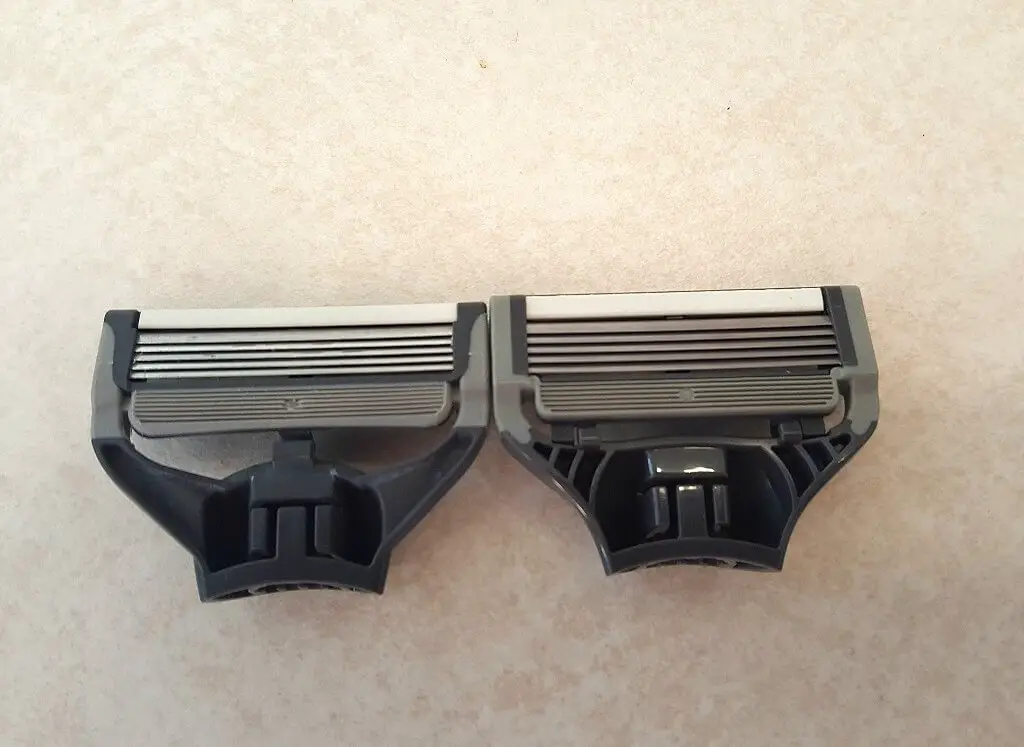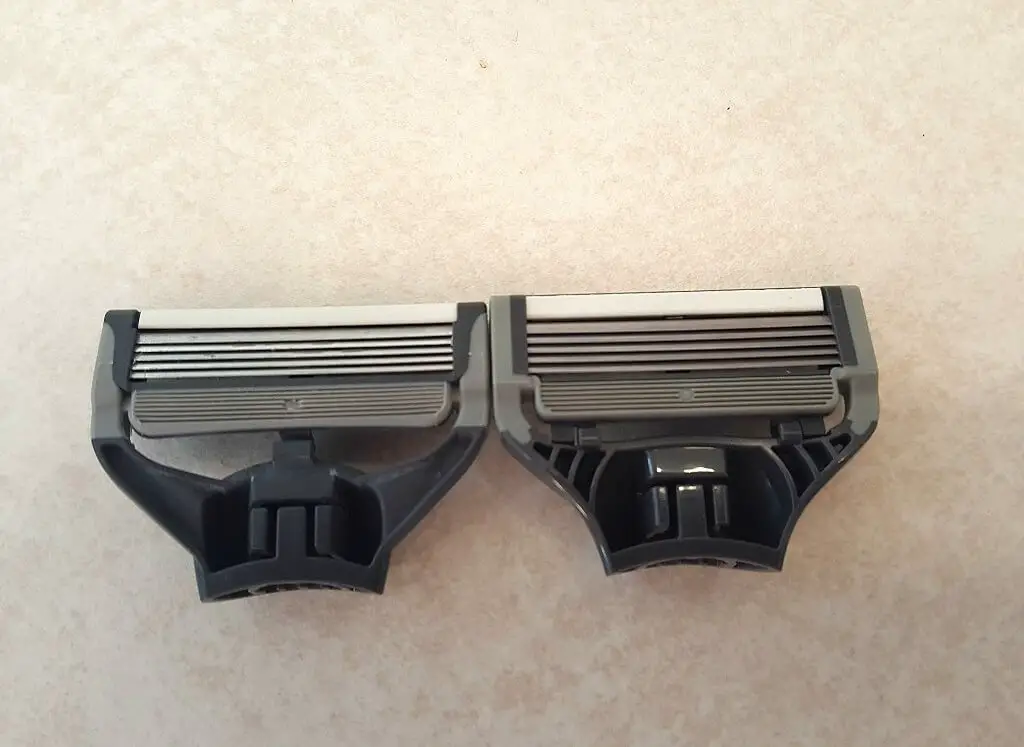 Side-by-side, the two carts look similar. The older one is on the left. I had put it through about a week of shaves so I could get a good comparison and as you can see by the blades, it's about done. I believe I could have gotten two more four-pass shaves out of it, which is normal for these blades. I have had a couple of people comment that they've had a problem with their Harrys blades rusting, but I haven't experienced any.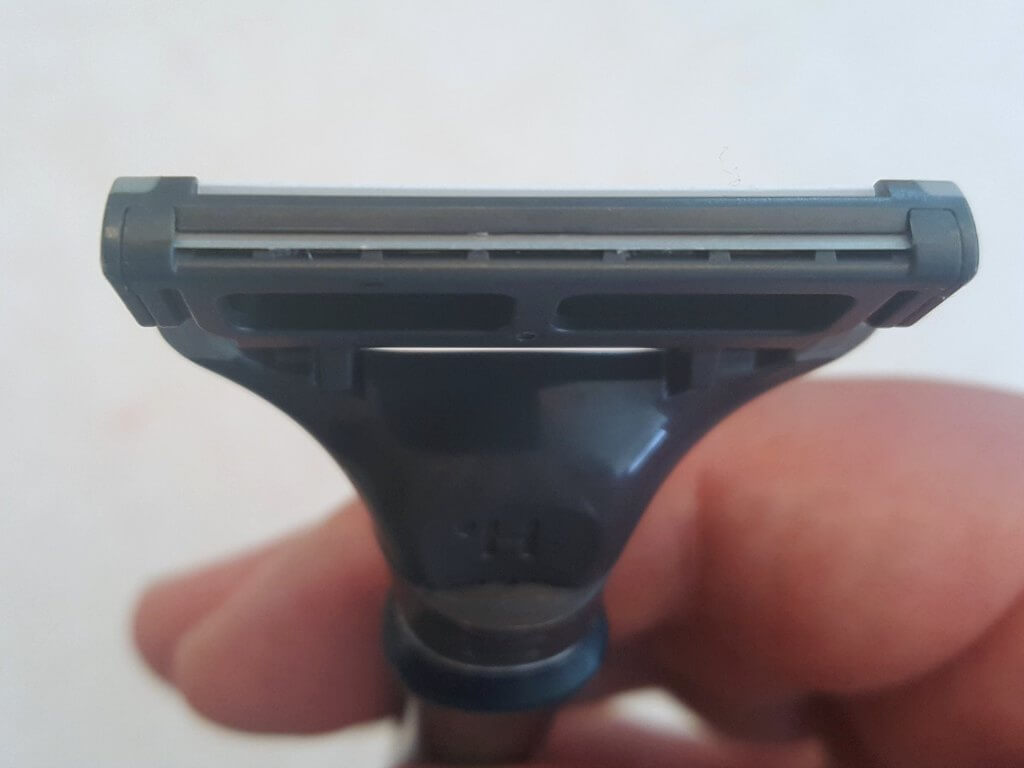 The one thing I found out is that this trimmer blade is sharp! I was holding the razor in my hand and as I moved it around, I grabbed it from the top and I could feel that blade start to give me a very fine cut on my finger. Genius that I am, I stopped putting pressure on it! But it is a very sharp piece of steel!
I then decided to see just how sharp it was. I used it with a clear shave cream because I wanted to see how well it did trimming and I had also waited a few days so my whiskers were long enough to also as a way to judge the effectiveness.
I started on my sideburns and the trimmer blade glided right through the hair, no tugging or pulling and didn't leave any behind. I was impressed and had the thought "could I shave with just this one blade?" The answer is kind of. I did one line, top to bottom, and it performed well but the hair started clogging up the blade about ¾ of the way down my cheek. Not a negative on the blade though! It cut just fine.
I then shaved normally and used the trimmer on the spot under my nose and the corners of my mouth. After a four-pass shave, with no stragglers and a good job of trimming, I have to say that this new blade from Harrys is definitely better than the older model. Granted, I never had a complaint about the shaving properties of the old cart, but I did feel like it was lacking in one area and that was a trimmer. By adding that, Harrys got this cart right.
Have you tried Harry's new cartridge?  What do you think of it?  Leave a comment below!