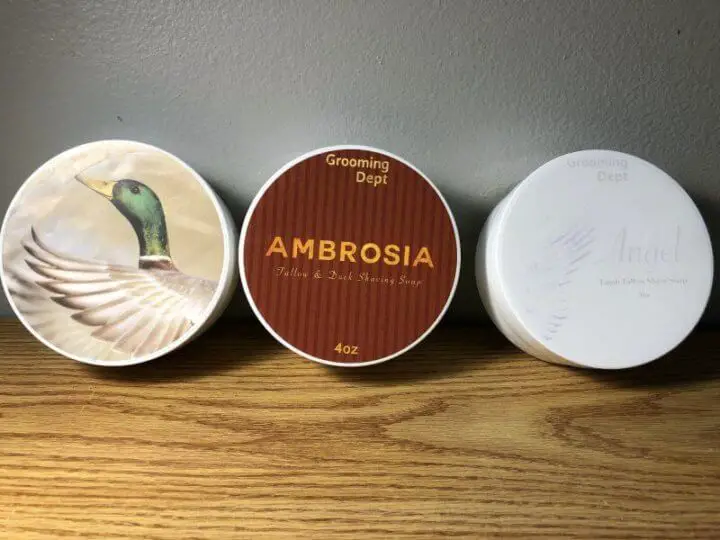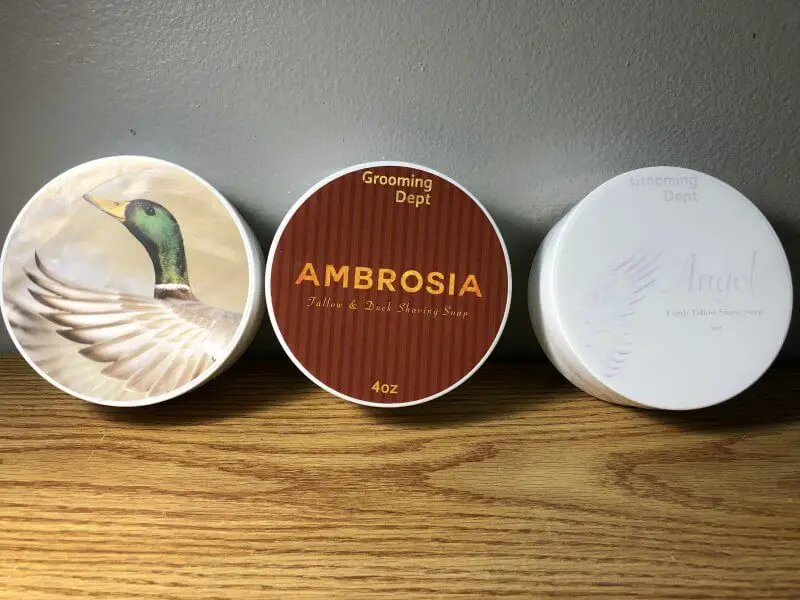 Fairly new to the game and starting to gain some attention, the Grooming Department is a small artisan based out of California that has taken the concept of soap making to another level.  They've worked hard to find their own niche in the wet shaving world and their effort has not gone unseen.
Grooming Department Soaps
Grooming Department makes an array of different soaps, using different base materials that you don't see everyday. These bases include duck fat, donkey milk, lamb and beef tallows and even include a vegan base to satisfy all wet shavers. Briefly searching their site you'll notice that some of these materials are purchased direct from the source,. A prime example would be a link that brings you to the farm where the Donkey Milk used in some soaps comes from.
Recently, I purchased several soaps from Grooming department. These items include  Mallard Duck-Fat, Ambrosia Beef Tallow and Duck-Fat (no longer available), and Angel, Lamb Tallow. I wanted to try some items composed of different bases in order to compare performance and to see what all the hype was.
*Disclaimer: The results of this review are those of the writer and not of Sharpologist. Please remember that your results may vary.
Grooming Department Mallard Duck-Fat
Packaging:
As soon as it arrived I opened the box to see an image of a Mallard Duck which appears to almost be smiling at me. The image is to the point and lets the purchaser know that this is in fact a duck-fat product.
Scent:
Chocolate, Sandalwood, Ginger, Spices, Vanilla, Coffee
An amazing array of chocolate, spice and sandalwood.  The scent is abundant but not overpowering.
When smelling this soap I get some serious chocolate notes and very light sandalwood.  The spice is noticeable but not over the top. I did not get much coffee.
**Hint when trying to figure out the scent of a soap, gently bring the puck about an inch from your nose and close your eyes.  Gently sniff the soap with your mouth slightly open. What is the first thing that comes to your mind? The second? Record them on a notepad.  I think you'll be surprised with your findings.
Ingredients:
Stearic Acid, Water, Potassium Hydroxide, Duck Fat, Castor Oil, Cupuacu Butter, Kokum Butter, Glycerine, Meadowfoam Oil, Jojoba Oil, Fragrance, Hydrolyzed Silk Protein, Babassu Oil, Sucrose Cocoate, Kaolin Clay, Calendula Extract, Sodium Citrate, Sodium Lactate
Performance: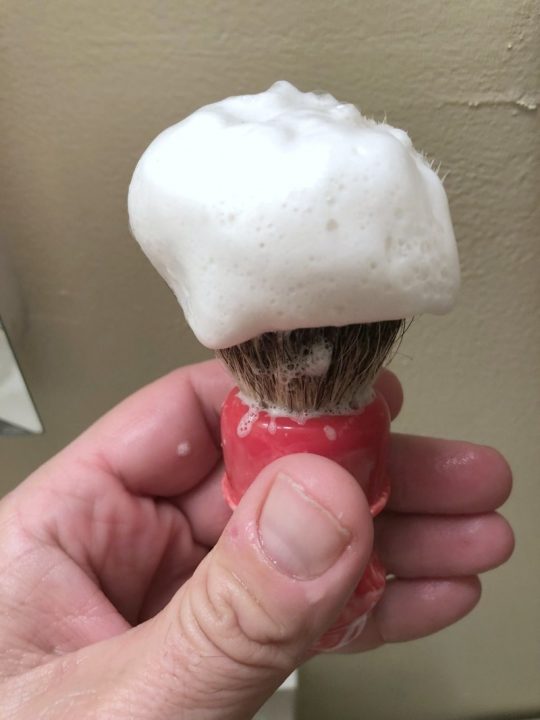 This is a thirsty soap that becomes slicker with added water. It's one of the few soaps that I actually recommend not blooming (adding water to the soap to prime it for shaving) or using a very wet brush prior until you've found the correct ratio that works for you. Once ready it's extremely slick and can produce an extremely thick lather.  The razor glides with ease but I must caution you to that if you're using a straight or single edge razor you may have difficulty stretching your skin in those hard to reach areas. To combat this, I recommend rubbing your skin-pulling fingers with an alum block in in order to gain some traction during passes.
After rinsing my face I couldn't help but notice how soft it felt. It was smooth, soft and even looked better.  I loved the way my face felt so much  I decided to lather my face again as sort of an aftershave. Even the scent stayed with me for an hour or two later.
My complexion looked good and I couldn't stop touching my face throughout the day!  I even asked my wife to touch my face and she approved!!
Overall:
A great performing soap that is super slick with added water.  Use caution when experimenting as a soap that is too slick can lead to cuts especially when using a straight razor). The soap is very moisturizing and the scent is quite pleasant.
Grooming Department Ambrosia Beef Tallow and Duck Fat:
Packaging:
Very basic background with the word Ambrosia (Ambrosia means "Food of the Gods" in Greek and commonly referred to as something pleasing to taste and smell).
Scent:
Cherry Pipe Tobacco, Jasmine, Rose, Sandalwood, Tonka Bean and Pink Pepper.
I get a strong scent of honey (which is probably the Jasmine) followed by hints of cherry, tobacco and a very slight hint of sandalwood. Out of the three soaps, Ambrosia has the strongest most aggressive scent.
Ingredients:
Stearic Acid, Water, Glycerin, Potassium Hydroxide, Beef Tallow, Castor il, Duck Fat, Kokum Butter, Fragrance, Hydrolyzed silk Protein, Goat Milk, Shea Butter, Sucrose Cocoate, Safflower Oil, Cupuacu Butter, Jojoba Oil, Babassu Oil, Abyssinian oil, Grapeseed oil, Sodium Hydroxide, Kaolin Clay, Sodium Lactate, Sodium Citrate, Beeswax, Carnauba Wax, Allantoin, Chamomile extract, Sea Buckthorn Extract.
Performance: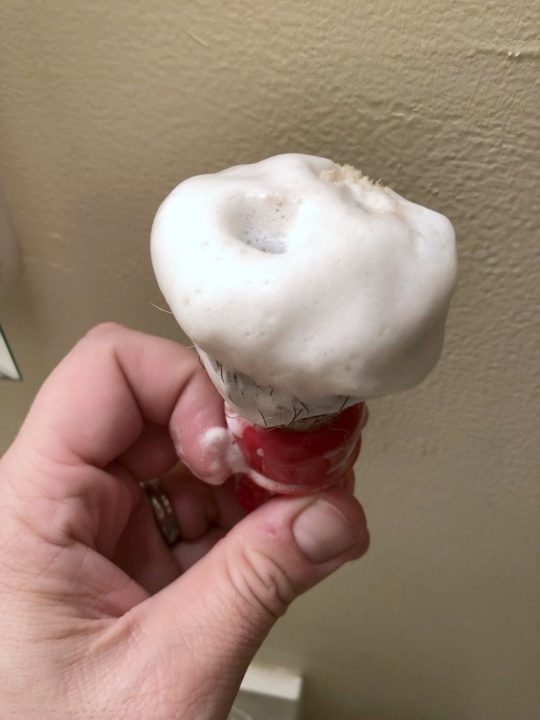 I'll admit I was very skeptical purchasing this soap. I wasn't sure if it could match up to Mallard with the blend of Beef Tallow and Duck fat.  I was convinced by some friends not to miss out on this one so I took the plunge.  I am very happy I did.
The "nose" or scent  on this soap has a lot going on. It's very strong and not as pleasant as the other two.  Combining both the beef tallow and duck fat is a bold move but I think a very smart one.
Once lathered I get a stronger pepper scent and the honey is still abundant.I didn't notice the pepper scent at first but as a lathered it became quite abundant.   Not as thirsty as Mallard I could tell that a little more water doesn't make the soap overly slick. I  still favored a "less is more" approach. The lather was easy to achieve and it was noticeably thicker and creamier than the other two. . When shaving I could barely feel the razor throughout the passes as it glided smoothly across my face.
Overall:
Out of the three soaps Ambrosia performed the best but I did not find it to have the best scent.  I found it to be a little overpowering for my taste. Still this soap is a performer and is one of the best lathering soaps I have ever used.
Grooming Department Angel: Lamb Tallow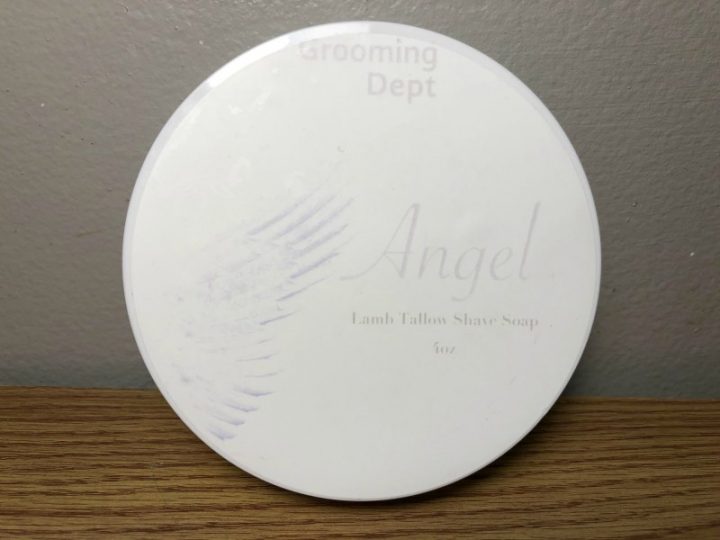 Packaging:
A very light image of an angel.  It's difficult to see and taking in person and in the picture. Until you used the soap the label may not make sense.  This soap is soft to the skin and very smooth.
Scent:
Mandarin, Blackcurrant, Fruit Accord, Cedarwood, Oud, Myrrh, Rose, Ambergris, Amber, Opoponax, Guaiacwood, Musk. I get musk with a fruity undertone.  There's evidence of oud and very, very light citrus.
Ingredients:
Stearic Acid, Water, Lamb Tallow, Kokum Butter, Potassium Hydroxide, Castor Oil, Shea Butter, Cupuacu Butter, Glycerin, Goat Milk, Sucrose Cocoate, Fragrance, Safflower Oil, Jojoba Oil, Meadowfoam Oil, Babassu Oil, Abyssinian Oil, Pomegranate Oil, Grapeseed Oil, Carnauba Wax, Hydrolyzed Oat Protein, Acacia Senegal Gum, Sodium Hydroxide, Sunflower Lecithin, Xanthan Gum, Allantoin, Chamomile Extract, Sea Buckthorn Extract, Sacha Inchi Extract, Grape Seed Extract, Kaolin Clay, Silk Peptides, Sodium Lactate, Sodium Citrate.
Performance:
I'll be completely honest.  I was very excited about the debut of this soap.  I must have mentioned it to both my wife and my friends Frank and Kevin probably two dozen times since I heard about it and patiently waited for the release day.  I had to make an emergency trip up north for work the day before the release and was trying to make a plan so I could  break away from my job in order to buy it.  I set my alarm for 10 minutes prior and made an escape so I could get my hands on one.
The scent is much lighter than the other two soaps, which surprised me. Tons of fruit with hints of oud and musk.  I get some honey out of this soap too which is probably the rose scent as described in the product description. Out of the three this was my favorite.
I found the soap to require the least amount of water than the others to achieve a serious lather. I tried both blooming and non blooming methods, and  found that not blooming to be a better method.  The lather was  thick and soft, evenly covering my face and abundant throughout the entire shave.
After rinsing my face felt great. It was soft and clean. The scent stayed with me on my commute to work and hung around for a bit after.
Overall:
This soap is a winner. It's fun to use and I can't get over how much I love the scent.
Conclusion:
In conclusion, I am very impressed with Grooming Department products.  I highly recommend using them as out of the 100+ soaps I own, I find myself falling back to these very often.  Another cool fact : Most of them  are readily available and shipping is included with the price.
A few things to consider:
These soaps take a bit of practice lathering. They require more water to be used that that of other soaps I've tried and can become extremely slick with added water. If you're using a straight razor, I recommend rubbing an alum block on your fingers for added traction when pull the skin to shave.
All in all I really enjoy these soaps and look forward to seeing what Grooming Department has in the future.
As always with any soap/aftershave please read the ingredients before using and discontinue using them if irritation occurs.
About the Author:
Joe Borrelli is a long-time wet shaving enthusiast and collector.  He hosts the Wet Shaving News/Talk Podcast , runs his own self-funded website http://shavestraightandsafe.com/  and operates a YouTube channel to help inform the community of new information involving the wet shaving world. Joe holds a BBA from Florida Atlantic University, and currently works for the nation's largest wine/spirits/beer retailer. In his spare time, he enjoys traveling with his wife Linda, reading, writing, outdoor activities and collecting wet shaving apparel. Find out more about Joe here.