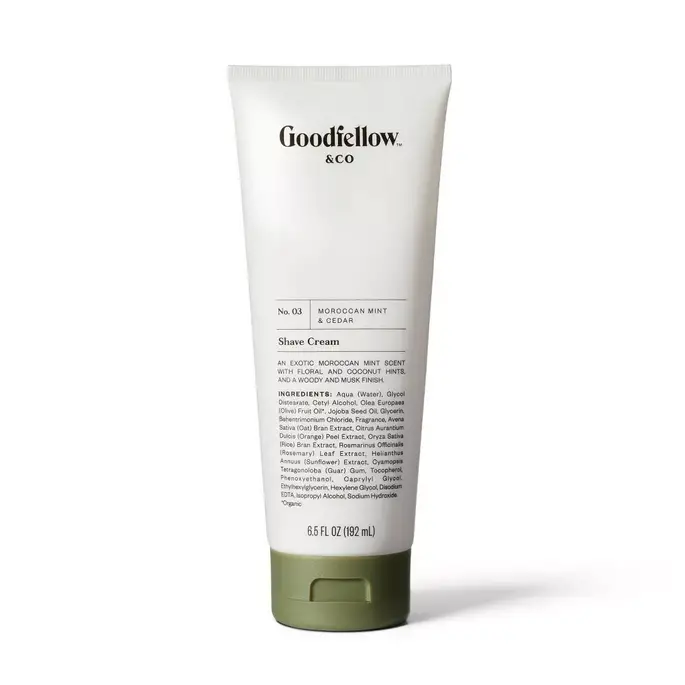 I decided to try something new to me when it comes to shaving. I wanted to find a new shave lather while on the road. I was inspired by Sharpologist's article about going out of town without a regular shaving kit.
Background
[Editor's note: Target links are Sharpologist affiliate.]
My wife and I were moving our youngest into college, so I thought this would be a perfect opportunity to spend lots of time searching for new shave software. Yeah, right.
Instead, I found myself in the Target store's men's grooming section. It was pretty well stocked. I perused several of the brands, but nothing stood out as anything I would want to purchase. It was more different types of canned goo.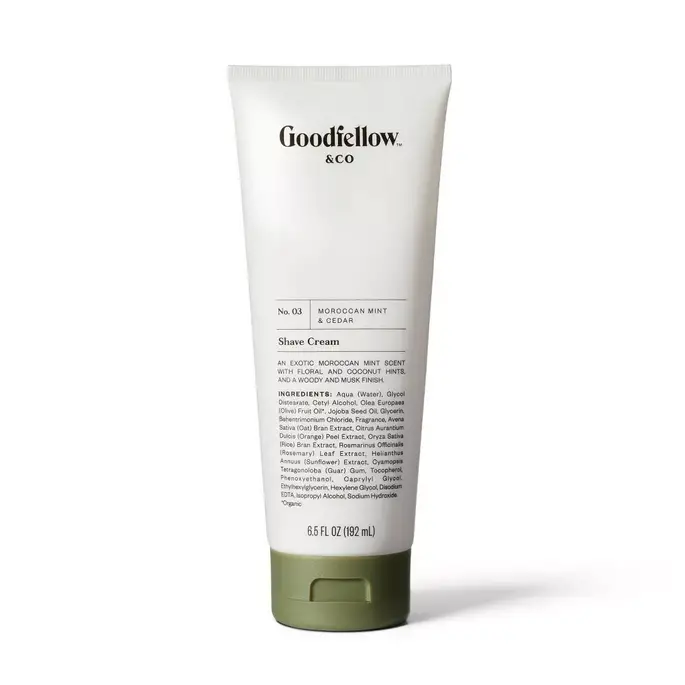 Then I saw this: it's the Target brand of "lathering shave cream." I would usually walk right by this, but I noticed the label saying it was "Moroccan Mint and Cedar." That's not something I would associate with mass-produced gel or canned goo.
Reading the label, it said "Gentle lathering cream helps protect skin from nicks and cuts and helps moisturize skin."
The word "lather" is something that piqued my interest. Shave goo in cans don't usually talk about "lather." I took a closer look at the ingredients.
Aqua (Water), Glycol Distearate, Cetyl Alcohol, Olea Europaea (Olive) Fruit Oil*, Hydrogenated Jojoba Oil, Glycerin, Behentrimonium Chloride, Fragrance, Avena Sativa (Oat) Bran Extract, Citrus Aurantium Dulcis (Orange) Peel Extract, Oryza Sativa (Rice) Bran Extract, Rosmarinus Officinalis (Rosemary) Leaf Extract, Helianthus Annuus (Sunflower) Extract, Cyamopsis Tetragonoloba (Guar) Gum, Tocopherol, Phenoxyethanol, Caprylyl Glycol, Ethylhexylglycerin, Hexylene Glycol, Disodium Edta, Isopropyl Alcohol, Sodium Hydroxide. *Organic
What made me think I might want to try this is: "the soothing formula also contains jojoba seed oil to condition your skin for a smooth finish, and rosemary leaf extract to calm and comfort the skin after shaving." I know there are several lines of good shave soaps that use jojoba products, so I was closer to pulling the trigger on this. Then I saw the price.

Yeah, I'm a believer for $4.99. Literally under five bucks and no shipping. This I had to try. After buying I did a bit more research. ("Jay, shouldn't that be done beforehand?" "Did I mention it was $4.99???")
The website said "you should feel good about using this cruelty-free shave cream that's made without silicone, sulfates, parabens or synthetic dyes." Having fewer ingredients that I cannot pronounce is always a plus for me.
I didn't read any reviews because I didn't want to influence my thoughts on the product.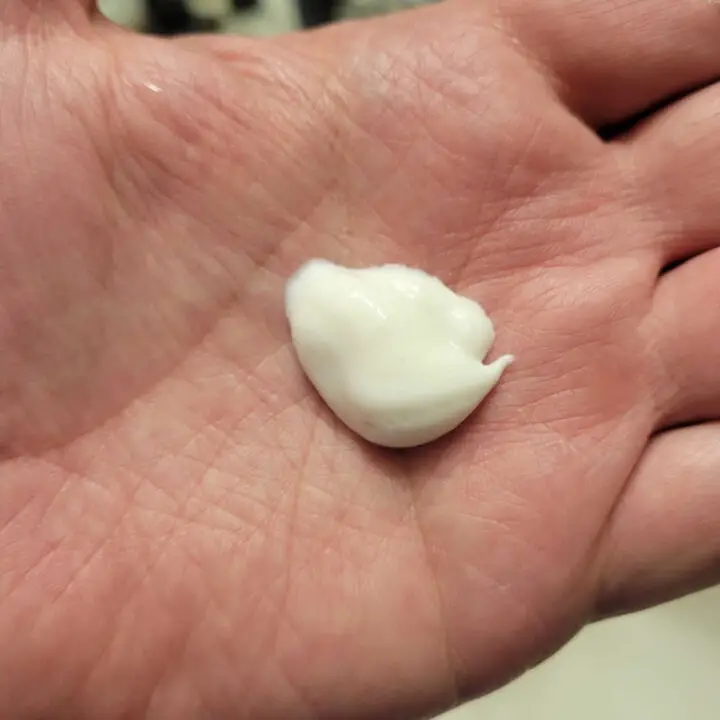 Trying It Out
That next morning I squirted some of the shave cream into my hand. The instructions said "lather up." That was the first problem. It would not lather. Tried with my synthetic brush and it disappeared in the bristles and very little got on my face. No lather at all.
Rather than get frustrated, I decided to treat this like a Cremo product. If you're not familiar, it's a shave "cream" that also doesn't lather. It has the consistency of a shave balm. This does too. It, like Cremo, does not produce any lather, even though both prominently use the word on their products.
As for the scent, I could pick up notes of mint and some coconut and a hint of musk but it was not overpowering.
So, I did as I have when using these types of products, I put a good amount in my wet hands and did my best to spread it around.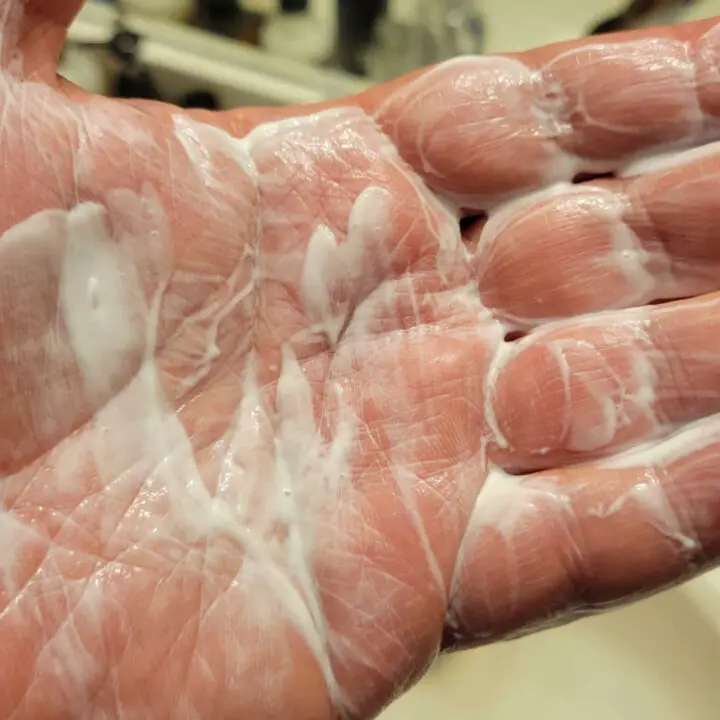 I then used both hands to spread this first over my scalp and then my face. . I had a one-day growth so there decent stubble. The biggest peeve with these type of products is I have to thoroughly wash my hands before I pick up a razor. I used my Gillette "Baldly" on my head and my Rockwell T2 with a new Astra Platinum blade on my face.
It had good glide, as the label promised and good cushion as well. I did get two passes before I had to reapply the product. This is something I never do with a traditional shave soap or cream. In fact, my rule is to never go over with a razor an area you've already shaved unless you put down more lather. For this, though, there seemed to be enough on my face that I didn't hesitate.
The cream was pretty good when it came to cushion, glide and overall performance. Where it stood out was post-shave. It left my scalp and face feeling very moisturized without any greasy feeling. It was similar to the feel I get from a top-notch tallow-base soap.
Summing Up
This product has a mix of pros and cons. It was cheap, didn't let either razor rip my skin and left my scalp and face feeling moisturized. But it didn't produce any lather, which was a letdown. It also came in a fairly large tube, 6.5 ounces, making it too big for TSA or to fit in most Dopp kits. It is just too big.
I do not regret buying the Goodfellow & Co. shave cream, it's a little cheaper than Cremo and does have some good qualities. But I cannot say I would recommend it unless you like non-lathering products.