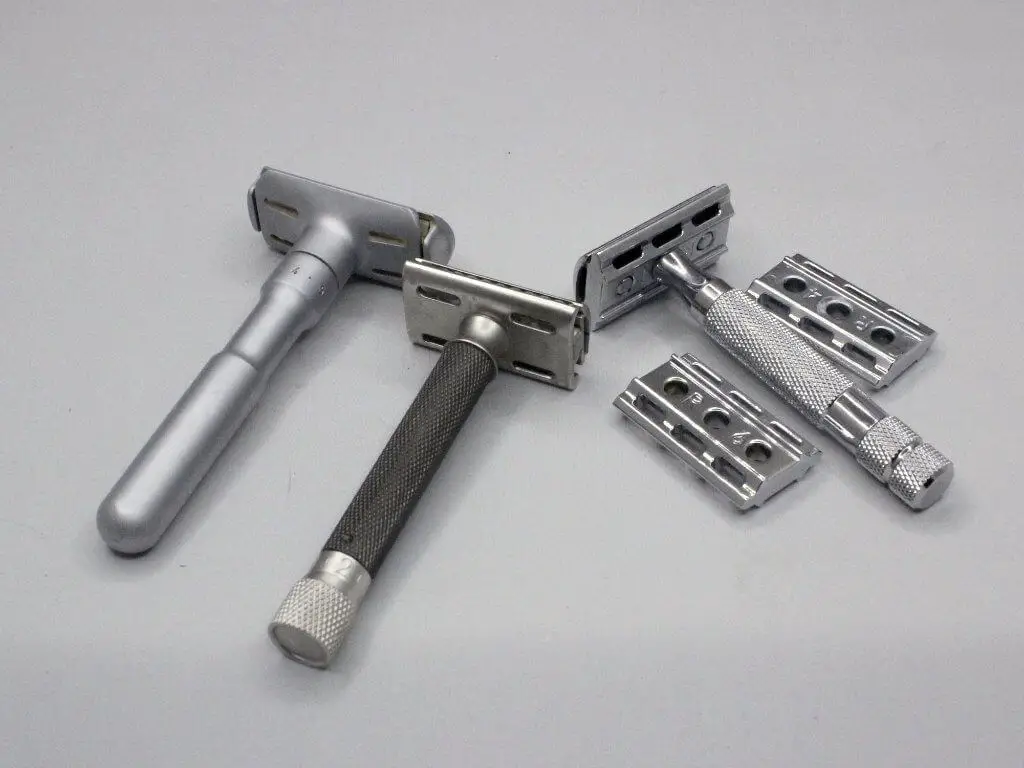 Michael (Leisureguy) recently emailed Mark (Mantic59) with a proposal for a Sharpologist article on the best DE razors for a novice who wants a good razor but also wants to minimize the initial expense until he knows for sure that DE shaving is going to work for him. Mark was already planning such an article himself, so we agreed to combine our efforts.  Although some excellent razors—razors that are both highly efficient and very comfortable—are available in the $70-$80 price range, we presume that most novices would prefer to get started at a lower price, so in this article we shall list only razors that sell for less than $20.

7 Razors
We looked for razors we thought were great values in that they were low-cost, reasonably well-built (considering the price), and provided a "middle of the road" (or perhaps a bit milder) shave on the aggressiveness scale. But before buying a new razor, novices should inquire of older relatives whether they have a DE razor that they no longer use. A surprising number of excellent DE razors live in the back of bathroom drawers.
And no discussion about DE razors would be complete without mentioning blades.  Many beginners think "a blade is a blade" and while DE blades may all look similar there can actually be significant differences in the way a blade is made.  Metallurgy, coatings, grinding specifications, and even the mineral content of the water used to shave with can all play a part in the shave.  You may even experience skin reactions to some blade coatings—e.g., chrome contact dermatitis.  So take the time to try a number of different blade brands to find the one(s) that work best for the razor you're using.  Even if you are already using a DE razor you may need to do some additional blade experimentation if you try another DE.  Some shaving vendors sell "sample packs" or "blade samplers
" to make the process easier: you get a few blades of many different types.  After you decide which one(s) work best you can then buy your favorites in bulk.
RiMei
A ridiculously good deal when you can find a genuine version of it.  This razor used to be the "Best Low Cost Razor" on our Best DE Razor List article but was removed when purchasers discovered other, more poorly-made razors were being substituted for it.  However, it appears that a dealer on eBay has been selling the real deal for under $2 (hat tip to Reddit user /u/almightywhacko for finding it!).
Lord L6
The Lord Model L6 (aka LP1822L) razor can be found between $8 and $13 depending on source.  Mark thinks this is a decent razor for the money and availability, and something that provides a decent shave with a good grip and an acceptable head design, though it will probably never be considered a family heirloom 🙂 .  Mike is less charitable regarding the L6, believing there are better values. The main weakness is in the threads of the soft aluminum handle.
Feather Popular
At about $15, the Feather "Popular" DE Razor might be considered the "black sheep" of the Feather brand, which is dominated by well-built, expensive shaving gear.  Both Michael and Mark think that the Feather Popular shaves OK but it feels flimsy; you can find better values out there.
Smallflower "Ditch The Cartridge" Razor
Merz/Smallflower has a "Ditch The Cartridge DE Safety Razor" marketed specifically as "a perfect introduction razor into traditional wet shaving."  Mark has tried this $12 razor which is similar to the Feather Popular in that it is lightweight with a plastic handle but thinks it shaves better than the Feather.  Michael has not tried this one yet.
Maggard
Maggard razors are generally terrific values with Michael saying "These have stainless handles and good heads. The head design is reminiscent of the Edwin Jagger head design."  Mark agrees and thinks some of the Maggard razors with "knurled" (textured) handles such as the MR7, the MR1, and the MR18 are among the best razors on the market at this price point and even at a higher price level.  The only real problem is they are often out of stock because they are such a great value! These razors are also likely to be used well beyond the novice stage: they are well-made daily-use razors.
Weishi
The Weishi razor—specifically the Weishi 9603 "G" or "F" models—are worth a look.  Weishi used to have the inexpensive DE razor market pretty much to itself until a few years ago.  The design is basically a clone of a 1960's Gillette Super Speed razor.  It is a comfortable, gentle razor that Mark notes will be "friendly" to the new DE shaver, who may well want a less aggressive razor—although novices with heavy beards may find that it doesn't work as well for them.  It is worth noting that very similar (if not the same) razors are being sold through Van Der Hagen and Micro Touch One.  The razor's price varies from about $12 to $25 depending on source, so a Google search would no doubt turn up some good price comparisons. Michael doesn't care for the razor—too mild and too flimsy—but it can work well with a sharper blade (Kai, Feather, Gillette 7 O'Clock SharpEdge, etc.).
Wilkinson Classic
The Wilkinson Sword Classic
razor is an all-plastic affair, more widely found in the UK but available in the US too.  Mark thinks it is reasonably well-built for an all-plastic, $10-ish razor.  Both Michael and Mark think it provides an acceptable shave but there are better options on this list.
What are your experiences with these razors?  Do you have any recommendations of your own?  Leave a comment!