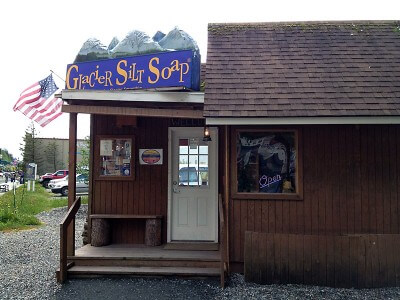 As resident of Juneau, Alaska, I look forward to the start of summer each year. Everything gets Green, wildlife wakes up and the start of a brand new tourist season begins. Downtown Juneau comes to life with tens of thousands of visiting tourists everyday that have come to visit this great city mostly by cruise ship.
Along with all the warmer weather and throngs of visitors, Juneau's seasonal shops open up again selling every kind of trinket imaginable. My friends and I will often drive to downtown Juneau, park our cars and walk up and down the city streets taking in the warm weather and sea air as we visit all these newly opened shops and view their wares.
It was on one of these trips this year that I discovered Glacier Smoothie. A little boutique soap shop on South Franklin Street. Being relatively new to wet shaving my natural curiosity lead me inside the store in hopes of finding some wet shaving products. Once inside, I was surprised to discover that Glacier Smoothie sold shaving soaps they call Shave Cakes. They sold their Shave Cakes individually and in sets. They also sold kits in their store which contain one or more shave cakes along with a badger hair brush and stand. I could not help but think that these would make excellent Christmas gifts for some members of my family and friends.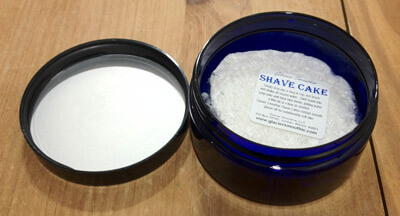 On this day, I purchased a single shave cake. I made note of it's odd irregular shape as I took the cake up to the checkout counter and I asked 'What makes this shaving soap better to shave with than the one I am using at home"?
"Well", the older gentleman said to me from behind the counter. "This soap is going to have glacier silt in it. As do all of our soaps in here. The silt is going to do a better job cleaning and exfoliating your face."
"Really?"
"Yup" He said pointing at framed document on the wall across from us. "We own the patent putting glacier silt in soap."
With my new purchase in hand I left the store eager to try out my new shaving soap.The next morning I took out the container which held my new shaving cake. My first thought was that this container would be perfect for taking my shaving soaps with me when I travel. I could use it to whip up my lather in, no problem. The twist off lid of the shave cake read:
Glacier Smoothie Shave Cake
Hand formed with super fine glacier silt using our genuine original recipe. Just wet your shave brush with warm water and swirl into the cake for bubbly shave lather.
I removed the lid of the container and pulled out the shave cake. It was soft to the touch and wrapped in shrink wrap which needed a pair of scissors to free cake from. When I removed the shrink wrap from the cake I was unable to detect any fragrance from the product. To my nose the soap had no smell at all and the label on the container for the cake did not have any description for what the shaving soap smelled like.
Now, I have made multiple attempts at trying to contact the people behind Glacier Smoothie to find out what ingredients they use in their shave cakes. Several e-mail and phone messages have been left. I have even gone into the store to request this information. All attempts I have made to find out what goes into their products have gone unanswered. Something I take as a strike against their customer service.
At this point I should take a moment here and remind everyone that I am relatively new to wet shaving. I have used only two shaving soaps previous to this. Williams Mug Shaving Soap and Col. Conk Worlds Famous Shaving Soap. So as I review this product you will have an idea of where I am coming from when I described Glacier Smoothie's Shave Cake.
I was at first concerned over the soft and moist feeling cake thinking that there was no way this soap is going to last very long. I placed the cake in my shaving mug and began to work up a lather. I was immediately impressed with how quickly I was able to produce a lather. It was thick and bubbly just like I read on its container.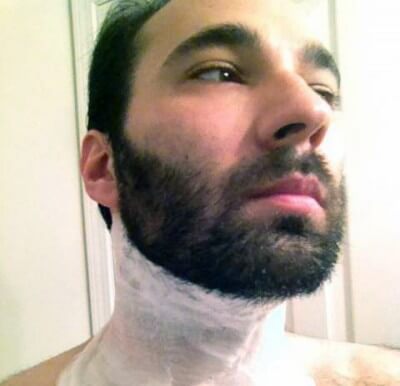 I proceeded to apply the lather to my face three times as I did three different directional swipes with my Merkur Heavy Duty Double Edge Razor. Once my shave was done I proceeded to wash the leftover lather from my face. This was a surprise to me. I found that it was much easier to wash off the remaining lather from my face than it had been with Williams or Col. Conk Shaving Soaps.
I finished by applying some Witch Hazel over the shaved areas of my face. For the rest of the day I felt like my face could breath and my skin was soft. I caught myself checking throughout the day to see if it was still soft where I had shaved and sure enough it was.
This is definitely a shaving soap I will be purchasing again. It leaves your skin feeling soft and allows it to breath. If I have one complaint about this shaving cake it is that I feel it is a bit over priced at $5.
You can find Glacier Smoothie's Shave Cake for sale at their storefront on South Franklin Street, or if you don't happen to live in Juneau, on their website at GlacierSmoothie.com.