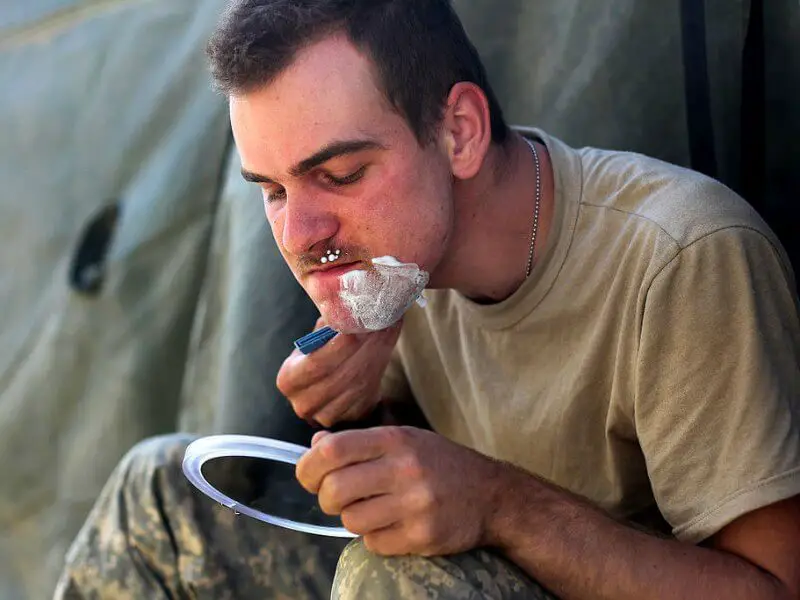 [Note from Mantic59: Sometimes it's good to revisit the fundamentals.  I asked freelance author Rifat Rahn to discuss razor bumps and how to avoid them.]  Although shaving is one of the easiest and the most used methods to get rid of unwanted hair, many people find it to be a major challenge especially because they develop unpleasant razor bump after shaving. Razor bumps are common and can develop in different hair removal areas including chin, neck, bikini area, beard and other parts of the body. Getting rid of razor bumps is therefore very important if you are to enjoy a smooth skin surface after shaving.

Understanding The Causes Of Razor Bumps
Before delving into how you can get rid of razor bumps, it will be important to know what causes them. This way you will be able to eliminate them with ease. The problem is normally occurs when curved hair follicle tips curve s back and starts penetrating your skin. In such cases, instead of growing in a straight line, the hair grows in a curved line towards the skin causing the follicle to pierce the dermal layer thus becoming ingrown. Once the ingrown hair is trapped in the skin, it creates an inflammation. This is a common problem that occurs after tweezing, shaving and waxing.
Getting rid of razor bumps
Here are six ways of addressing the razor bump problem:
1. Avoid shaving against the hair direction
Shaving against the direction in which the hair grows will result in razor bumps in the target area. You can get rid of these bumps by shaving towards the hair growth direction and in a gentle manner. This will help prevent your hair from coiling towards the inside of your skin as it grows afresh.
2. Wet your hair before shaving
Razor bumps can be eliminated if you shave after a warm shower or wet the hair using warm water before shaving. This will soften your hair while at the same time making your skin less vulnerable to irritation. Once you finish shaving, you can apply some cold water which helps to close the pores thus preventing chances of irritation and infection.
3. Avoid old, blunt razors when shaving
Another great way to get rid of razor bumps will be to replace your old, blunt razor with a new one which should be sharp. Although razors blades can be used a number of times before replacing them, it will be important to ensure that yours is sharp to prevent against skin irritation around the follicles as this will result in ingrown hairs. Old ad rusty razors should also be avoided as they have a lot of bacteria which could cause skin infection when shaving. Even old and sharp razors should be sterilized with alcohol before shaving sessions.
4. Use shaving creams
Shaving creams are suitable for skin moisturizing and hair softening. This in return makes it easier to shave without causing friction around the hair follicles.  By moisturizing the skin and softening your hair, you will be preventing cases of irritation, something that is very common when you shave a dry skin.
5. Avoid stretching or pulling the skin
Many people make the mistake of pulling and stretching their skin when shaving. This puts it in an unnatural way thus encouraging the hair to curve backwards into the skin during growth. This in return causes razor bumps to occur.
6. Moisturize after shaving
You can get rid of razor bumps by using moisturizing lotions after shaving. This will help reduce irritation and redness thus decreasing chances of razor bumps.
Related Posts:
First Signs Of Rosacea
6 Tips for Shaving Skin With Acne
12 Skin and Shaving Questions For A Dermatologist